A 5-Day Winter Road Trip Through Canterbury, New Zealand
This itinerary takes you on an epic adventure through some of the best spots in the Canterbury region of New Zealand.
There's nothing better than packing the camper and hitting the road ready to make some unforgettable memories. In our opinion, winter time in New Zealand is one of the best times to travel. The landscapes are snow drenched, the roads and camp spots are a lot quieter and all of the ski fields open - ready for all those keen skiers and snowboarders.
It's no secret that we love travelling in a campervan and with the legends at Camplify connecting travellers with unique campers around the country, we were able to find the perfect rig for the trip. We picked up "Dues the 4WD Machina, a Toyota Hiace from Campbell in Christchurch. We loved the interior, it had everything we needed, not to mention having 4WD is always handy for those typical dirt roads in NZ - I'm looking at you Hakatere Potts Road.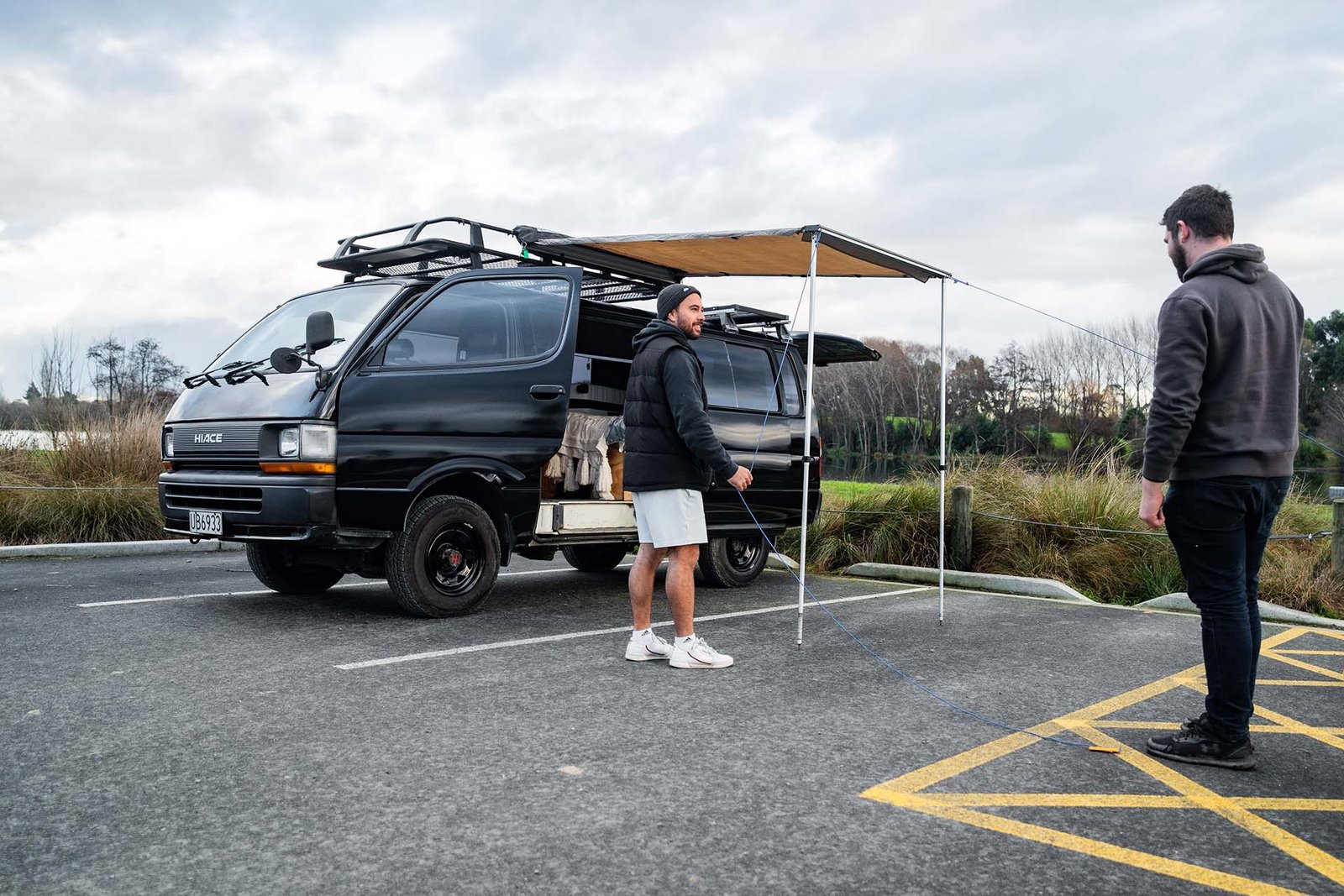 Campbell showing us around Deus the 4WD Machina
With Canterbury being such a large region and with so many incredible spots to visit, it can be hard to figure out how to go about a road trip. That's why we've put together this 5 day itinerary, to give you some inspiration and save you the hassle of planning.
Day One: Christchurch - Mt Lyford
Driving time: 2.5 hours
Accommodation: Stella Huts
You've flown into Christchurch, you've sorted your trusty adventure mobile, it's now time to hit the road! We recommend stopping off at a local supermarket to stock up on all your supplies as there aren't a lot of options where you're heading. Once you're all stocked up, it's time to make the 2.5 hour drive up to Mt Lyford.
Mt Lyford
Mt Lyford is a stunning little alpine village. Known for its mind blowing landscapes, the area is graced with snow-capped peaks, forests and crystal-clear rivers. In winter, Mt Lyford transforms into a winter wonderland, attracting skiers and snowboarders from around the world. The ski slopes offer a range of runs suitable for all skill levels, and the nearby backcountry terrain provides thrilling opportunities for off-piste adventures.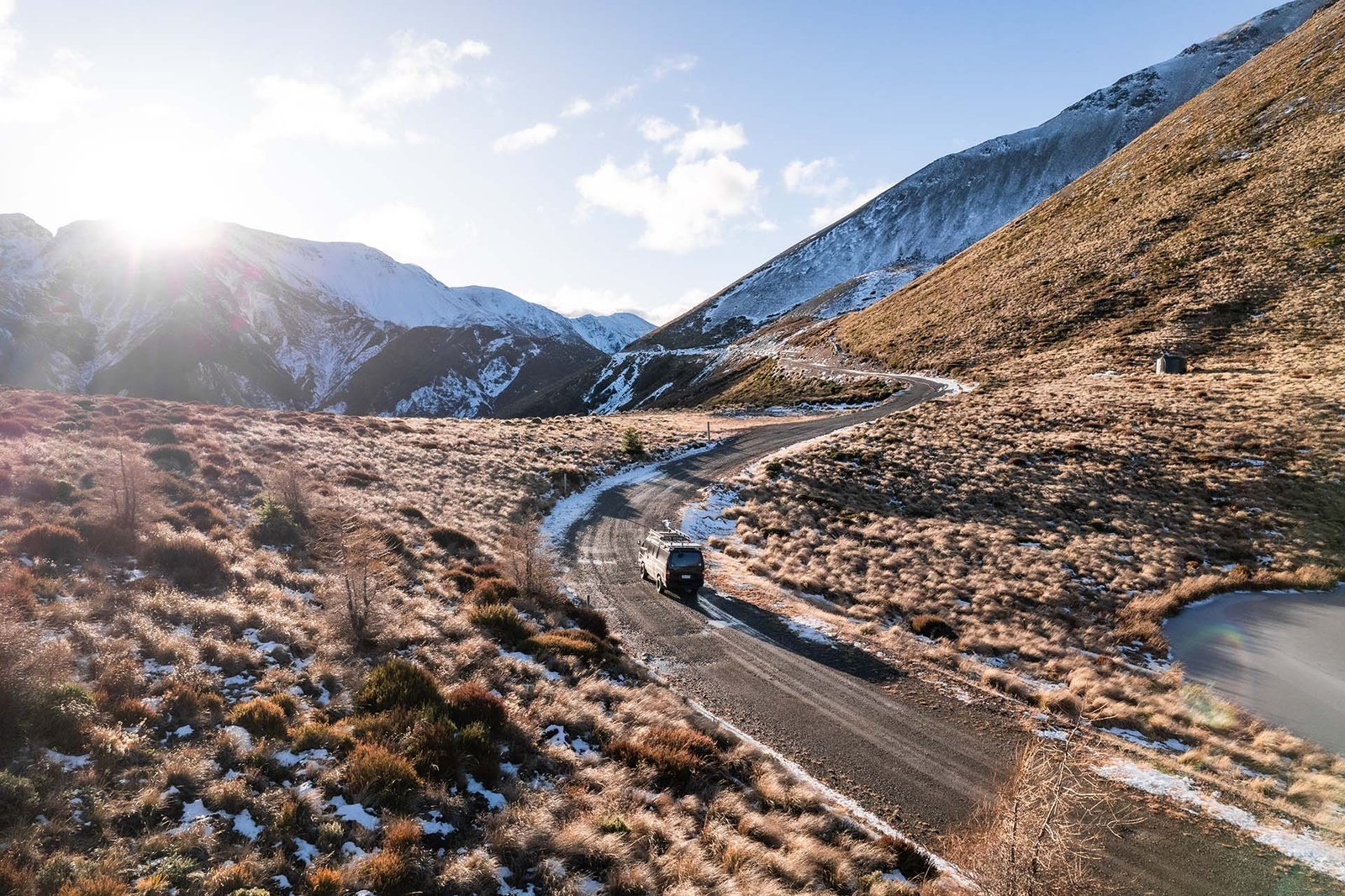 Stunning drive up to Mt Lyford
Stella Huts
Head straight up to Stella Huts, to settle into the gorgeous alpine cabins, your accommodation for the next couple of nights. This hidden gem offers a unique and memorable stay for nature lovers and those seeking a peaceful retreat. The huts are beautifully designed offering a rustic yet comfortable atmosphere. Stella Huts also prides itself on its commitment to sustainable tourism and are designed to minimise their impact on the environment, with features such as solar power and rainwater collection. The huts also offer hot tubs, an absolute dream when surrounded by snow! Spend your afternoon watching the sunset over Lake Stella from the privacy of your deck and cooking up a feed in their kitchenette.
Day Two: Mt Lyford
Accommodation: Stella Huts
Yesterday was a relatively chill day and today it's time to ramp things up a bit! It's time to grab your weapon of choice (skis or snowboard) and hit the slopes up at the Mt Lyford Ski Field.
Mt Lyford Ski Field
Mt Lyford ski field offers equipment rental, including skis, snowboards, and winter clothing, providing convenience for those travelling lightly. Perfect for travelling in a camper and if you don't already have the gear yourself.
The ski field boasts an impressive vertical drop of 400 meters, guaranteeing thrilling runs and challenging terrain suitable for all skill levels. The ski field covers over 180 hectares of pristine snow-covered slopes, providing plenty of space for both skiers and snowboarders. It also offers a dedicated learner's area with gentle slopes, ideal for building confidence.
You'll easily lose a day here, shredding on the pristine slopes. The on-site cafe also offers delish meals which is a must for recharging those batteries before you head back up the slopes.
Labrador Lookout
Once you've finished up your day of shredding, we recommend soaking in the hot tubs at Stella Huts before prepping for a little hike.
At the top of the Labrador Lookout hike sits one of the highest sculptures in the world - a sculpture of a Labrador. It was first put there "in memory of the dogs that have worked and walked our land, looking and protecting us on our journey through life".
Labrador Lookout sits at the top of Avalanche Face. From the Stella Huts it's only a short 20-30 minute stroll to get to the top. The views from the top are absolutely incredible, so take some time devouring the scenes and if it's not super windy (it blows quite the gale up here) take a snack or bevy to enjoy at the top.
Why not finish the day with another soak in the hot tubs under the stars? There's no limit on soaks when the tub is at your doorstep.
Views from Labrador Lookout
Day Three: Mt Lyford - Mt Hutt - Geraldine
Driving time: 4.5 hours
Accommodation: Geraldine TOP 10
Wake up and make the most of your final morning at Stella Huts before hitting the road south, to another iconic ski field for another day of shredding!
Mt Hutt Ski Field
Mt Hutt Ski Field, approximately an hour's drive from Christchurch, is one of the most popular ski fields in the region. It attracts both local and international visitors and provides an unforgettable winter adventure.
Mt Hutt boasts reliable snow conditions, with an average annual snowfall of around five meters. The resort also benefits from its high altitude, reaching up to 2,086 meters, guaranteeing an extended season and amazing snow quality. As with Mt Lyford, this ski field also offers a well-equipped rental shop for all the supplies you may need.
Another day will easily disappear while you're enjoying yourself up there and we haven't even mentioned the views from the top ... .whether you're skiing or not, a trip up just for the scenery is well worth your while.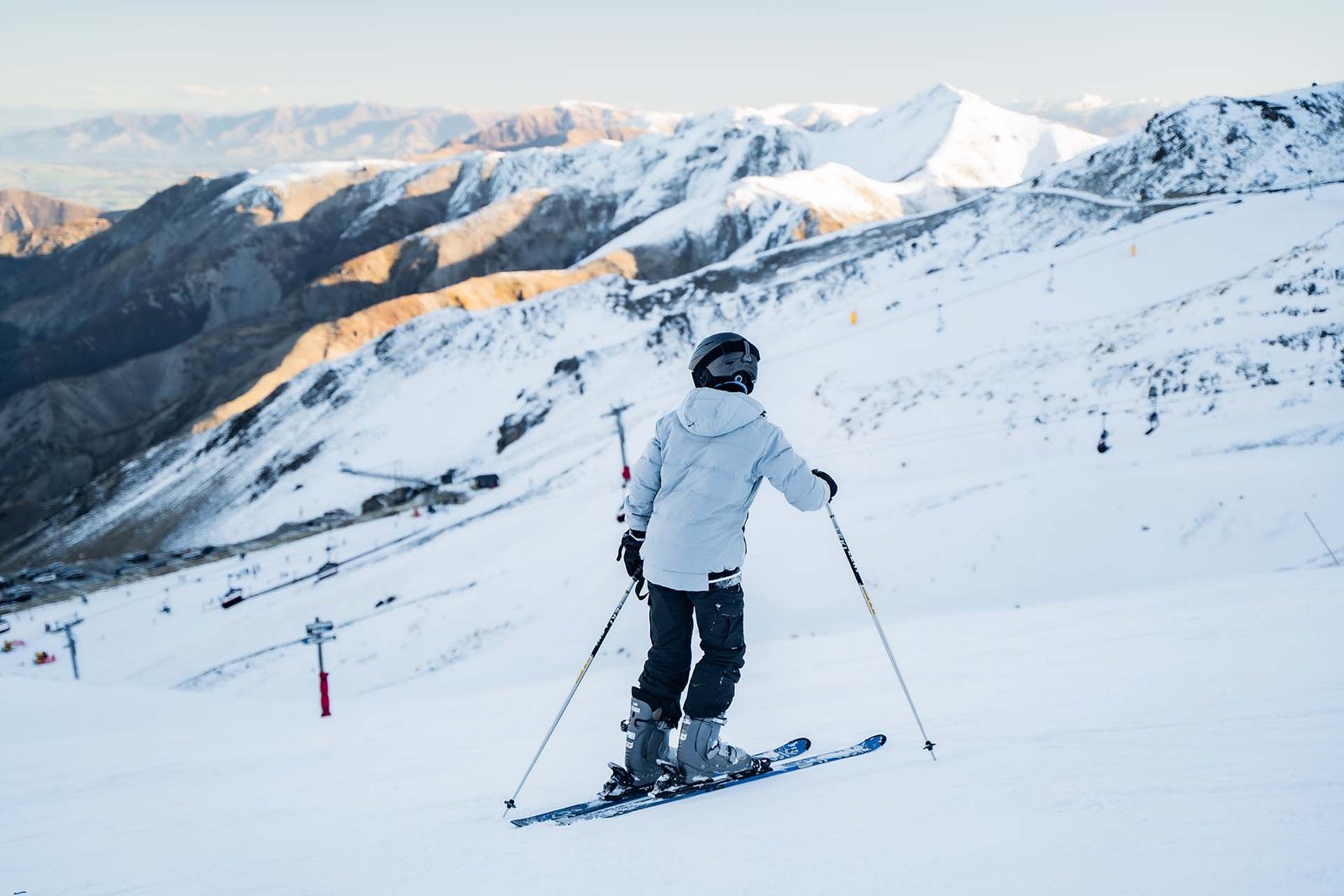 Opuke Thermal Pools & Spa
This is such a cool unique hot pool experience and is the perfect way to relax after a day up the ski field. Located in the cute alpine town of Methven, this is a must-visit spot!
They provide multiple different pools and temperatures to choose from including an observation pool - the perfect place to relax while taking in the mountain views - and pools situated in star lit caves. You can grab a drink from their bar and wander through the caves while soaking in the pools. It really is as good as it sounds! For those brave enough, there's a cold plunge pool to jump into before you relax in the slightly (a lot) warmer pools.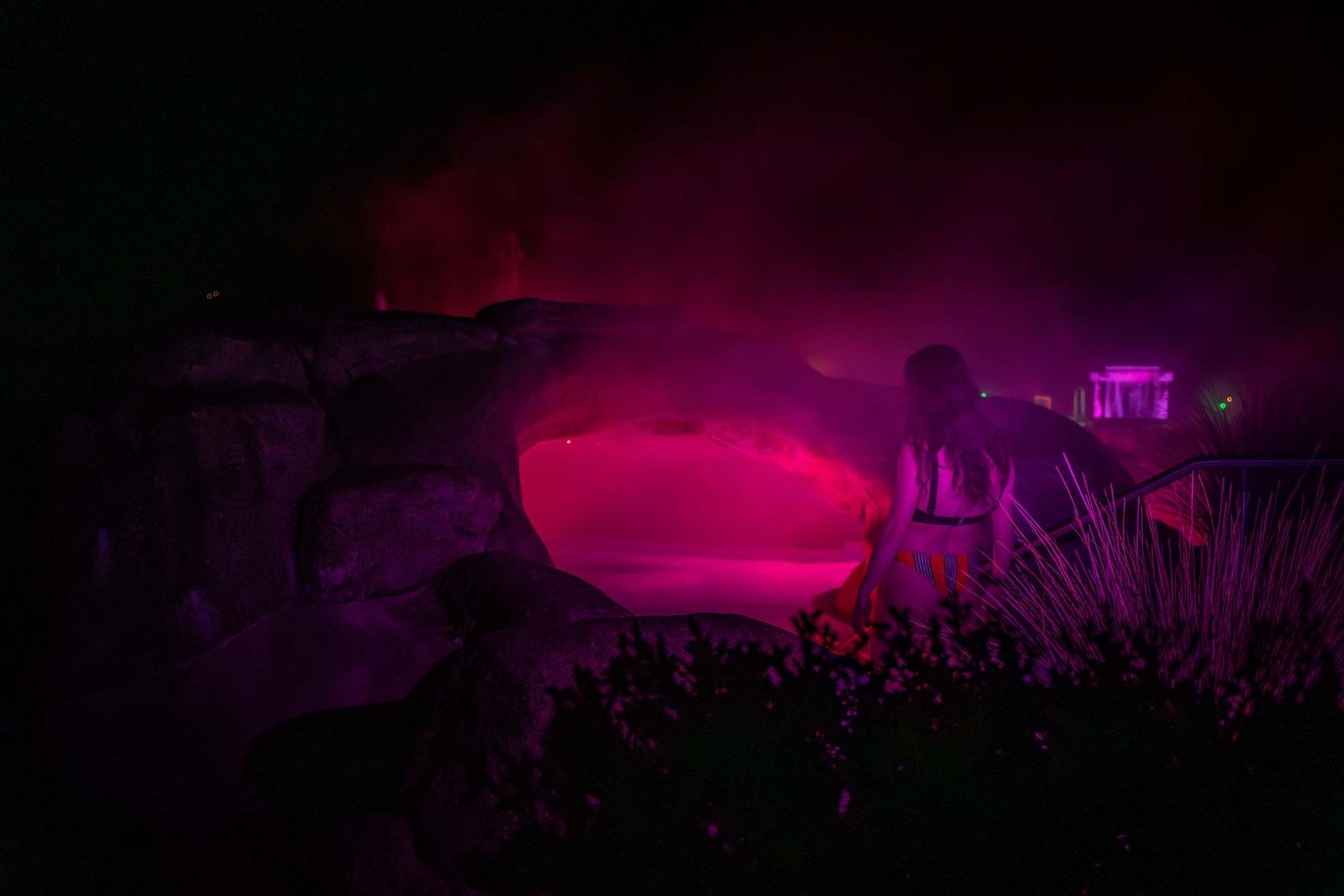 Soaking in the Opuke Spa & Thermal Pools
Once you're all blissed out, it's time to head to your accom for the evening at the Geraldine TOP 10 campground. A favourite spot for all the locals!
Day Four: Geraldine - Ashburton Lakes - Geraldine
Driving Time: 2.5 hours
Accom: Geraldine TOP 10
You've got another fun day ahead of you, and this time it's not up the mountains, but within the mountains. You'll want to be up bright and early before making your way into the stunnnnnning Hakatere Conservation Park.
Lake Camp
Lake Camp is one of Canterbury's best kept secrets and to be honest so is the whole Hakatere Conservation Park. Tucked within the mountains, it's just slightly off the main highway so gets missed by most travellers. The lake (especially on a calm day) provides the most incredible mountain backdrop that reflects in the lake, making it the perfect place for photography.
Pull up here and enjoy the morning light with a cuppa and a feed. The best part of travelling in a van is having everything you need with you, for moments just like this one.
Mount Sunday
This is a must-do walk in New Zealand, especially if you're a Lord of the Rings fan. Just a heads up, we mentioned earlier in the blog Hakatere Potts Road isn't the nicest and has corrugations the whole way to the carpark. Take it nice and slow and enjoy all the views along the way…you'll make it eventually, and it'll be well worth it!
The walk itself is relatively easy and will only take about 30 or so minutes to get to the top. The views from the top are incredible, we'd definitely recommend packing a snack to enjoy at the top. Mt Sunday was also transformed into "Edoras," the capital city of Rohan in the Lord of the Rings movies and attracts lots of travellers who loved the series.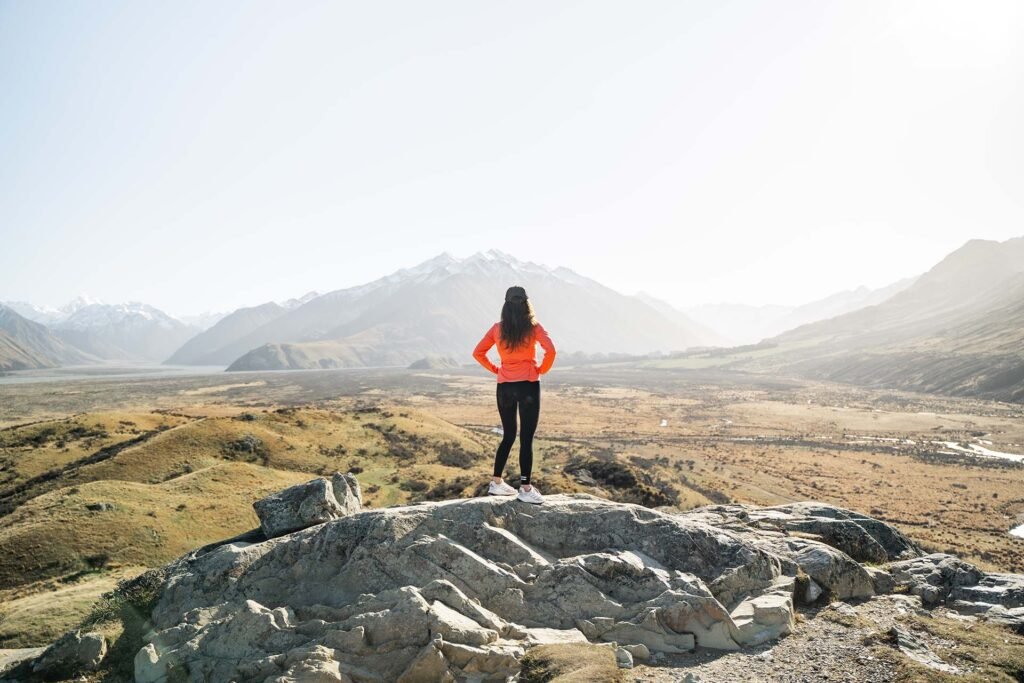 Enjoying the views at the summit of Mt Sunday
Lake Clearwater
Once you've finished up your stroll, head back to Lake Clearwater and chill out by the van while cooking up dinner. Watch the sunset over the lake before making your way back to the Geraldine TOP 10.
Day Five: Geraldine - Christchurch
Driving Time: 1.45 hours
It's your last day on tour so have a sleep in and enjoy a nice slow breakfast at the Geraldine TOP 10 before hitting the road back to Christchurch. It's a great campground, with plenty of big sites to park up and enjoy the sun.
Breakfast at Geraldine TOP 10
Rakaia Gorge Walk
You've got one more stop before it's time to hand over the van. The full Rakaia Gorge Walkway takes about 3 hours to complete, but you can just do parts of it if you have limited time. The views over the Rakaia River which leads up to the mountains are magic, even more so during the winter time. It's an unforgettable scene and the perfect place to finish up an epic winter roady.
You're not far from Christchurch, so it's time to enjoy the last 30 minute drive into town before handing the epic Deus the 4WD Machina back to Campbell. We know you'll have an absolute blast on this route, whether it's winter time or not.
So enjoy, and we'll catch you on the road!