The ultimate Waikato and Rotorua road trip
This itinerary takes you on an epic adventure through some of the best spots in the Waikato and Rotorua regions of New Zealand.
It's no secret that we love a campervan road trip around NZ and we're super lucky that Camplify is able to connect travellers with unique campervans around the country. For this trip, we picked up a massive six-berth camper from Andy in Pukekohe. This was unlike anything we'd ever travelled in, with so much space and luxury that you just don't get with some of the mainstream campervans
With so many incredible spots to visit in both Waikato and Rotorua, it can be hard to figure out how to go about a road trip. That's why we've put together the perfect 5 day campervan itinerary, to give you some inspiration and save you the hassle of planning.
Day One: Auckland to Raglan
Driving time: 2 hours
Campsite: Raglan Holiday Park
So you've made it to Auckland and you're all geared up ready for an adventure to two of New Zealand's most diverse regions, but first things first, you need to go and pick up your Camplify adventure mobile from Andy in Pukekohe. This van has so much space, but still really easy to drive, and in itself was one of the highlights of the trip. Now it's time to hit the road, heading for the laid back town of Raglan, a famous surf destination in the North Island.
Bridal Veil Falls
Approximately 20 minutes before you get to Raglan is the Bridal Veil Falls, an impressive 55m waterfall that plunges off a rocky overhang into a deep pool at the base. It's a quick and easy walk to the bottom of the falls, and we highly recommend this spot before heading into Raglan.
Bridal Veil Falls just outside of Raglan
Raglan beaches
Once you've made it to Raglan, head straight for the beaches. Raglan has some of the best surf beaches in the country so you've got some pretty awesome choices. Although Manu Bay and Whale Bay are geared more towards surfing, there are plenty of great spots to take a swim. Watching the continuous waves roll in at Manu Bay is also pretty mesmerising!
Ngarunui Beach is the main swimming beach in Raglan — if you hear the locals or regular visitors talking about 'Main Beach', it's this one. The black sand is the perfect place to soak up the rays in between dips in the ocean. This is also a popular spot to watch an incredible west coast sunset.
It's then time to park up for the evening at Raglan Holiday Park. As far as road trip accommodation goes, it really doesn't get much better than parking up right next to the ocean. We also recommend walking to Isobar for dinner and a drink, to prepare for another big day tomorrow.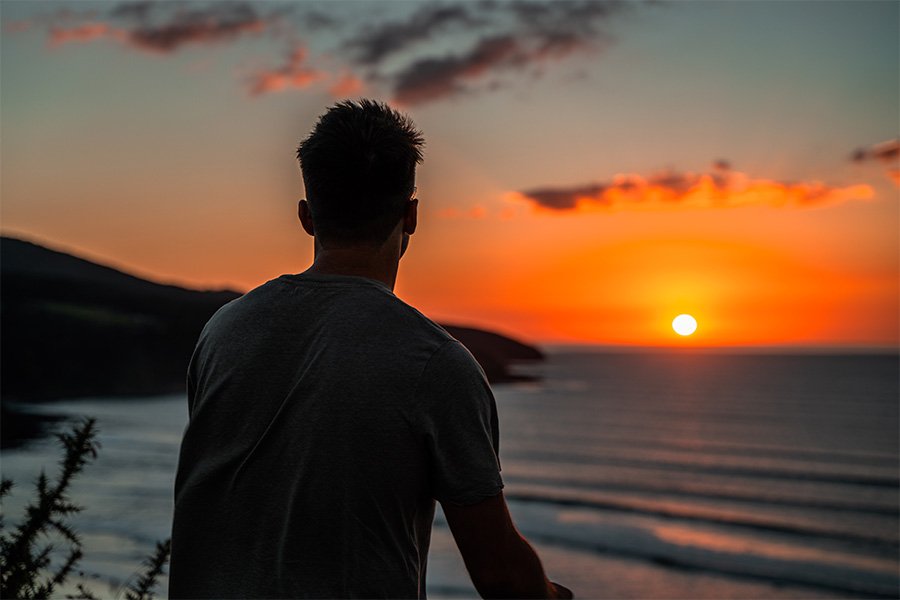 Sunset at Ngarunui Beach - a must do in Raglan
Day Two – Raglan to Waitomo
Driving time: 2 hours
Campsite: Waitomo Top 10 Holiday Park
Yesterday was a nice chill day, but today you're in for a real adventure. Not only are the Marokopa Falls some of the best in New Zealand but exploring one of Waitomo's famous caves beneath thousands of glow worms is something pretty special.
But first…coffee! There's nowhere better for your hot morning brew than Raglan Roast, where you're guaranteed to get quality, fresh coffee. We also recommend The Shack as one of the best spots to fuel with breakfast or brunch before you head to Waitomo.
Marokopa Falls
When you get to Waitomo, keep going and make your way to the lush Marokopa Falls. This is a must see attraction in Waitomo and in New Zealand in general. Getting up close to the 35m falls is a truly awesome experience.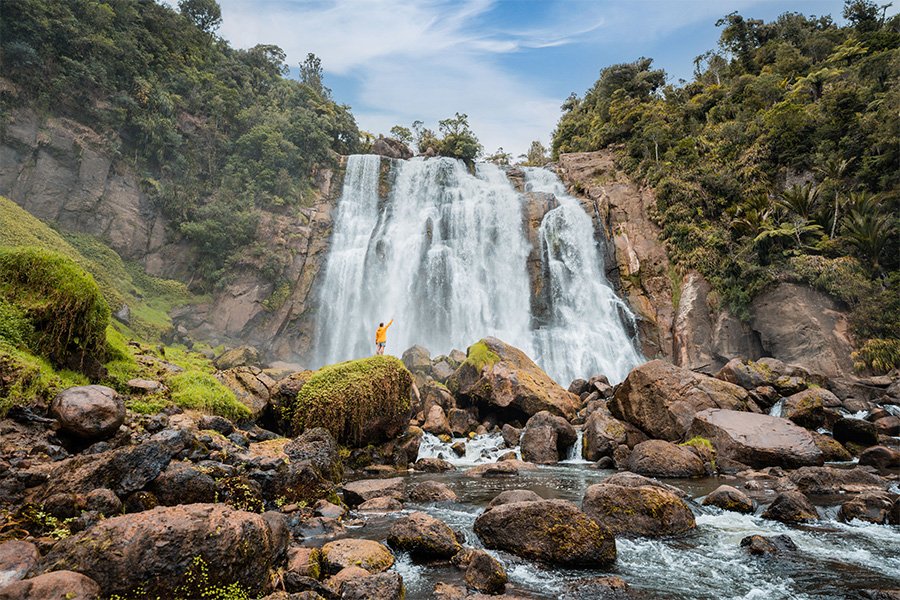 The mighty Marokopa Falls
As you make your way back to Waitomo we'd highly recommend stopping off at a couple of the highlights along the scenic drive. The Piripiri Caves is one of the free caves in the Waitomo area, and the epic Mangapohue Natural Bridge, where a boardwalk leads through a gorge and under the 17m high stone arch that is the remnants of an eroded cave system.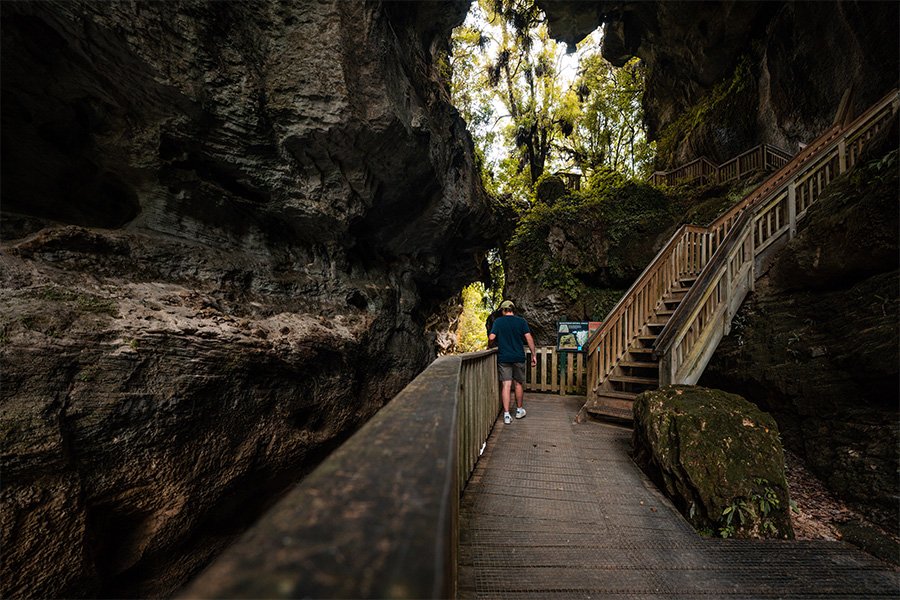 Mangapohue Natural Bridge
Waitomo Caves
This day has already been memorable but the Black Abyss Tour with the Legendary Black Water Rafting Co is sure to top it off. The five hour journey will have you abseiling 36m into the Ruakuri Cave before you start following your guide through the cave system. You'll have the opportunity to climb up waterfalls, whizz down a flying fox and relax as you cave tube underneath the glow worms.
36m underground on the Black Aybss tour in Waitomo
After a big day, you'll be ready to park your camper up at the Waitomo Top 10 Holiday Park for the evening. To save whipping up a dinner, pop across to The Tomo for a good pub meal instead.
Day Three – Waitomo to Rotorua
Driving time: 3 hours
Campsite: Blue Lake Top 10 Holiday Park
It's time to wake up bright and early as today you head to Rotorua, New Zealand's geothermal hotspot.
Only 15 minutes from Waitomo is the Fat Kiwi Cafe in Otorohanga. We recommend stopping off here for your breakfast before continuing on your roady to Rotorua
Kuirau Park
As you arrive into Rotorua, you may notice a funny smell. That smelly smell is coming from the various geysers and thermal pools found all around the area. Head straight into the city centre to visit Kuirau Park. A bunch of walkways lead you through the park and past the crater lake, mud pools, hot springs and even a thermal foot bath. To be honest, we're pretty lucky that we're able to get so close to such impressive geothermal activity, and for free!
Kuirau Park - a free geothermal walk in the middle of Rotorua!
Mt Tarawera
Next up it's time to experience the unique landscapes and the history of Mt Tarawera on a guided walk with Kaitiaki Adventures. You truly feel like you're on Mars when trekking around the crater, before an epic scree run to the bottom. The walk takes around 4 hours and isn't too strenuous, and it's a great opportunity to learn about the 1886 Tarawera eruption and the cultural significance of the area.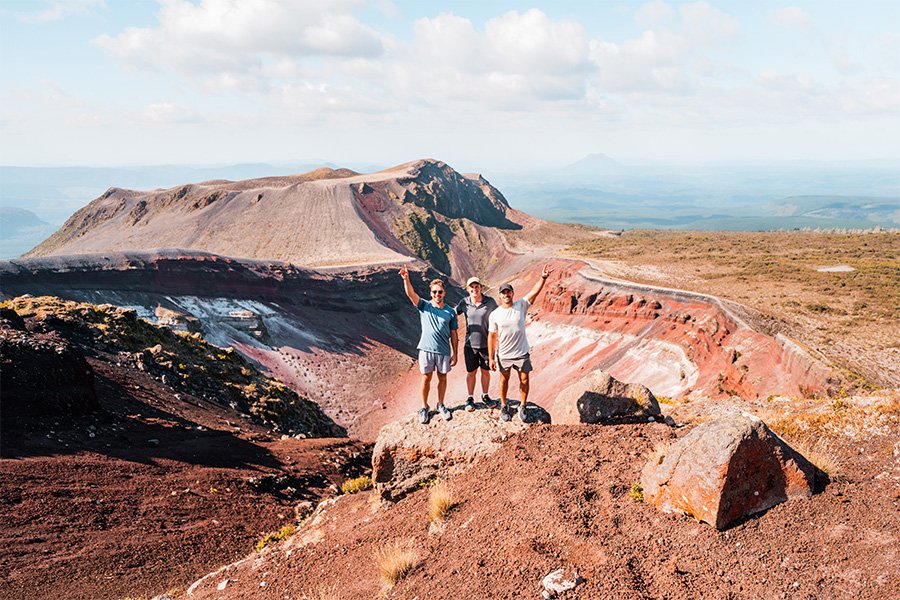 One our way up Mt Tarawera through Mars-like terrain
On the way to Blue Lake Top 10 Holiday Park, we recommend stopping at the supermarket to stock up on supplies to whip up your dinner and enjoy it on the shores of Blue Lake.
Dinner on the shore of Blue Lake
Day Four – Rotorua
Campsite: Blue Lake top 10 Holiday Park
Today is the last full day of activities before it's time to head back to Auckland and with no driving time it'll be nice to get to know a bit more of Rotorua.
Whakarewarewa Forest Loop
Enjoy a relaxing morning on the shore before heading to the Whakarewarewa Forest mountain bike park. With over 200 mountain bike trails, the park is one of the best in New Zealand. We hired e-bikes from Mountain Bike Rotorua at the Waipa MTB car park, and set off on the 33km Whakarewarewa Forest Loop.
The Forest Loop is great option as it's an easy grade 2-3 track that has been designed for all - combining awesome scenery with serious fun. It took us around 3 hours on an e-bike and would take up to 5 hours using pedal power.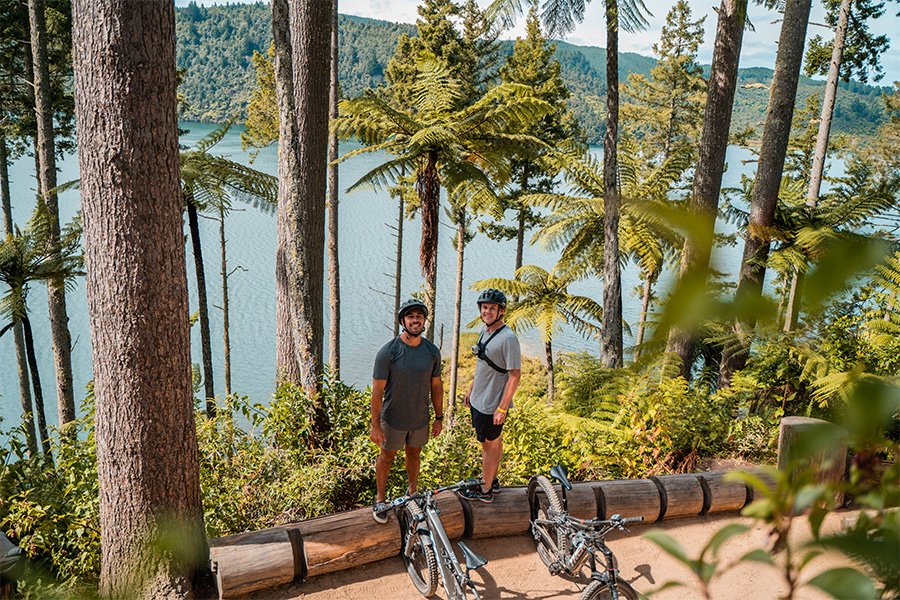 Riding alongside Blue Lake and Green Lake, the Whakarewarewa Forest Loop on e-bikes was a real highlight of the trip
Waimangu Volcanic Valley
After your ride, grab a bite to eat then head to the Waimangu Volcanic Valley. We had planned to do the Steaming Cliffs Kayak tour on Lake Rotomahana (where the Pink and White Terraces lie beneath), but unfortunately it was too windy. Instead, we did the walk from the visitor centre down to the lake.
This walk is a great way to experience the valley. You'll see Frying Pan Lake, one of the largest hot water springs in the world, the bright blue waters of the Inferno Crater Lake and learn more about the valley that was shaped by the 1886 Tarawera Eruption. This walk is still a great way to experience the valley, and when you get to bus stop 3 simply hop on a bus back up to the visitor centre.
It's then time to head back to the Blue Lake Top 10 Holiday Park. We recommend heading to the shores of beautiful Lake Tarawera to cook up your dinner tonight, and if you're lucky you'll be treated to an awesome sunset.
Our Auto Roller at Blue Lake Top 10 Holiday Park
Day Five – Rotorua - Auckland
Driving time: 3 hours
Sadly today wraps up your trip. Spend your last morning exploring Blue Lake or heading to nearby Lake Okareka before making the drive back up to Auckland to drop off your Camplify camper. Or, if you have more time, keep exploring Rotorua and its surrounding lakes — there's plenty more to discover.