A Guide To Road Tripping Through The Top Of The South
This 8 day itinerary takes you on an incredible road trip through some of the best spots in the South Island. From the wild West Coast to the mountain scenes of Kaikōura, the beautiful Nelson Tasman beaches to the Port Hills in Christchurch, you'll really get a taste of the diverse landscapes this part of the country has to offer.
We can't think of any better way to travel New Zealand than in a campervan. The freedom to stop as little or as much as you like is an unbeatable feeling. With Camplify providing such a wide range of awesome rigs to choose from, it's never hard to find the perfect adventure mobile for your needs. For this tour we decided on a Mercedes Benz Sprinter Van called Te Ora — very easy to drive and plenty of space.
The top of the south is such a beautiful part of the country, it's easy to see why so many locals flock to these areas for holidays. With so many epic spots to see and things to do it can be tricky trying to decide on how to spend your time. We've made it easy for you by putting together the ultimate 8 day itinerary with plenty of ideas on how to make the most of these incredible regions.
Day One: Blenheim - Kaikōura
Driving time: 2 hours
Campsite: Kaikōura Top 10 Holiday Park
You've touched down in Blenheim roaring and ready to get on the road! You're excited, you've got all the gear but you're camperless. It's time to visit local legend Katie to pick up Te Ora the Camplify camper of choice for this trip. Te Ora is a 2011 Sprinter van with all the bells and whistles needed to make it the most comfortable journey. Spacious, easy to drive, a big snuggly bed and a shower and toilet on board — what more can you ask for? Get familiar with your camper, pack all your bits away, and then it's time to get this show on the road! First stop…the amazing small coastal town of Kaikōura.
Picking Te Ora the camper up in Marlborough
Kaikōura
The drive from Blenheim to Kaikōura is only two hours long, however we recommend taking your time on this one as it really is one of the best roads to drive in NZ. Especially if you're doing it in the morning or afternoon as the light catches the sea mist in the most incredible way. You'll want to stop plenty of times for photos and to just take in the rugged coastline. As you start to approach Kaikoura, make sure to keep an eye out for the fur seals that'll be playing or sunbaking amongst the rocky coast.

Once you roll into Kaikōura it's time to park up for the day and it really doesn't get much better than oceanside accommodation. The Kaikōura Top 10 is located right next to the beach and it's also only a couple of minutes walk from the local cafes and restaurants. The owners are absolute legends and will get you all settled into your site. Pop into town for a bite to eat, or grab something to go and enjoy it in your camper at the Top 10. The pizzas from Black Rabbit Pizza are to die for and you can't go wrong with a fish and chip dinner from Cooper's Catch!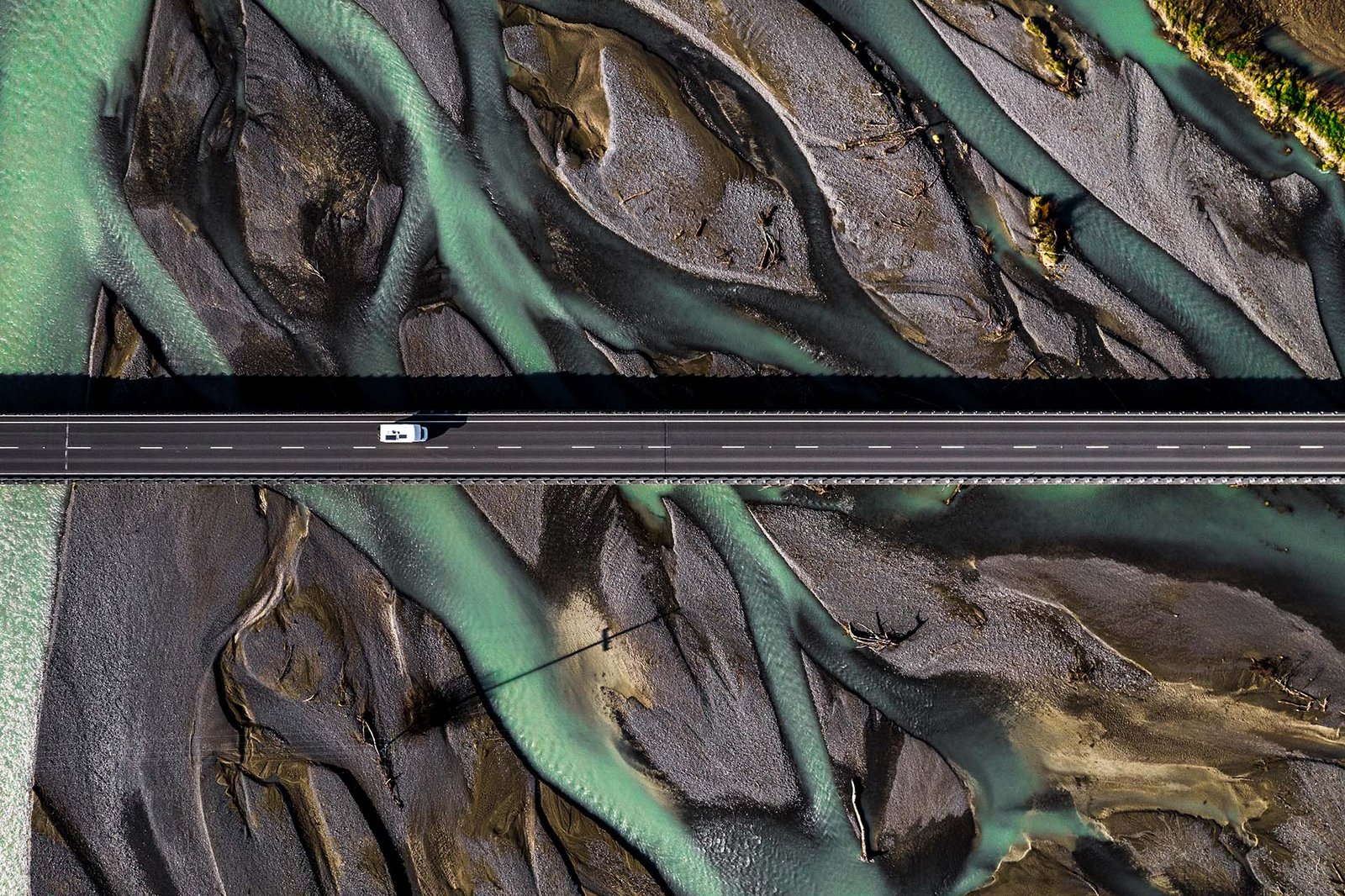 Driving across the Waiau River Bridge between Kaikoura & Christchurch.
Day Two – Kaikōura

Campsite: Kaikōura Top 10 Holiday Park
After a fairly relaxing day yesterday, today is when the real adventures begin. First things first, grab yourself a coffee before heading down to the Peninsula Seal Colony for the sunrise and some breaky. For your morning cuppa, visit the Beach House Cafe, Sime's Kitchen or Chiwis Cafe for the best!
Peninsula Seal Colony
This seal colony is the most accessible colony in Kaikōura and is situated right at the end of the peninsula. You can park up with stunner views of the ocean and chances are you'll have a couple furry friends to keep you company. Sometimes they come up really close during high tide and it's not uncommon to drive into the carpark and see them lazing about in the parking bays. Spend some time exploring along the rocky coastline (which was once underwater but since the 2016 earthquake is now accessible) and watch as the sun rise out of the ocean directly in front of you.
Parked up at the Peninsula Seal Colony
Kaikōura Cycling Trail
Once you've had your breaky, it's time to go and pick up some bikes to start exploring some of the incredible trails Kaikōura has to offer. You can hire ebikes and mountain bikes at the Isite in town.
One of the amazing trails is the Kaikōura Cycle Trail, a 48km loop that explores all of the varied landscapes of the small town. The full trail is ride-able for most levels of experience with a few intermediate sections. Allow yourself about 4-5 hours to complete the full loop or you can always cycle a smaller section in a couple of hours. The ever changing views of ocean, mountains and rivers are what make this trail so exciting, and there are plenty of picnic spots along the track to stop for a lunch break.
You'll be tuckered out after most of the day is spent riding so enjoy an evening of taking it easy. Across the road from the Top 10 is the Emporium Brewery with some nice local brews. You can either grab a couple of drinks over there or choose to take them away to enjoy back at the campground.
Kaikoura Top 10 Holiday Park
Day Three – Kaikōura

Campsite: Kaikōura Top 10
Another full day in Kaikōura awaits and you're in for a treat as you get to see some of the best places in the small town, starting with the Peninsula Walkway. Make sure you've packed yourself plenty of food as today is jam packed with some epic missions.
Kaikōura Peninsula Walkway
This is a beautiful walk showcasing the very best of the coast and bulk loads of little furry seals sunbathing on the rocks. The full track is 11.7km and will take you roughly 3 hours to complete (there and back). If you're up early enough for sunrise then you will witness some of the most spectacular views. You can start the track at either the South Bay end or from the Peninsula Seal Colony. It honestly doesn't matter what side of the peninsula you start at, both sides are as stunning as each other.
The track is really easy and follows farmland along the top of the peninsula for most of the way. We'd probably rate this as the BEST walk to do in Kaikōura!
Kaikōura Peninsula Walkway
Ohau Point & Paparoa Point
Just outside Kaikōura (about 15 minutes away) along the highway is another seal colony, found at the Ohau Point lookout. This is another spot where the seals are abundant, especially during the winter time. Not only is it a great spot to seal watch but there's also a newly built walkway that you can follow towards Paparoa Point. If you're feeling like going for a ride then make sure to pack the bikes and go for a cruise out to the statue at Paparoa Point where you can learn about the cultural history of the area. Alternatively, you could always go for a nice walk out there instead. It's up to you!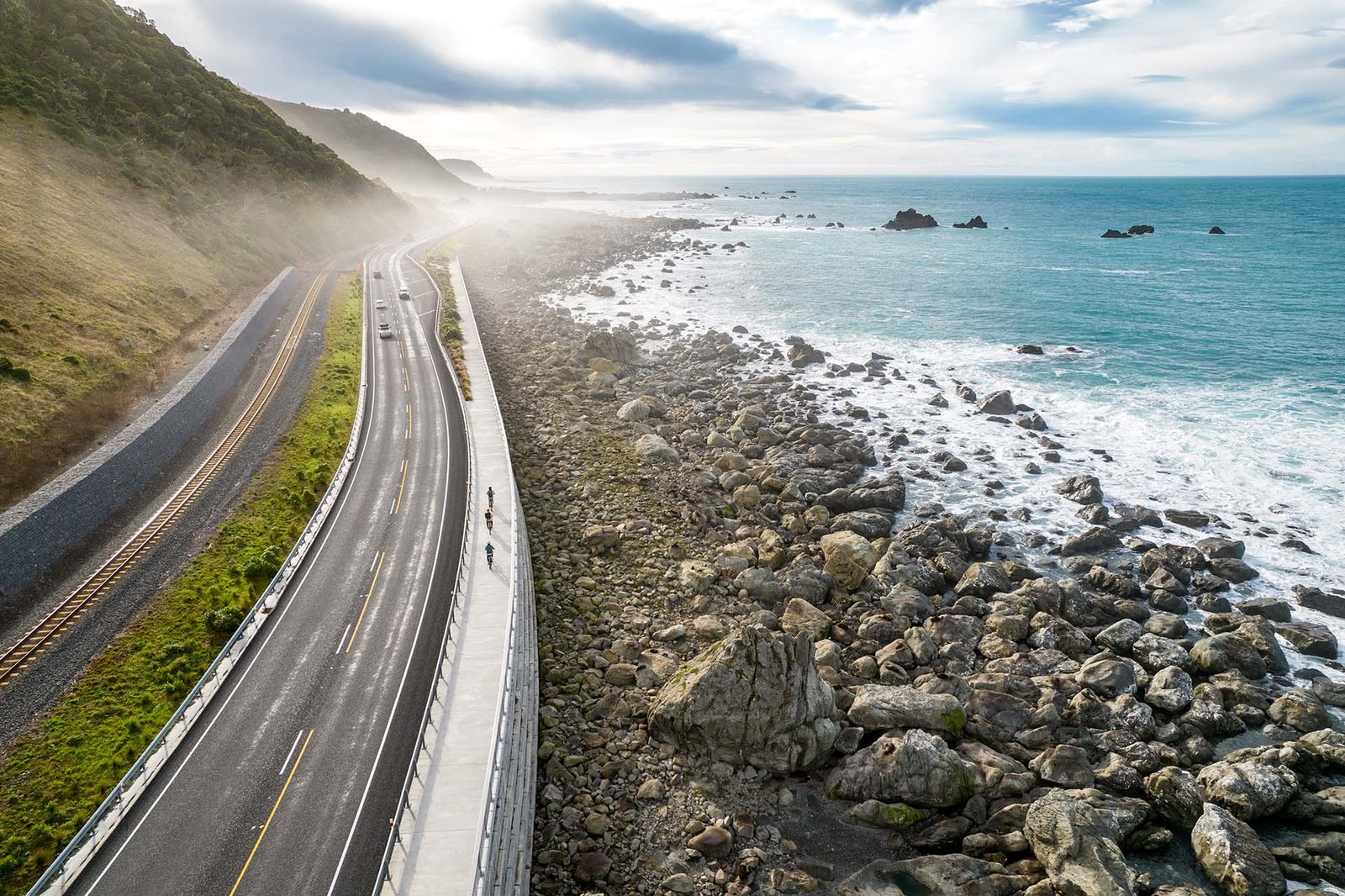 Cycling from Ohau Point to Paparoa Point
As you're heading back into town, we have one more stop off for the day. Whether you're keen on another bike ride or you'd rather go for an easy stroll or a bit of a hike there's something for everyone.
Kaiterau Trail & Hinau Track
The Kaiterau Trail is an intermediate mountain bike trail and is a 7.4km single track climb with 3.5km of descent. Expect a tough slog with switchbacks all the way to the top. Views over the Kaikōura Peninsula on a clear day are absolutely incredible. After the steep climb the downhill is very much welcomed. It's a fun fast paced 6 minute descent. If you're not feeling like jumping on a bike again today, no worries! From the carpark where the Kaiterau Trail starts there are two other walks you could do instead. The Hinau loop walk is a nice and gentle stroll through native bush and will only take 30 minutes to complete. If you're up for a bit more of a hike, then you could also start climbing the Mt Fyffe track. To complete this hike you'd need the whole day, but there's always the option to walk part of it for a bit of exercise.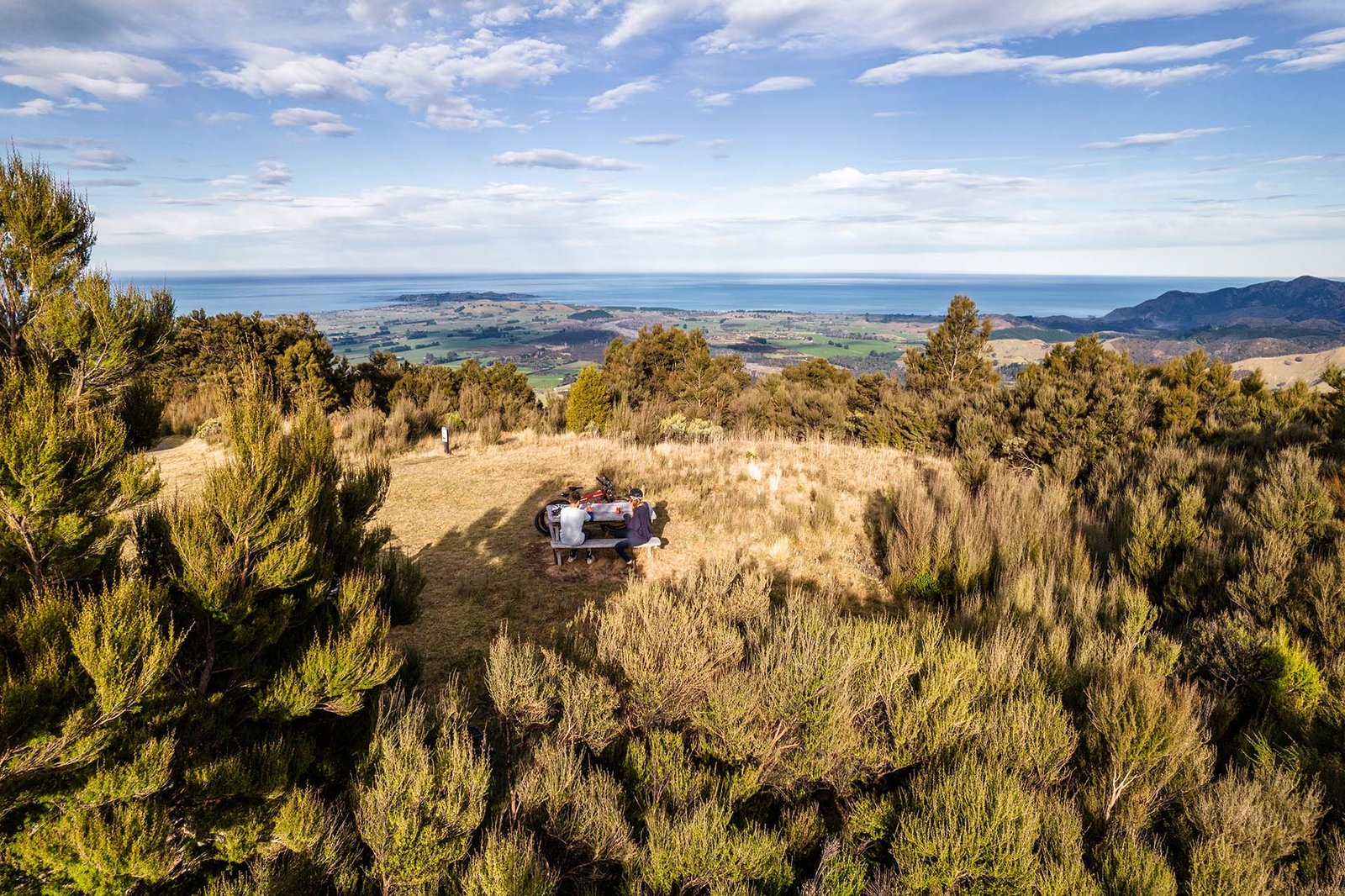 Enjoying a picnic at the top of the Kaiterau Trail.
Grab some dinner on your way back through town and head up to the Kaikōura Lookout to finish off the day. This is one of the best spots to watch the sunset in Kaikōura as you get views of the mountains and ocean, the whole township as well as over South Bay. Absolute beauty!
Day Four – Kaikōura - Christchurch
Driving Time - 2.5 hours
Campsite - Amber Park
Today we say goodbye to Kaikōura and head south for Christchurch. A slow morning and a big cooked breaky at the Kaikōura Top 10 was on the cards before heading off.
The roads in New Zealand truly are one of the best parts of any road trip. We've said it before, but the roads in some cases could almost be considered destinations in themselves. That's why having a camper is SO good, as you'll certainly spend a lot of your time stopping off along the road to Christchurch. You're in no rush, so take your time to cruise.
When you arrive in Christchurch, head straight up the Port Hills. There is so much to see and do up here so the choice really is yours. Some of our favourite spots in the hills are the Crater Rim Walkway, Sign of the Bellbird, Coopers Knob, Godley Heads, The Rapaki Track and so much more. We decided to visit the Gibraltar Rock for the afternoon!
Gibraltar Rock - Port Hills
Gibraltar Rock is located only 30 minutes from the city and provides incredible views over Christchurch, Lake Ellesmere and the Southern Alps in the distance. The track starts in a beautiful bush setting and is an easy 15 minute walk up to the top of the rock. A little bit of climbing is involved to get to the top, it's not hard but take care.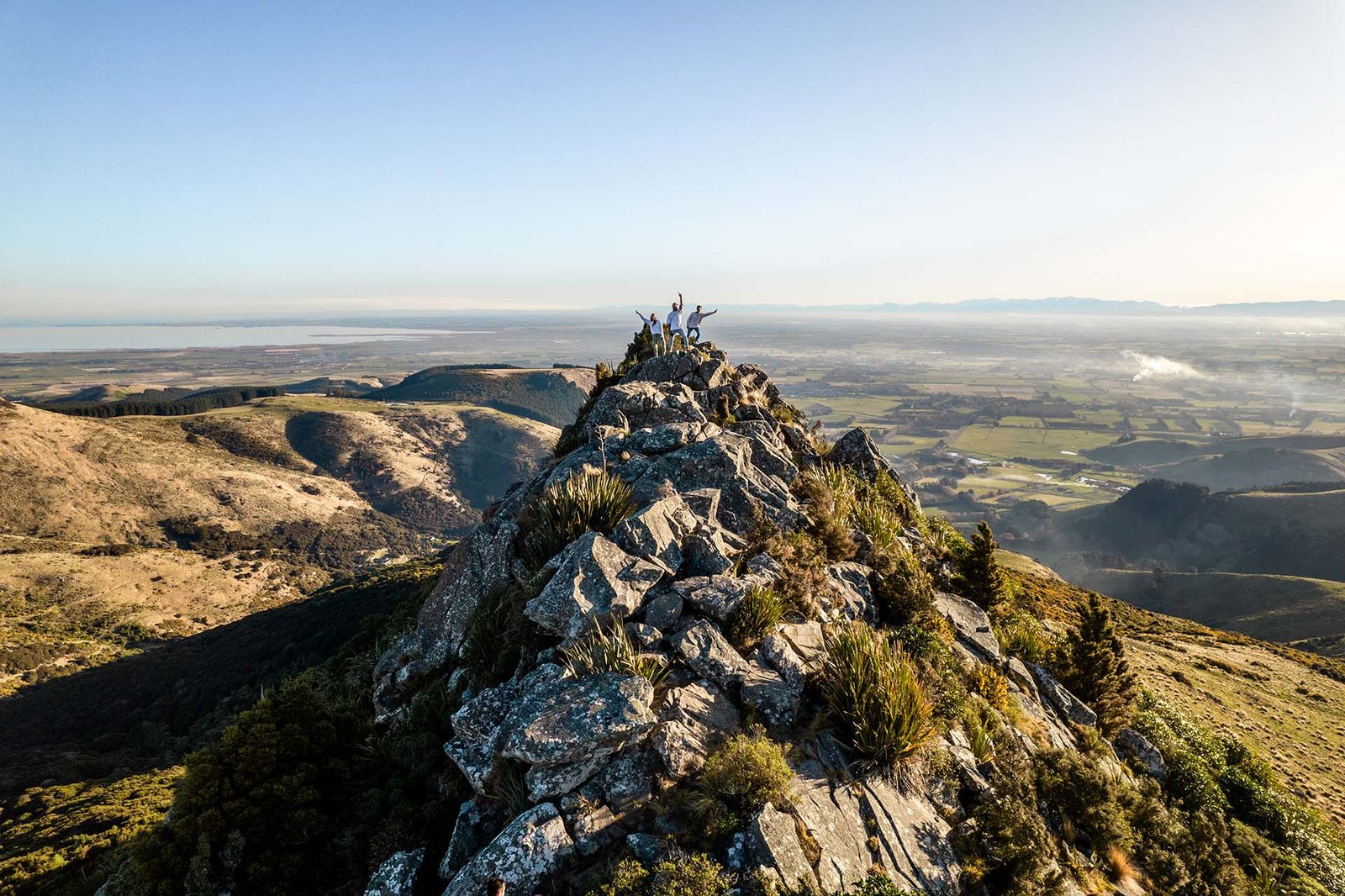 Up the top of Gibraltar Rock in Christchurch's Port Hills
You've got a big day tomorrow and a very early start to do something exciting, so it's time to check into your accommodation for the night and find a spot for dinner. Amber Park is a great campground in Christchurch City and is central to everything you'll need. After checking in we recommend heading into the city for a feed. You're really spoilt for choice when it comes to dining in the city but you can't go wrong with anything from the Riverside Markets and along The Terrace. King of Snake is a Roady fav for the best Asian Fusion in town.
Day Five – Christchurch - Ross
Driving Time - 3.5 hours
Campsite - Ross Beach Top 10
Today is a super exciting day as it's going to start in a very unique way. You'll need to be up at sparrow's fart to drive 30 minutes west of Christchurch to go to the site where Ballooning Canterbury's hot air balloons take off from. Yep, you have the option to head up into the sky to witness the sunrise from a hot air balloon.
Ballooning Canterbury
This is such a cool experience and guaranteed to be a morning you won't forget. The quiet calm feeling when you're up in the air is really quite indescribable, not to mention the views are mind blowing. You'll finish off with some breaky and bubbles before it's time to hit the road again. This time, heading to the wild West Coast!
Floating above the Canterbury Plains with Canterbury Ballooning
If you're still feeling peckish after your breaky, start heading to the coast via Sheffield and visit the famous Sheffield Pie Bakery. Easily one of the best pies in the country. If you're one of those people that really rates a good pie, this place just cannot be missed. Although there is so much to see and do along the road to the West Coast, you'll want to make it before it starts to get dark so keep the stops to a minimum, if you can.
Check into the Ross Beach Top 10, located only 20 minutes south of Hokitika, and then head straight for the Historic Empire Hotel for an epic pub meal. This hotel opened in 1866 and it really feels like you've stepped back in time. They put on a buffet for $25 per person and this was definitely one of the best meals we'd had on tour — highly recommend!
Finish day 5 off with a bonfire down at Hokitika or Ross beach. Pick up some kindling from the Hokitika Four Square before heading down and you'll find plenty of driftwood along the beach. One of the best parts of the coast is being able to have a fire on the beach. Is there anything better than sitting around a warm fire with marshmallows, a few drinks and some mates? It's the perfect way to end another awesome day on the road.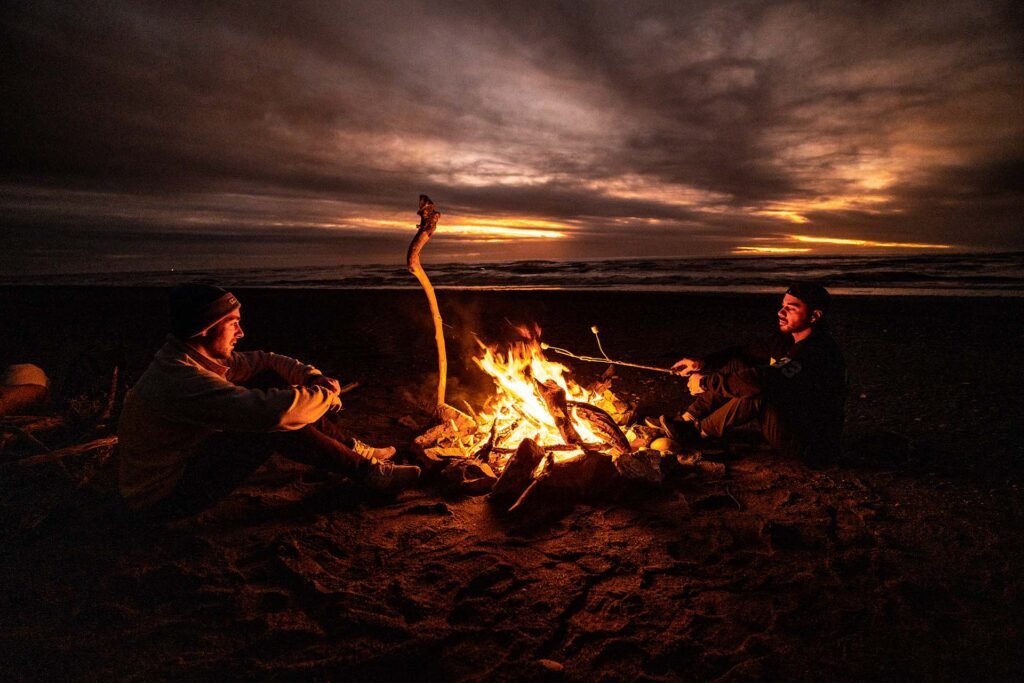 Bonfire at Hokitika Beach
Day 6 -

Ross

- Westport
Driving Time - 2.5 hours
Campsite - Carters Beach Top 10
With the Ross Beach Top 10 being right on the beachfront, there's no need to go anywhere else so enjoy your breakfast in the campground before heading to Ross Goldfields to have a crack at panning for gold.
Ross Goldfields
Ross was a hugely important centre for miners during the West Coast gold rush in the 1860's so it's awesome to be able to try it for yourself. For $15 the crew will teach you how to pan before sorting you out with equipment and sending you on your way. You'll be panning in Jones Creek where gold was first discovered back in 1865. This is a really cool experience and is a must do when staying in Ross.
Gold Panning at Ross Goldfields
Dorothy Falls & Lake Kaniere
Next up, it's time to start your journey north, but not without a few more stop offs along the way. Starting with the stunning 64m waterfall, Dorothy Falls. They're only a 30 minute drive inland from Hokitika and sit along the edge of Lake Kaniere. Absolutely no exercise is involved in visiting these falls, as they sit right on the side of the road. They're pretty impressive, but even more so after heavy rainfall — which is a likely occurrence on the wet and wild West Coast. After the falls, drive 5 minutes up the road to the Lake Kaniere campground where there are picnic tables and a small jetty. With beautiful mountain views and crystal clear water, it's a great place to stop for a late lunch and maybe even a wee dip if you're brave enough.
When you're ready it's time to start the two hour road trip north up to the Carters Beach Top 10 in Westport. This is another awesome campground located right on the beach. Have a relaxing night in and enjoy the sunset from your camper!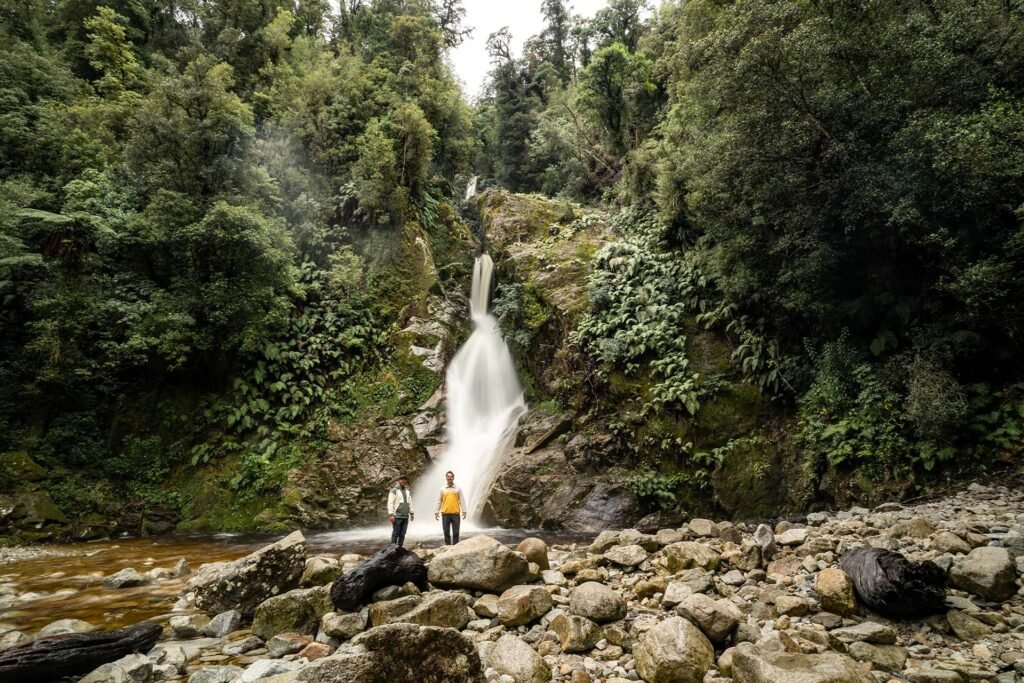 Day Seven – Westport - Nelson
Driving time: 3.5 hours
Campsite - Nelson Top 10
Today is going to be another goodie, packed full of adventures, along with a drive across to the Nelson Tasman region — another road that will have you stopping for plenty of photos.
Tauranga Bay - Cape Foulwind Lighthouse
A great activity just outside of Westport is the easy walk from Tauranga Bay to the Cape Foulwind Lighthouse. Shortly after starting the walk you'll come across a viewing platform overlooking a seal colony. Allow two hours to get to the lighthouse and back and enjoy the beautiful coastline along the way.
Grab a delicious handmade wild game pie from the West Coast Pie Co for lunch— you won't be disappointed! Searching for the best pie in NZ is a quest many are on, and we think these have the potential to be in the top 3!
Before leaving Westport pop in at the Shortjaw Brewery and share one of their tasting trays.
All three of their core range beers are made using malts and hops entirely from the South Island. This was an awesome way to finish off our time on the West Coast.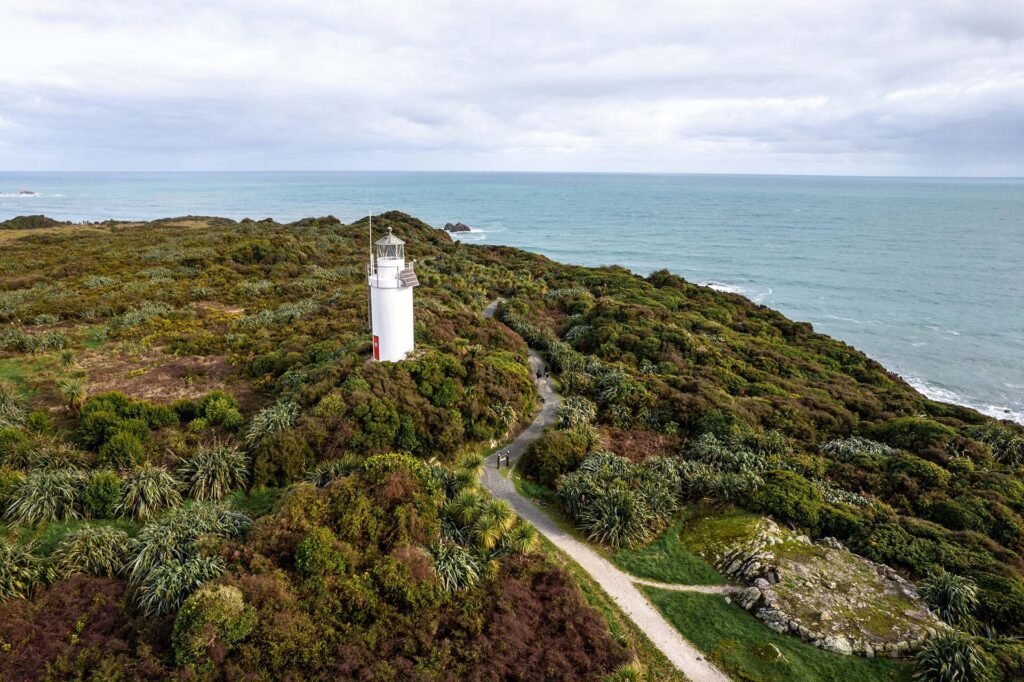 Cape Foulwind Lighthouse Walk
It's now time to head towards Nelson, but there's always one spot along the way that is worth popping in at…
Lake Rotoiti
Lake Rotoiti is a must visit spot during rain, hail or shine. This stunning mountain surrounded lake sits in the little town of Saint Arnaud and truly is a sight to see no matter the weather. There are a couple of spots around the lake, but Kerr Bay is the main area to visit as you've got the jetty and the swimming pontoon. Make sure to look under the jetty and you'll see a bunch of the biggest eels you've probably ever seen. Legend says there is an eel so big at the bottom of Lake Rotoiti it's deterred even the most experienced of divers.
Enjoy a camper dinner here and watch the sun go down and the stars start to appear before hitting the road to your final destination for the day.
Day 8 - Nelson - Blenheim
Driving Time - 1.5 hours
Today is the final day on your road trip! Not a lot of driving involved but still a few cool places to hit up. Starting with a feed in the camper at the Nelson Top 10. Now is also a great time to get the camper looking schmick before you drop to the owners later on. The Top 10 sites have everything you need to dump your waste and fill up with fresh water.
Grab a coffee or make one in the camper to go before heading to the stunning Tahunanui Beach.
Tahunanui Beach & Centre of New Zealand
This is the closest beach to the Nelson City Centre and is an absolute paradise. It stretches 1.75km and is perfect for an easy morning stroll. It's also pretty epic that you can see mountain views while walking along a nice golden beach. Before leaving Nelson, go for a short stroll up to the Centre of NZ monument. The walk is located on Botanical Hill at the start of the Maitai Valley and is an iconic walk in Nelson Tasman. It got its name as it was a central survey point in the 1800s. It's an easy 1 hour return stroll and the views from the top are pretty incredible.
Centre of New Zealand
Cable Bay
Your final stop! We've definitely saved one of the best for last. This is easily one of the best beaches in the Nelson Tasman region and possibly in all of NZ. It's 20 minutes out of Nelson and it's on the road to Blenheim so it'd be rude to not stop in! On a warm day there's nothing better than swimming and spending your hours relaxing and exploring the bay. Pack a picnic and head up the walkway for about 15 minute for even better views of the bay. Enjoy your snacks up here as well as your last moments on the trip. We couldn't think of a better spot to do it!
Sadly it's now time to make your way back to Blenheim to drop your camper off. In our case, handing Te Ora over to Katie. This is certainly another incredible trip for the books!