Highlights Along The Southern Scenic Coast Route
Jagged seaside cliffs, lush leafy forests, rare wildlife and rich history; the
Southern Scenic Route
offers something to suit everyone. With 600km of road to travel and so much to discover, this part of New Zealand is sure to provide an unforgettable experience.
There are plenty of great campgrounds and accommodation options along this route so whether you're travelling in a campervan, car or even an electric vehicle, pack up that rig and let's hit the road! For those opting for an electric vehicle, you may be surprised to know that this route is well equipped with plenty of Chargenet stations, making it a great route to take the EV on.
For many driving this stunning stretch of road, you'll be working your way down from Christchurch or up from Queenstown. Pick up a car from a Sixt Depot in either of these locations and head to the small town of Omarama and spend a bit of time exploring the Waitaki region and what it has to offer.
Only 10 minutes out of Omarama, you'll find the Omarama Clay Cliffs. They're located on private land and there's a $5 donation on entry. It's well worth it to see this epic natural landscape formed by the flow of glaciers over a million years ago. If you were wanting to stay for a night and explore this place further, one experience not to miss is the Omarama Hot Tubs. With views of the mountains and the river only a stone's-throw away, these private wood burner pools are a real treat.
Now, rather than going straight through Omarama, you want to go left heading along state highway 83 towards Oamaru. If you happen to drive along here on a perfect summers day then you're in for a real treat! The view as you drive passed Lake Benmore and down to Lake Aviemore is absolutely breathtaking. The water is crystal clear and very inviting on a hot day.
You could easily spend a full day driving to Oamaru as there's quite a lot to do along the way. A few highlights worth a stop would be the Waitaki Dam Lookout — a must visit for those who love their history as this was the first major dam to be built in the South Island.
Stop off for a bite to eat and wander through the cute country town of Kurow. You could even head up Kurow Hill for a stretch of the legs and some awesome views (you'll work up a bit of a sweat doing this one). Another incredible landscape is the Elephant Rocks; just outside of Duntroon is a field filled with beautiful 23 million year old rock formations. This is a photographer's dream location during the sunset and a fun playground for the kids.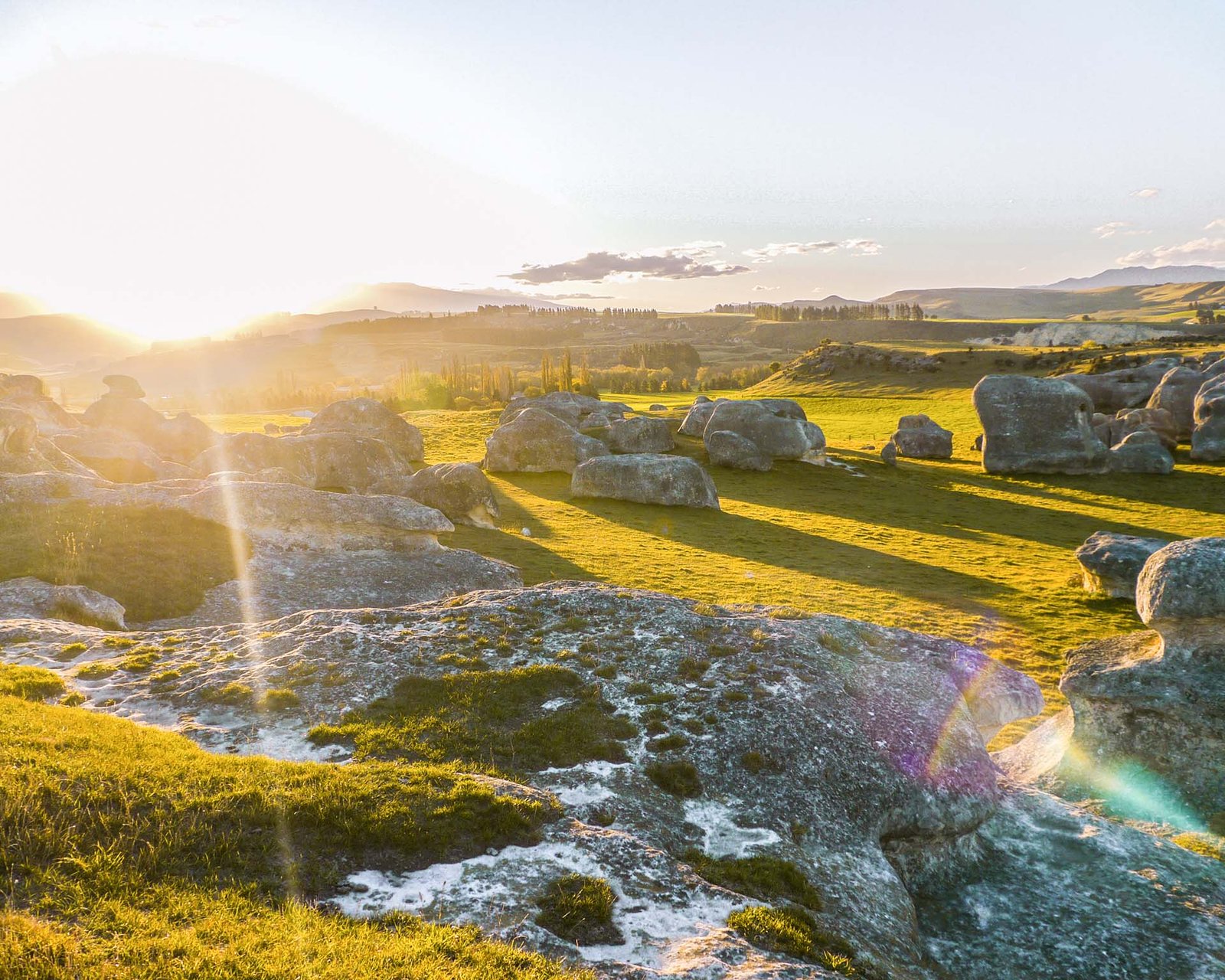 Oamaru is the largest town in the Waitaki district and has a very rich history and proud heritage. A quirky town with plenty of cafes and galleries to explore. Also home to the world of Steampunk, make sure to check out NZ's premiere Steampunk attraction at Steampunk HQ.
For some outdoor adventures head to see the world's smallest penguins in their natural environment or visit Cape Wanbrown, a popular walk in the area.
Making your way south along the wild coastline towards Dunedin, you'll pass a tiny town called Hampden and if you're a kai (food) connoisseur then the fish and chip shop needs to be on your list of stops. The reviews are right — this could very well be New Zealand's best fish and chips. Fleur's Place in Moeraki is another great place to eat and you can't visit this area without walking to the famous Moeraki Boulders.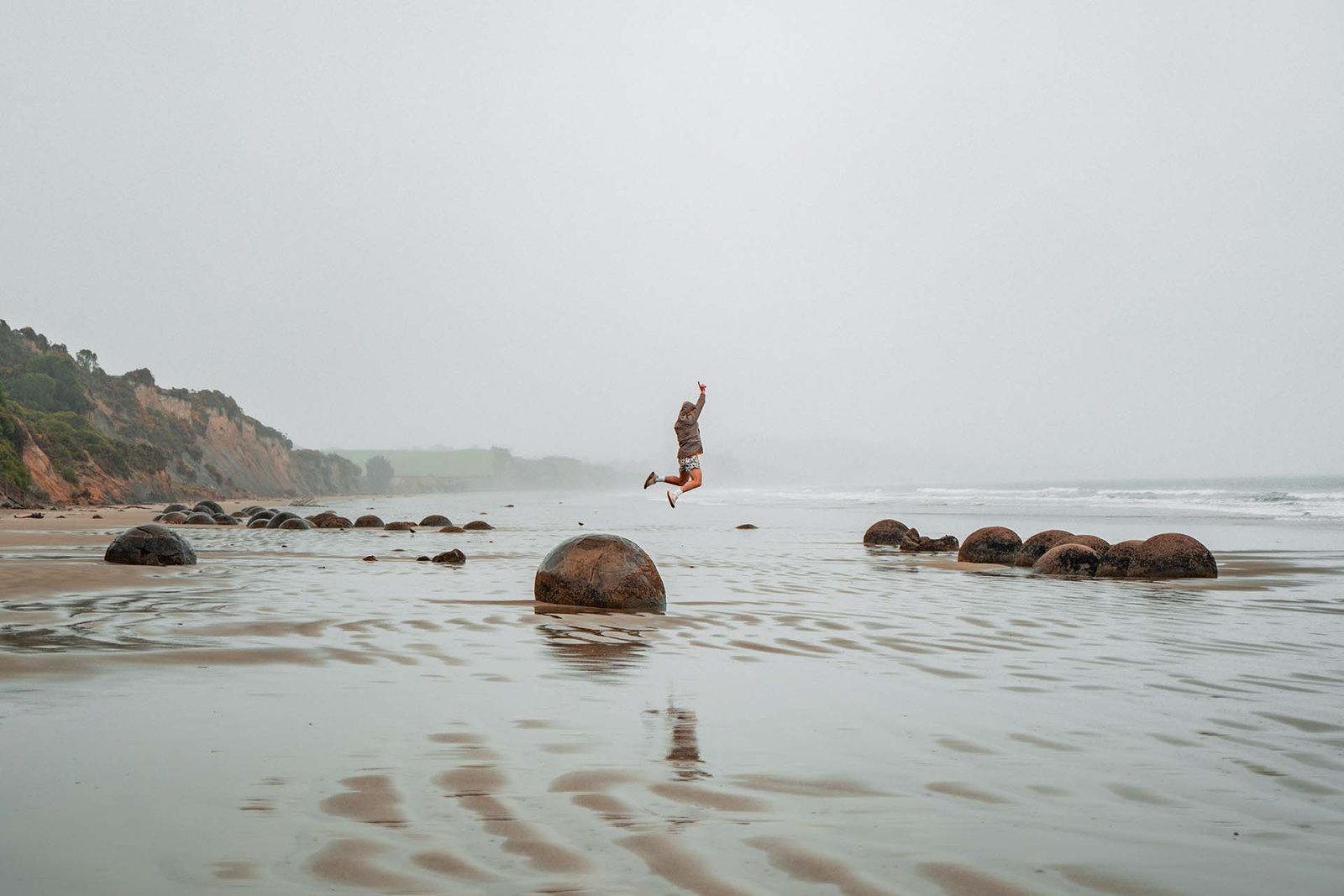 An iconic Kiwi landscape unlike any other in the country. People have been drawn to this beach for years to see the large boulders scattered through the sand. What makes these boulders truly impressive and unique, is their perfectly smooth spherical shape. Māori legend says that these boulders are gourds from the wrecked voyaging canoe Āraiteuru, which hit New Zealand's shores several hundred years ago.
Spend a night in Moreaki or continue south. Only another hour's drive and you're in the second largest city in the South Island, Dunedin. Dunedin is a city surrounded by unique landscapes and is filled with beautiful heritage buildings and cultural history. Dunedin's heritage extends to a real castle, high on the hills of the Otago Peninsula. Larnach Castle is New Zealand's only castle and much-loved piece of history.
There is so much to see and do in Dunedin you really are spoilt for choice. Here are some must-do's we don't think you should miss.
Right on Dunedin's doorstep is incredible wildlife including the world's rarest penguin colonies. Visit Natures Wonders for an unforgettable experience getting up close and personal with the yellow eyed penguins and fur seals. Nestled at the foot of Taiaroa Head is the Royal Albatross Centre, the only place in the world where you can view Northern Royal Albatross in their natural habitat from the mainland.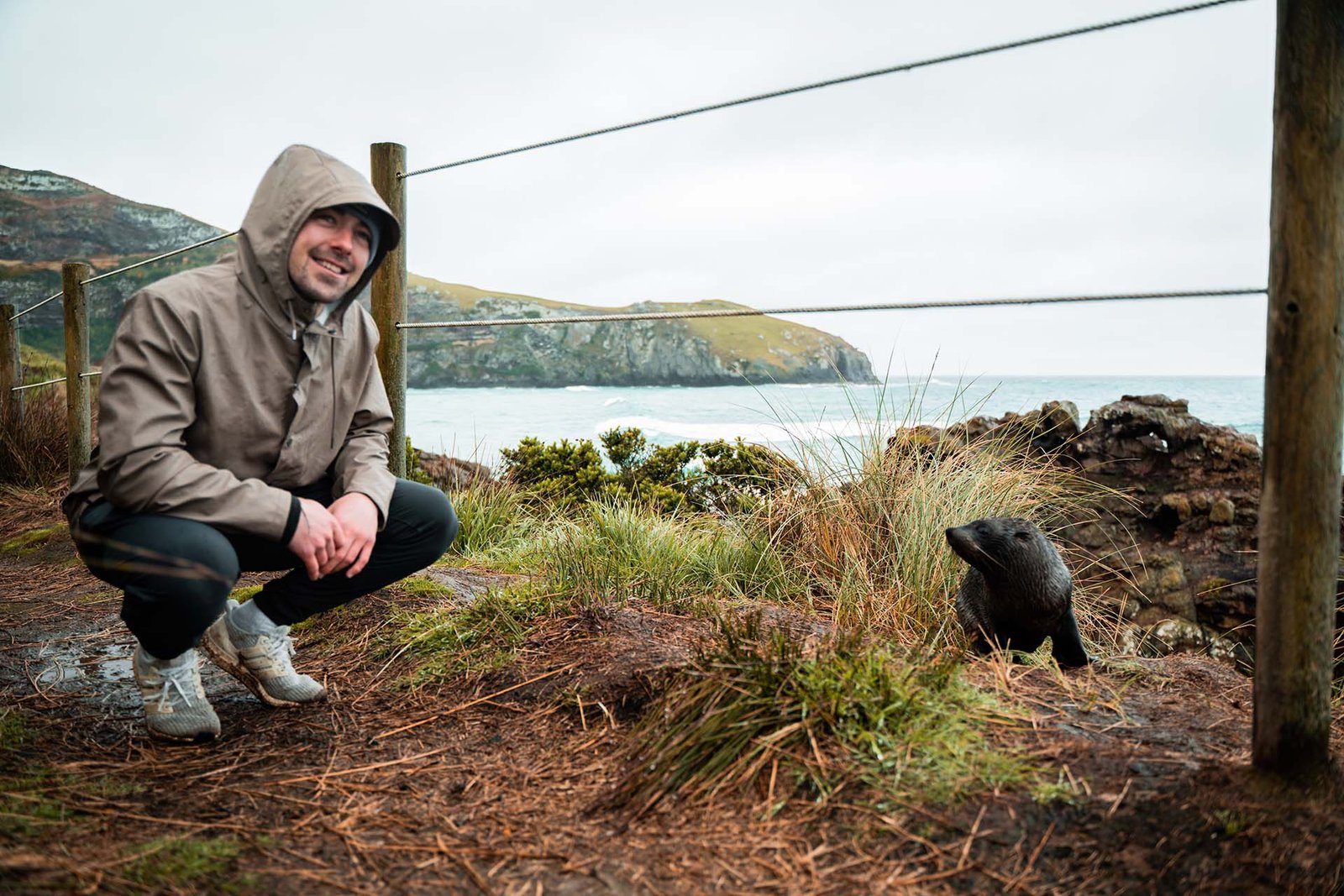 Seal pup on the Nature Wonders Tour
Dunedin provides plenty of excellent surfing opportunities with about 30 beaches within 30 minutes' drive of the city centre, and most having great surf. Whether you're a beginner or experienced, there's something to cater to everyone's needs. St Clair is the epicentre of the surf culture in Dunedin, a popular beach lined with cool cafes and restaurants that make some pretty incredible food and coffees. Just down the beach, St Kilda offers less crowded waves.
If you plan on hitting the trails there are some great spots to go for a hike or bike ride. Only 20 minutes' drive from the centre of Dunedin are the Organ Pipes & Butters Peak, a truly incredible work of art and some of the most unique geological formations in the country. For some stunning coastal views you'll love the Sandymount Track or visit the iconic Tunnel Beach, just prepare for an extremely steep slog back up. Speaking of extremely steep, you haven't really done Dunedin until you've walked up the world's steepest street — Baldwin Street. The hills and bays around the city and on the Peninsula provide plenty of opportunity for riding, at all levels of difficulty, against a stunning backdrop. For those who like getting off-road, Dunedin also offers plenty of epic mountain biking for all skill levels and through all sorts of country, from mountains to bush, coastline to inner city off-road tracks.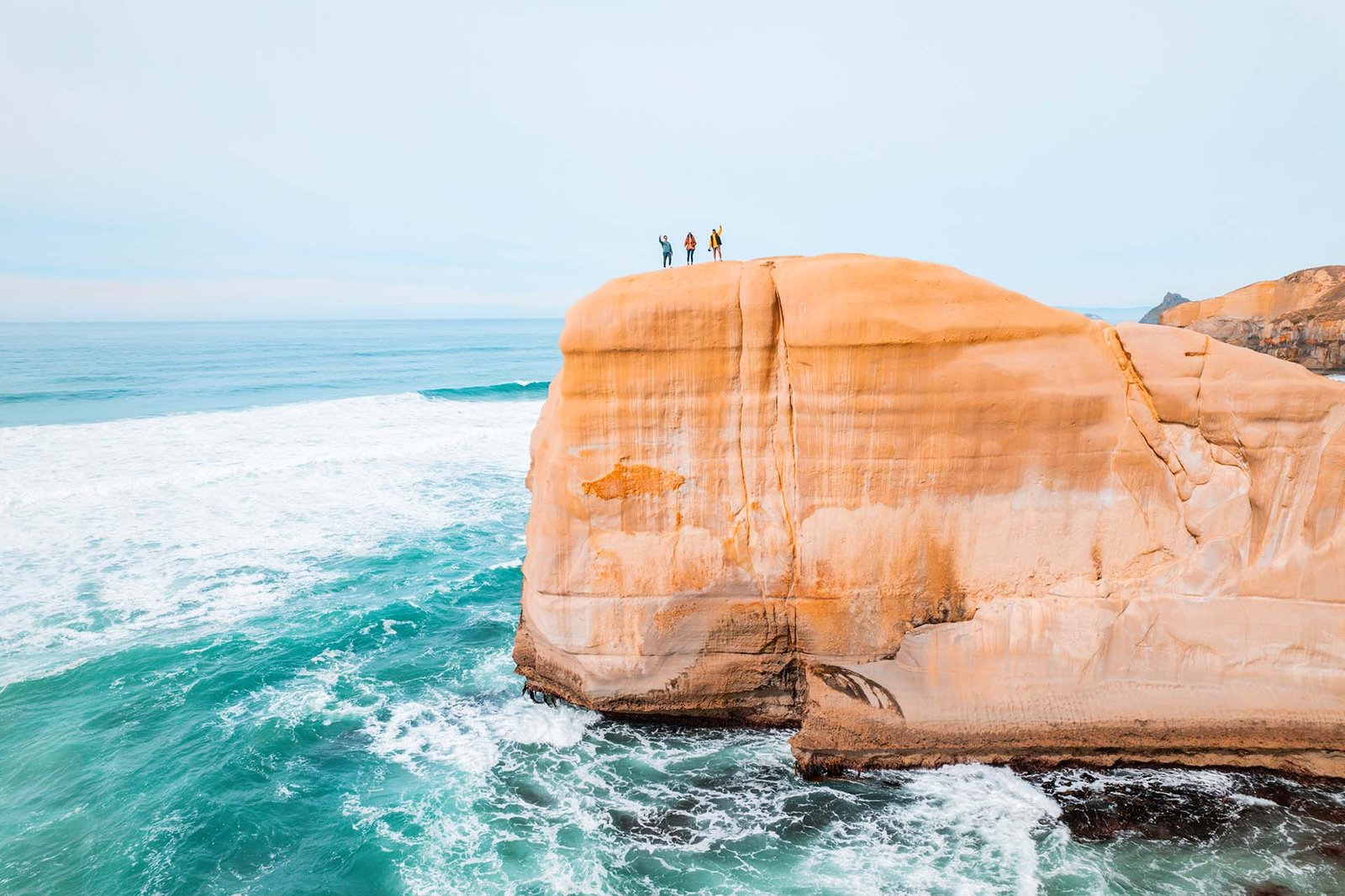 All that walking and biking is thirsty work and Dunedin is home to some pretty awesome breweries. Do a tour at the Speights Ale House or grab a tasting tray and sit back and relax at the epic Emersons Brewery venue (make sure you order food here too — super tasty). The Otago Museum is just one of the many museums in Dunedin but offers stories of nature, culture and science. The Tropical Forest Butterfly House is definitely a highlight attraction, with 100s of butterflies, parakeets, a 5 metre waterfall and a sky-bridge.
Tropical Forest in the Otago Museum
Be sure to download the Roady App for more info on all these spots and many more!
Continue heading south towards the Clutha region. For more beautiful heritage buildings and history visit the small town of Lawrence, more commonly known these days as the first town in New Zealand to offer free wifi to the locals and visitors. Lawrence is also where you can either start or end the Clutha Gold Cycle Trail — a great trail that winds along the Clutha River between Roxburgh and Lawrence. The trail is grade 2 for the majority, making it perfect for most riding abilities. Expect stunning scenery, tales of NZ's original gold rush, fruit from local orchards, rocky gorges to mountain ranges all while taking a relaxing cruise.
You'll hit Balclutha, the gateway to the breathtaking Catlins Coast. Balclutha is known as the "Big River Town" after the Clutha River. Enjoy this impressive body of water from the Balclutha Road Bridge, one of the most well known bridges in New Zealand thanks to its unique bowstring design.
If you start making your way back towards the coastline, it won't be long before you hit Kaka Point, and down a little further, Nugget Point. Visiting Nugget Point feels like you're on the edge of the world. The coastline is rugged and untouched, and it's easy to see why photographers flock here daily. Get here at sunrise to watch the sun rising out of the ocean directly behind the Tokata lighthouse — a mind-blowing spectacle. Nugget Point also boasts great native birdlife, seals and even penguins at the Roaring Bay Penguin Hide.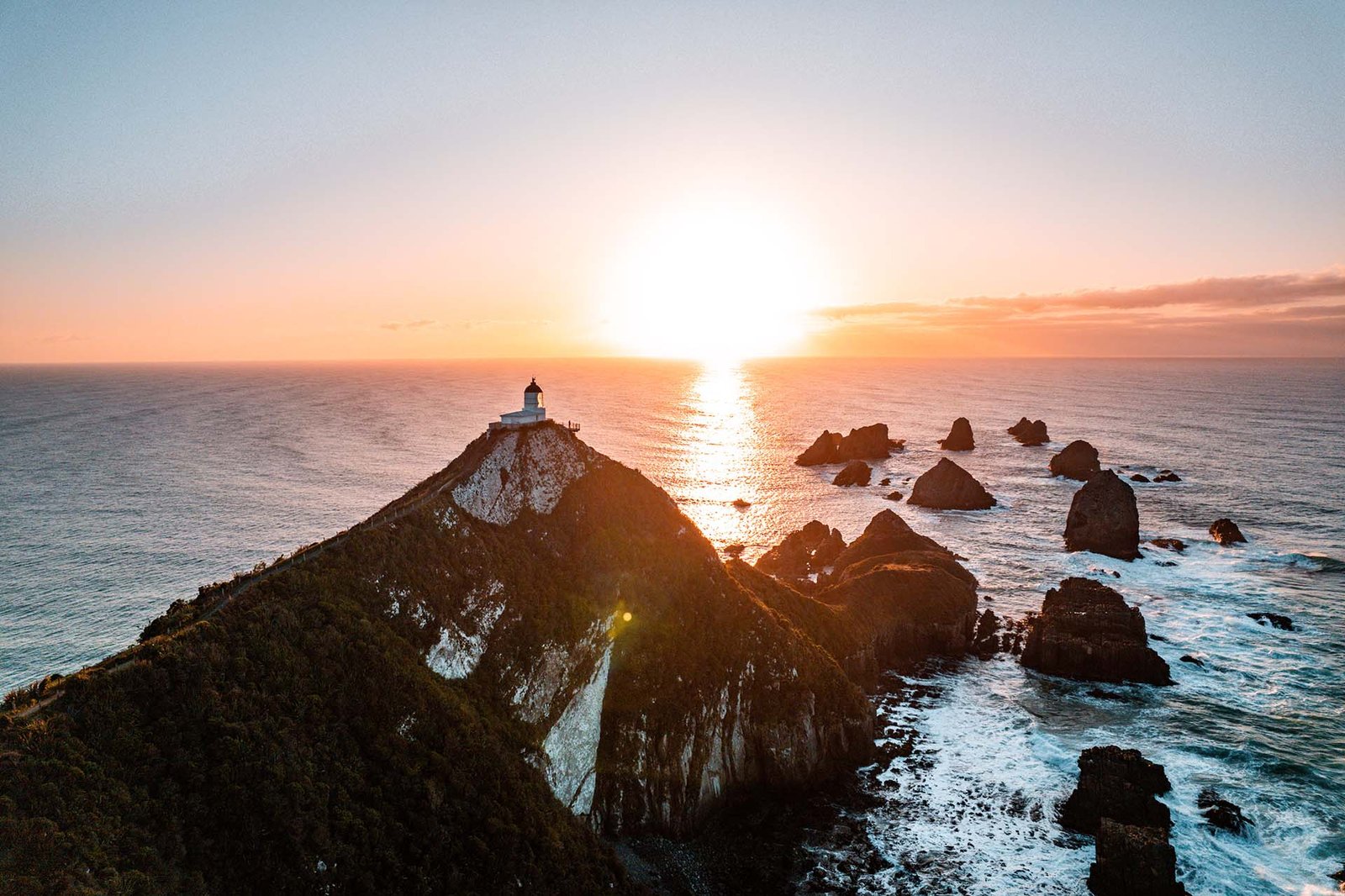 Sunrise behind the Tokata Lighthouse at Nugget Point
As well as being known for its incredible wildlife and raw rugged coastline, the biggest reason you visit the Catlins is to visit all the lush waterfalls. Easily some of the best waterfalls in the whole country and they're all so close together. One of the most iconic photographed scenes in New Zealand are the Purakaunui Falls. An easy 5 minute walk takes you to a stunning scene nestled in the bush. Being so accessible you can see why it's such a popular spot. The impressive 2-tiered Mclean Falls is also a must visit and the Matai & Horseshoe Falls can be found on the same track giving you 2 for the effort of 1.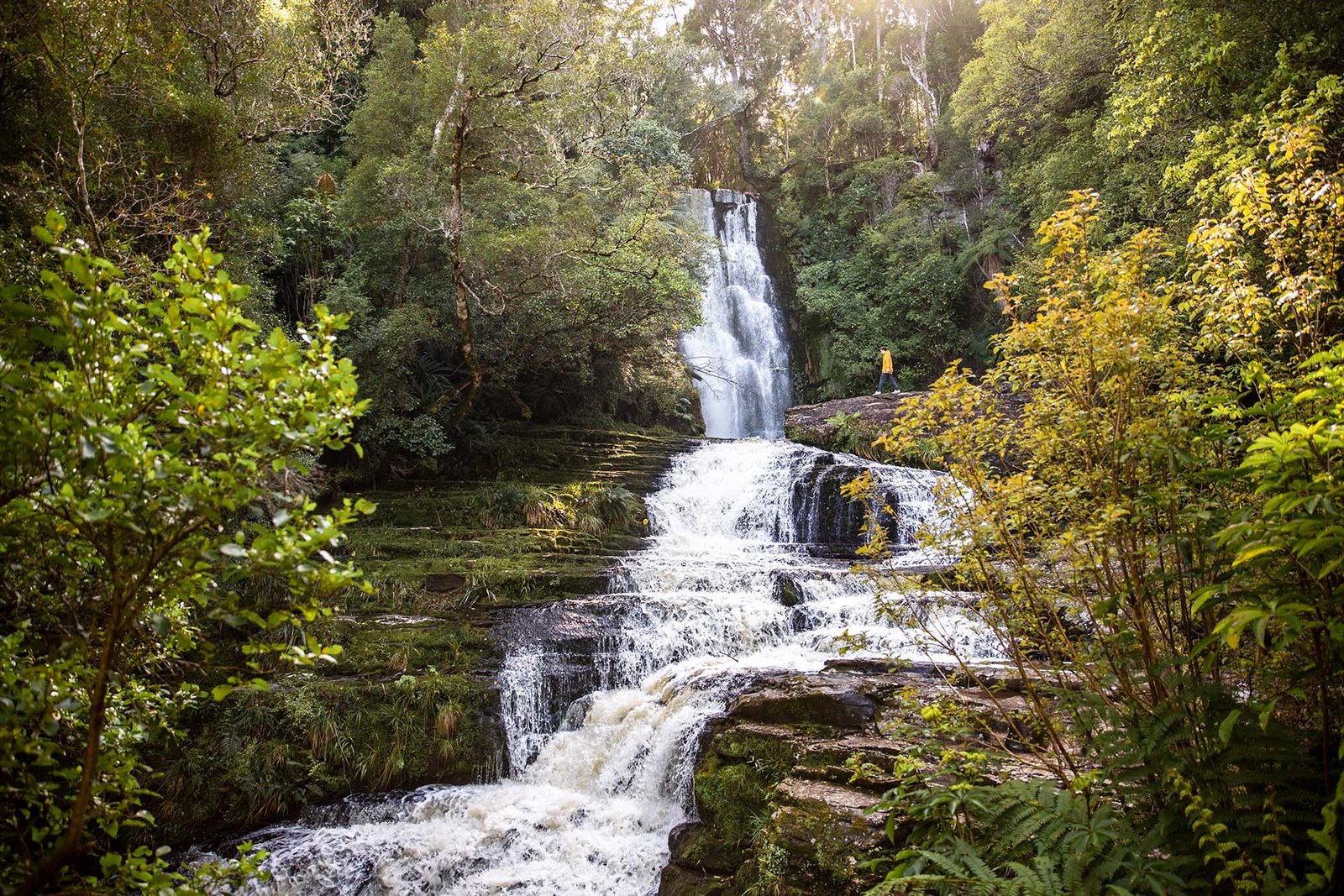 Depending on the time of year you visit and the tides – the Cathedral Caves is one experience not to miss. The caves are 200 m long and 30 m high and are a renowned geological formation worldwide. Another beach you can't miss is the Purakaunui Bay. With incredible surfing waves, a rugged cliff backdrop and one of the best DOC campsites in the country it'd be quite easy to spend a few days parked up at this spot.
For some slightly more remote beaches, an ATV tour with the team at Catlins Tours is a must-do. Expect to be taken over pristine private farmland to get stunning views overlooking the remote bays before heading down onto the beaches. If you're lucky you'll get to see some of the biggest sea lions as well as other wildlife.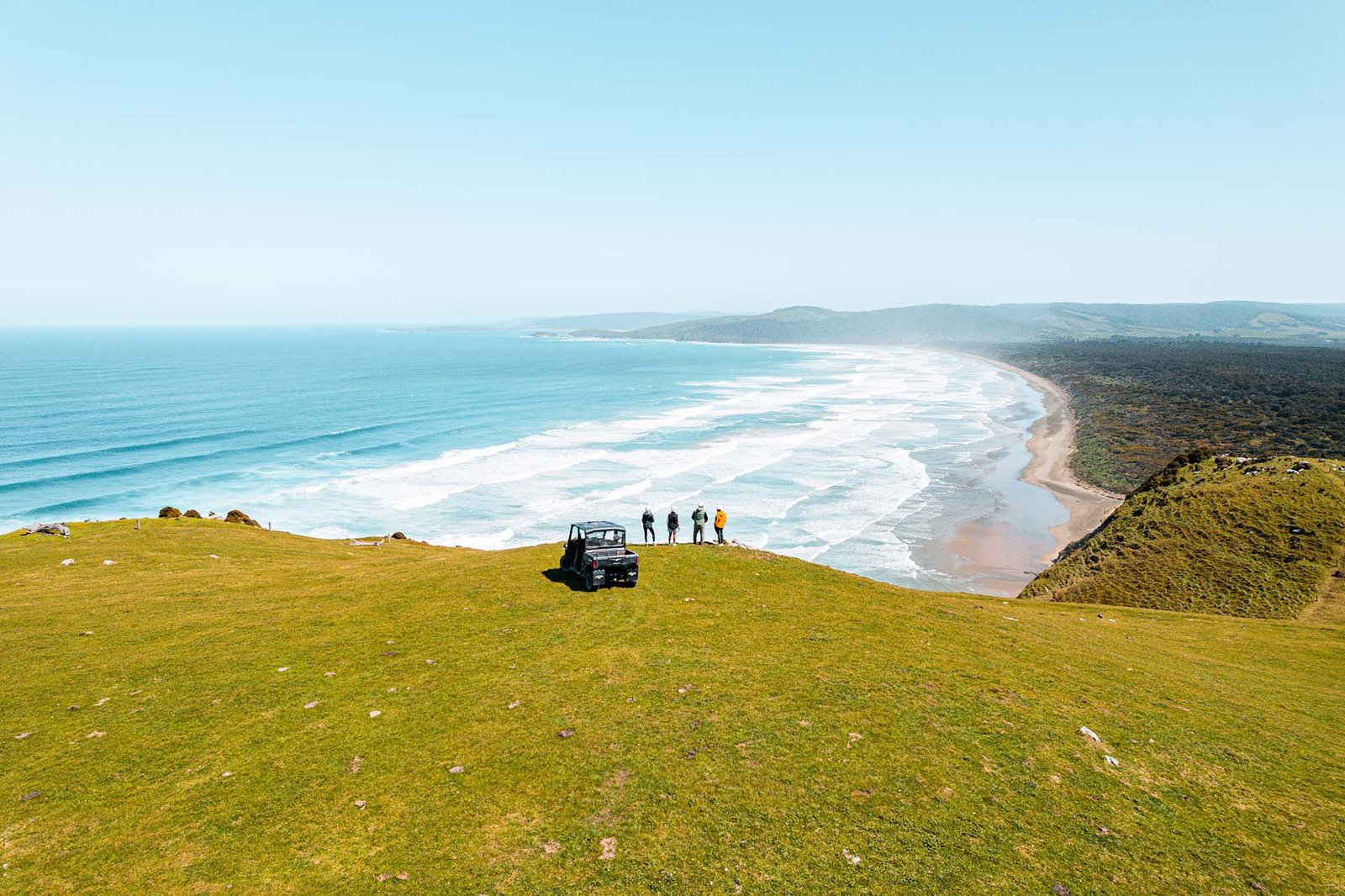 Enjoying the view on Catlins Tours
Another spot you need to visit is The Lost Gypsy Gallery in Papatowie. Grab yourself a coffee and have a wander through the property filled with so many gadgets and gizmos. It's truly quite the experience.
You now have the option to continue exploring the Catlins, head back up to anything you missed around Dunedin or make your way south to the bottom of the country. There's always more to explore and the option is all yours. Enjoy!