The Ultimate Queenstown
Road Trip Guide
Queenstown, nestled in the heart of the Southern Alps in New Zealand's South Island, is a breathtakingly beautiful and adventure-filled destination. Queenstown has something for everyone from its stunning landscapes to its adrenaline-pumping activities.
Queenstown is also committed to preserving its natural environment, and many operators offer eco-friendly tours and activities. As people's curiosity about low-impact travel grows, it's amazing to see a wide range of experiences that allow you to enjoy the natural beauty of this stunning part of New Zealand, while also being mindful of your impact on the environment.
In our opinion, the best low-impact way to travel is by electric vehicle. There are multiple Chargenet stations (in the most scenic locations might we add) in and around Queenstown, making it easy to recharge along the way. You can also take advantage of overnight charging by booking accommodation with EV charging facilities, this way you can park the car when you're done for the day and power it up overnight.
To save you time researching, we've put together a guide with all the best things to do in Queenstown, so you can make the most out of your trip!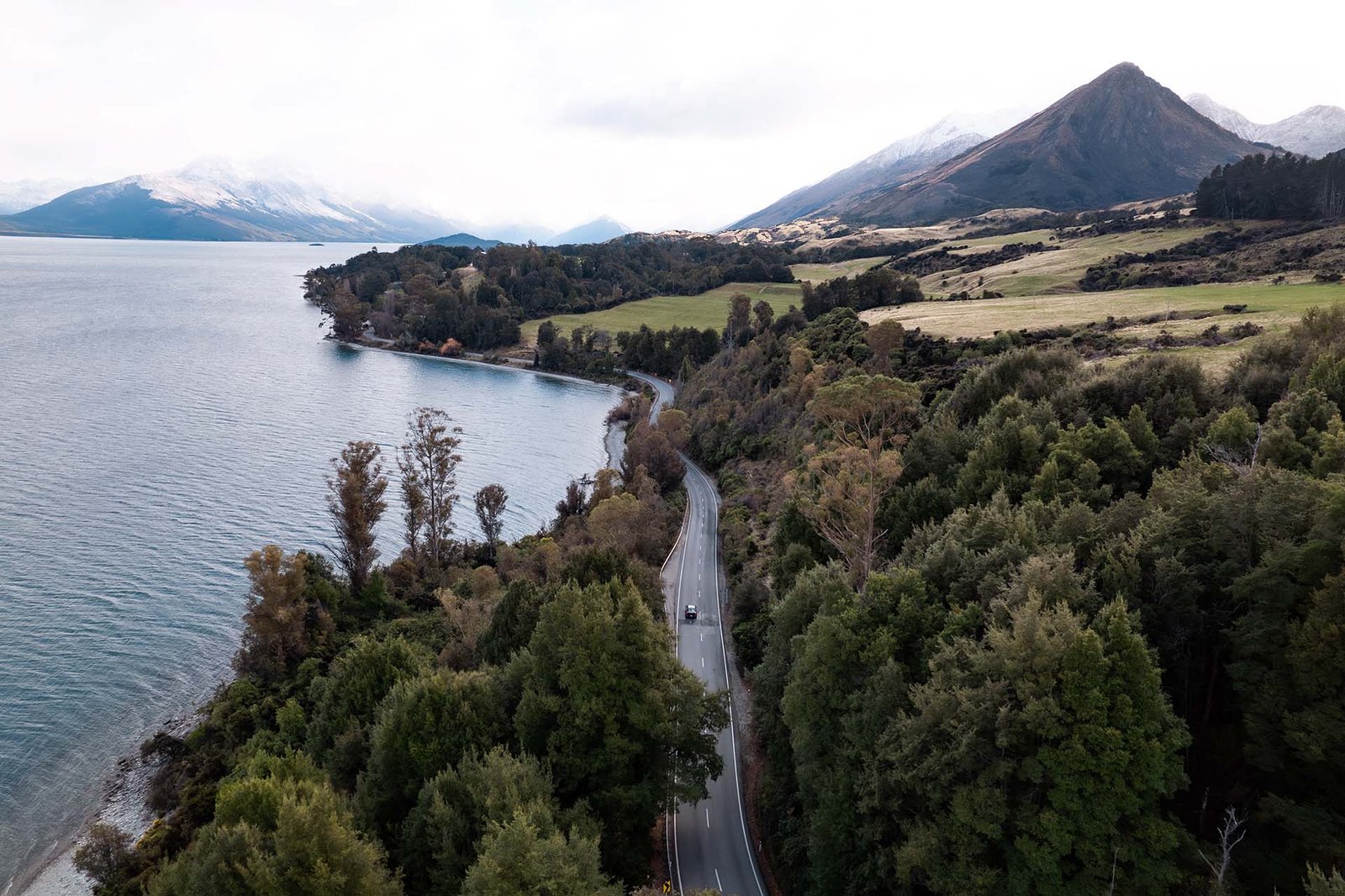 The road from Queenstown to Glenorchy.
Best time to visit:
Queenstown is most definitely a year-round destination, each season offering a unique experience. Summer (December to February) provides nice warm temperatures for outdoor activities and maybe even a summer dip, while autumn (March to May) showcases the most incredible color scheme as all the trees throughout the town turn a vibrant orange and red hue. Winter (June to August) is the perfect time for skiing and snowboarding, while spring (September to November) is a beautiful time to visit all the surrounding wineries as they come to life.
Views from the top of Queenstown Hill.
Getting there:
Queenstown is well-connected by air, with regular flights from major cities in New Zealand and Australia and it has got to be one of the most scenic airports in the world! Honestly, flying into this stunning alpine town is an experience in itself as you take in the surrounding mountain views.

If you're opting for an EV for the trip, head to the Sixt depot inside the airport and grab your choice of adventure mobile. We can't go past the trusty Polestar 2. They'll come all charged on pick-up so it's basically like enjoying free petrol - which is always a win for the environment and your pockets!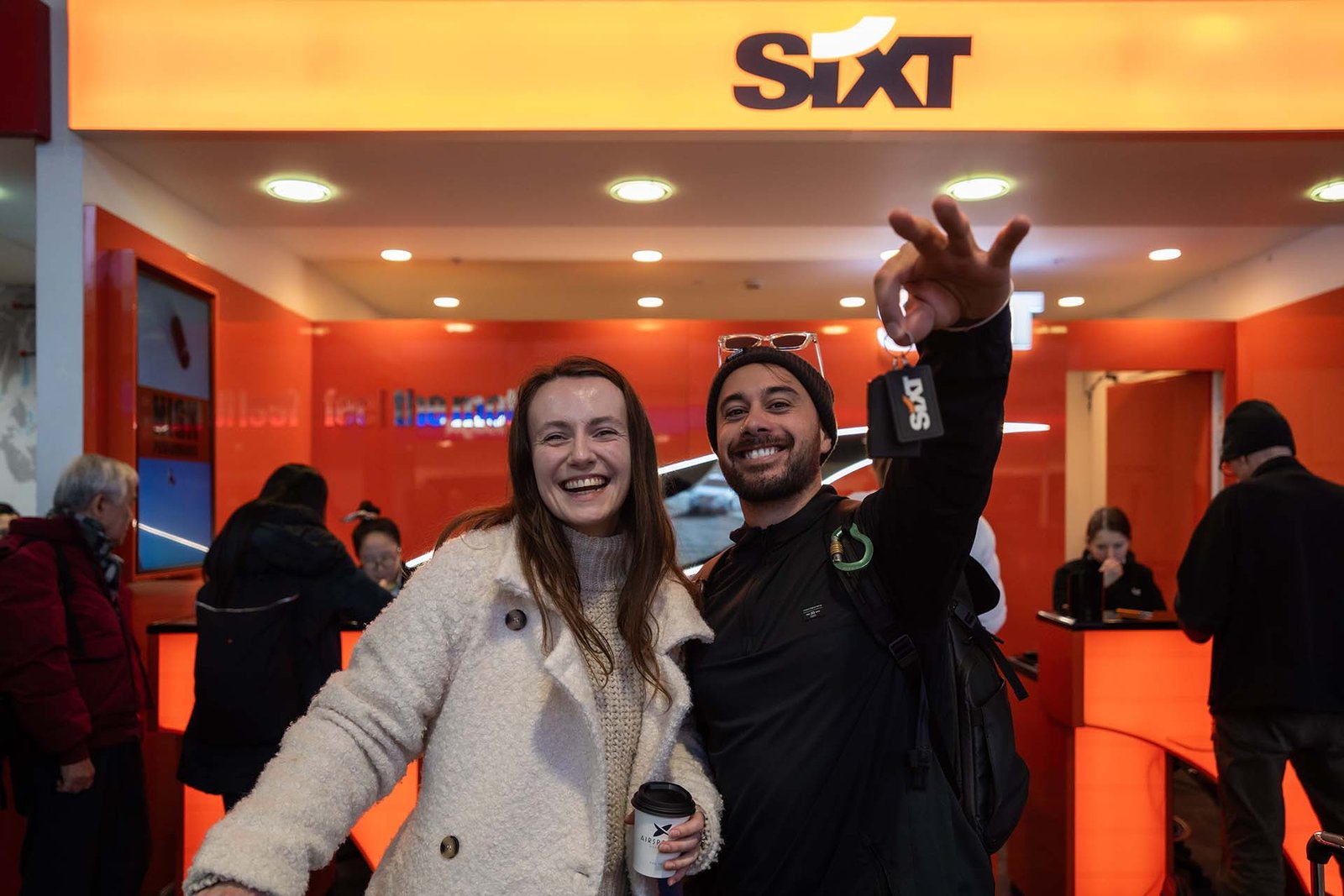 Picking up our keys for the Polestar 2 from the Sixt Depot in Queenstown.
Where to stay:
There are accommodation options to suit every budget and preference in Queenstown. The town centre offers a range of amazing hotels, motels, and hostels within walking distance of popular attractions. For a little bit of luxury close to town we recommend staying in the Scenic Suites - the views are absolute magic. Camping grounds are also a great option for budget travellers, and there are actually a few in Queenstown that also offer EV charging, including Creeksyde Queenstown Holiday Park & Driftaway Queenstown. Driftaway Queenstown also offers a lovely hot tub experience which is the perfect way to end a day of adventures.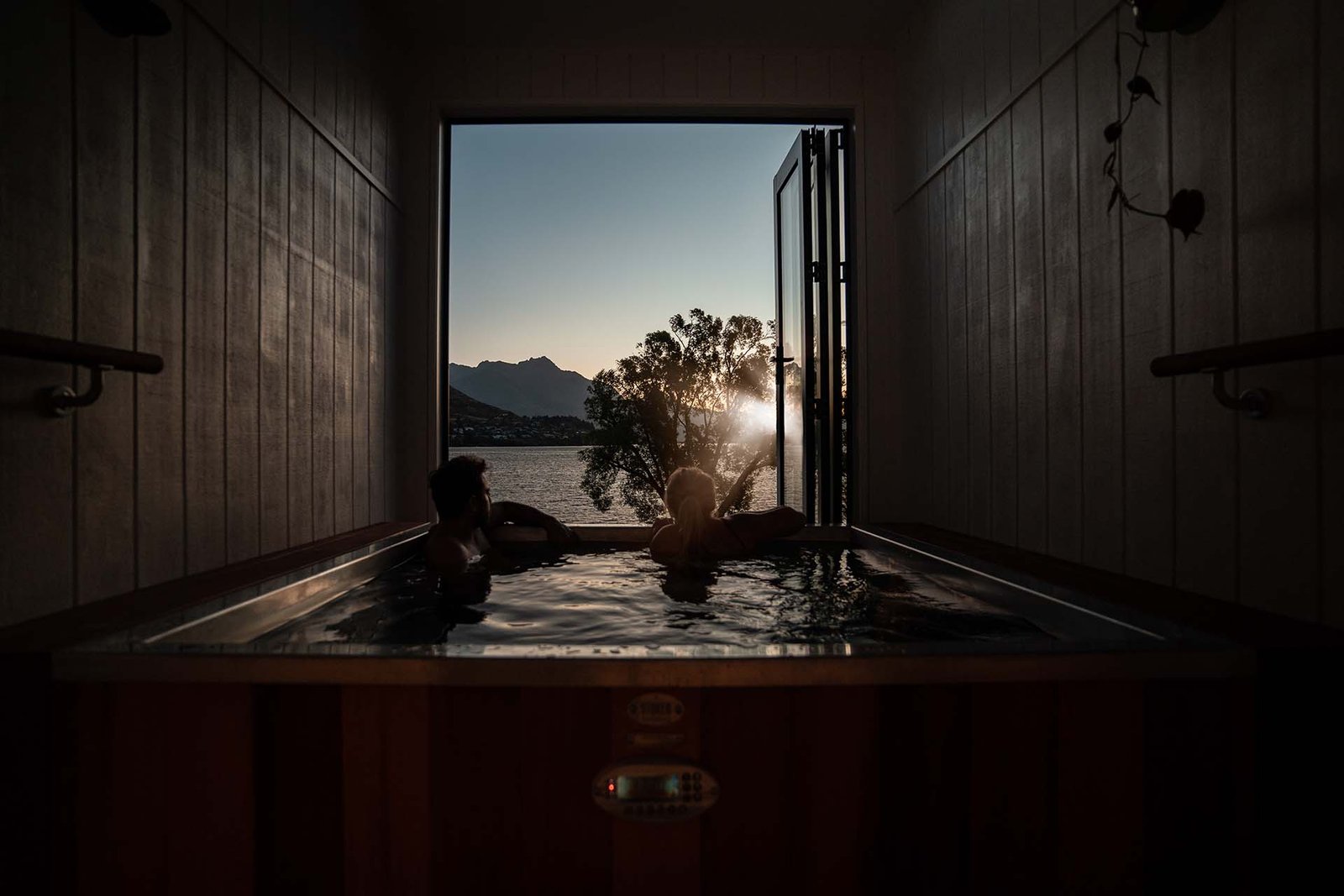 Soaking in the hot tubs at Driftaway Queenstown.
Best things to do:
One of the best ways to explore Queenstown and appreciate its stunning landscapes is by taking advantage of the various walking and hiking trails. If you're looking for a pleasant and easy walk, consider the Lake Hayes Walkway, Bobs Cove Lookout and the Moke Lake Loop Track. These paths are situated along the lakes edge, offering a beautiful 2-3 hour scenic route.
Be sure to download the Roady App for all the detailed information you'd need for all these amazing spots we're mentioning.
For those seeking a slightly more challenging experience, the Queenstown Hill Walk leads to a viewpoint that overlooks the city. Here, you'll be treated to breathtaking panoramic views of The Remarkables, Cecil Peak, Lake Wakatipu, and sections of the Kawarau River. Another few excellent options that require a bit of an ascent but reward you with stunning views is Tobin's Track in Arrowtown, the Wye Creek track and Lake Alta walk tucked away in The Remarkables.
The views just from the edges of Lake Wakatipu are absolutely stunning. You could easily spend a day relaxing at the beach and eating at one of the many great lunch spots in the town centre. The iconic burgers from Fergburger are definitely well worth a try. You can even take them onto Perky's Floating Bar (if you purchase a drink) and enjoy them while taking in the epic mountain scenes. Otherwise, jump on the TSS Earnslaw, which has been running since 1912, and enjoy your lunch out on the lake.
For the adrenaline junkies or those keen on a little more adventure you've got the Shotover Jet, Bungee Jumping & world-class ski fields nearby. Hit the slopes up Coronet Peak or The Remarkables and experience the thrill of skiing or snowboarding. These resorts offer runs suitable for beginners, intermediates, and advanced skiers, ensuring there's something for everyone. Don't forget to pack chains for your car and if you're in an electric vehicle, we can promise that they handle the snow and cold like pros!
Snowboarding up the Remarkables.
Another highly recommended activity in Queenstown is embarking on a zip lining adventure with Ziptrek Ecotours. The experience involves soaring through the beautiful forest, where you can appreciate the scenery that surrounds you. Their guided tours not only offer valuable insights into the natural habitat but also shed light on their commendable sustainability endeavors. In fact, they have diligently planted more than 6000 trees to bolster the ecosystems in which they operate. Unquestionably, this activity guarantees heaps of enjoyment while promoting an environmentally friendly approach.
Glenorchy is a beautiful small town located about 45 minutes away from Queenstown on the shores of Lake Wakatipu. A day trip to this stunning location really is a must-do. The drive is just as beautiful as the destination itself and is up there as one of the most scenic roads in all of New Zealand.
There are a few spots worth stopping in on the way, including the Bennetts Bluff Lookout and Wilson's Bay.

You may as well pop your EV on charge at the Glenorchy charging station while you wander around the town. This might just be the most scenic place to charge in the country - the mountain backdrop is pretty tough to beat. If you haven't already, it's worth setting up an account on the ChargeNet app as you'll then have access to the network of over 300 charge points nationwide. Plus, when you're on the road, you can see which chargers are currently in use.
Your first stop has to be the iconic Glenorchy Wharf & famous red boat shed. These two features bring 100s of people to town every day and you can see why it's quite the popular Instagram photo hot spot. The historic red shed is where the people of Glenorchy stored and sorted goods that arrived on steamers.
A nice and easy walk worth checking out is the Glenorchy Lagoon. It's only a short walk from the wharf and will take you through a beautiful wetland area perfect for birdwatching. Finish it off with a bite to eat and a drink in one of the local bars.
For a bit of adventure, jump on a jet boat wilderness experience with Dart River Adventures - you'll explore iconic, untouched landscapes inaccessible by other means in the pristine Dart River Valley.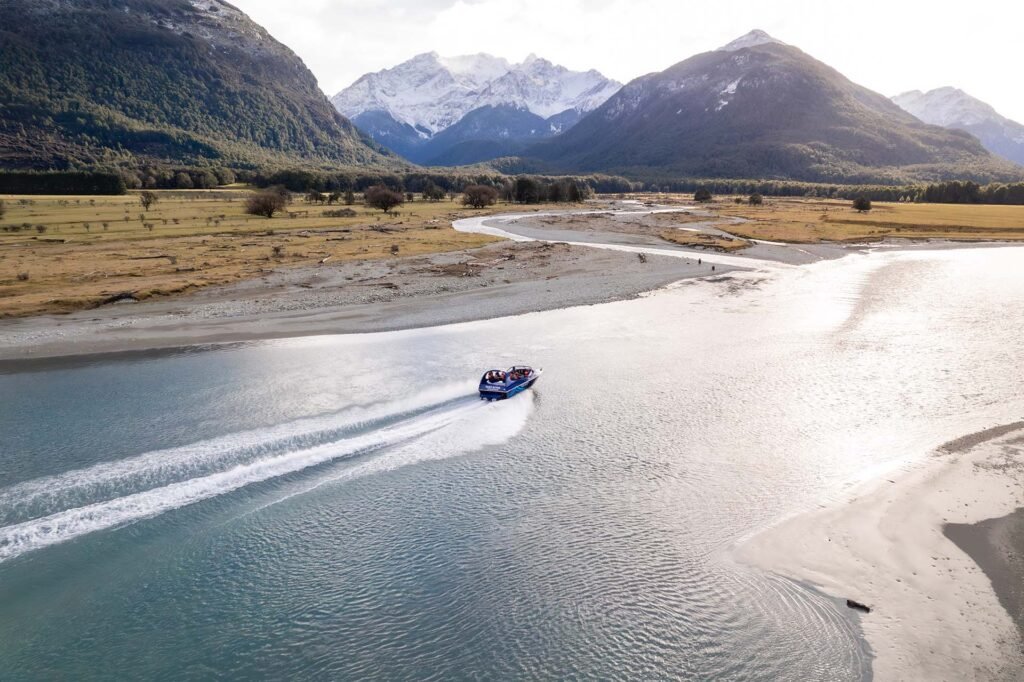 Dart River Wilderness Experience
Another great spot to head out on a day trip to is the Cadrona Hotel. Nestled in the charming little town of Cadrona, the journey across the Crown Range, known for its stunning alpine views, is absolutely breathtaking.

The Gibbston Valley area has been captivating visitors with a wide range of cellar door facilities and wine-tourism activities and is home to some of the world's best Pinot Noir. Jump on an E-Bike from Better by Bike in the heart of Arrowtown and make your way into the Gibbston Valley to try the world-class Pinot Noir for yourself! The 16km ride is super flat and easy. It takes you past stunning river gorges, across seven bridges including the famous Kawarau Bridge Bungy.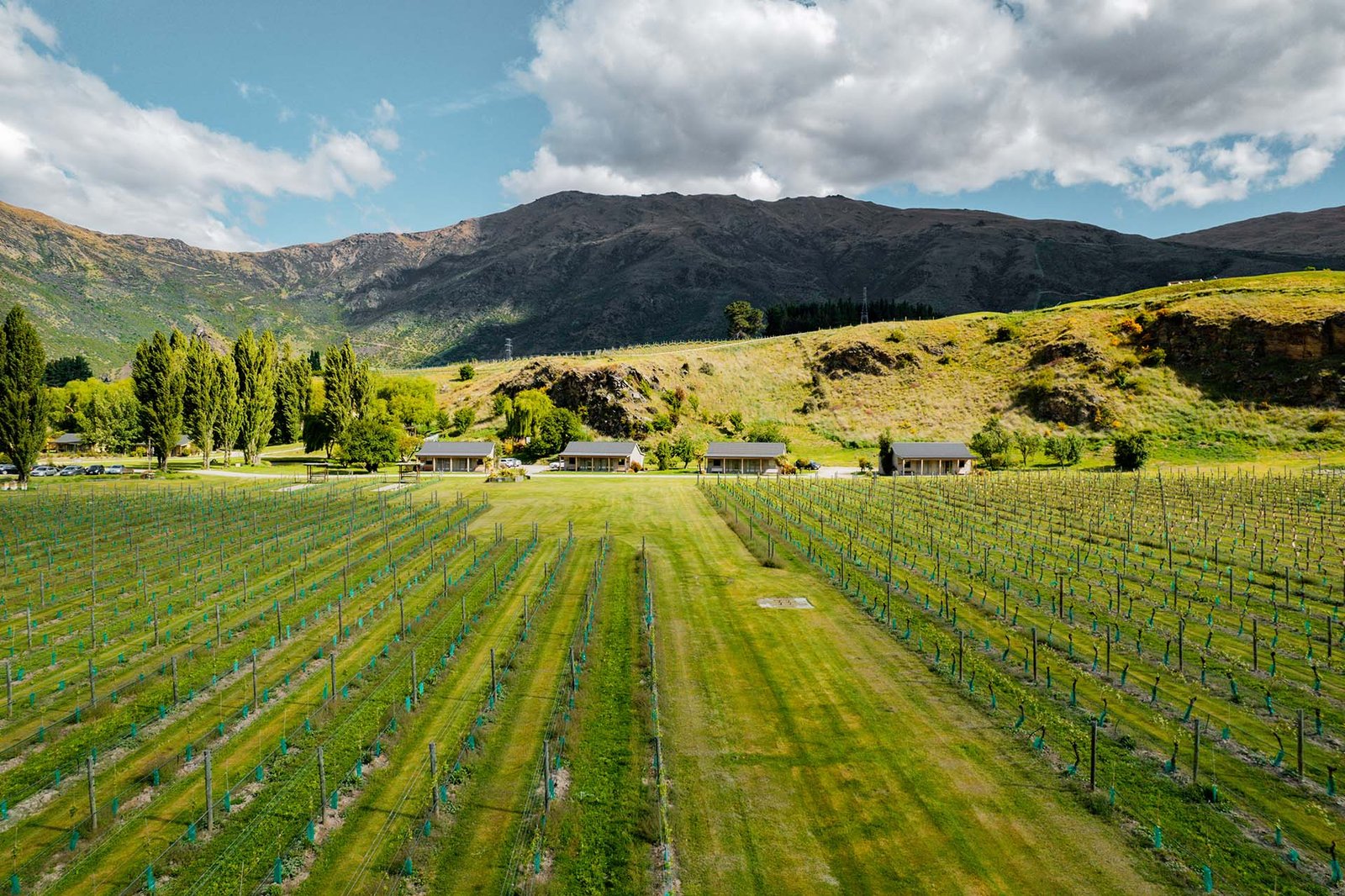 An incredible location to spend some time at is the Kinross Winery. Kinross offers the full experience. Enjoy a wine tasting from the cellar door, grab a takeaway dinner from their delicious bistro, soak in their hot tubs and even spend a night in one of their cottages. A beautiful option to soak up some more time in the vines.
Queenstown is a destination that caters to all types of travellers. Whether you're an adrenaline junkie, a nature lover, or simply seeking tranquility, this scenic town has it all. So, pack your bags, prepare for an adventure of a lifetime, and get ready to create unforgettable memories in Queenstown.
We'll see you on the road!