A Guide To An Epic Road Trip Through The Taupō & Rotorua regions
Exploring the Taupō and Rotorua regions of New Zealand is bound to be an adventure of a lifetime. We recently took a road trip through these regions, and visited some pretty incredible places. Taupō, the heart of Aotearoa's North Island sits on the edge of the famous Lake Taupō aka the great inland sea of New Zealand. From ancient forests, thundering waterfalls and otherworldly landscapes this region has so much to see and do. Rotorua offers a bunch of attractions and experiences for everyone from adventure-seekers to those just looking to unwind. It is most well-known for its bubbling mud pools, shooting geysers and natural hot springs.
In our opinion, the best way to travel and see all these spots is by camper. Although we'd normally hire a campervan or motorhome from the legends at Camplify, for this trip we opted to tow a trailer instead. Camplify has so many different rig options and we really liked the idea of being able to set up a base at a camp spot to explore from. We went with Tusk the Camper Trailer, a super lightweight and easy to tow trailer. It had more than enough space to be comfortable but was small enough that it was completely hassle free - the perfect option for anyone with a towbar looking to head out on the road.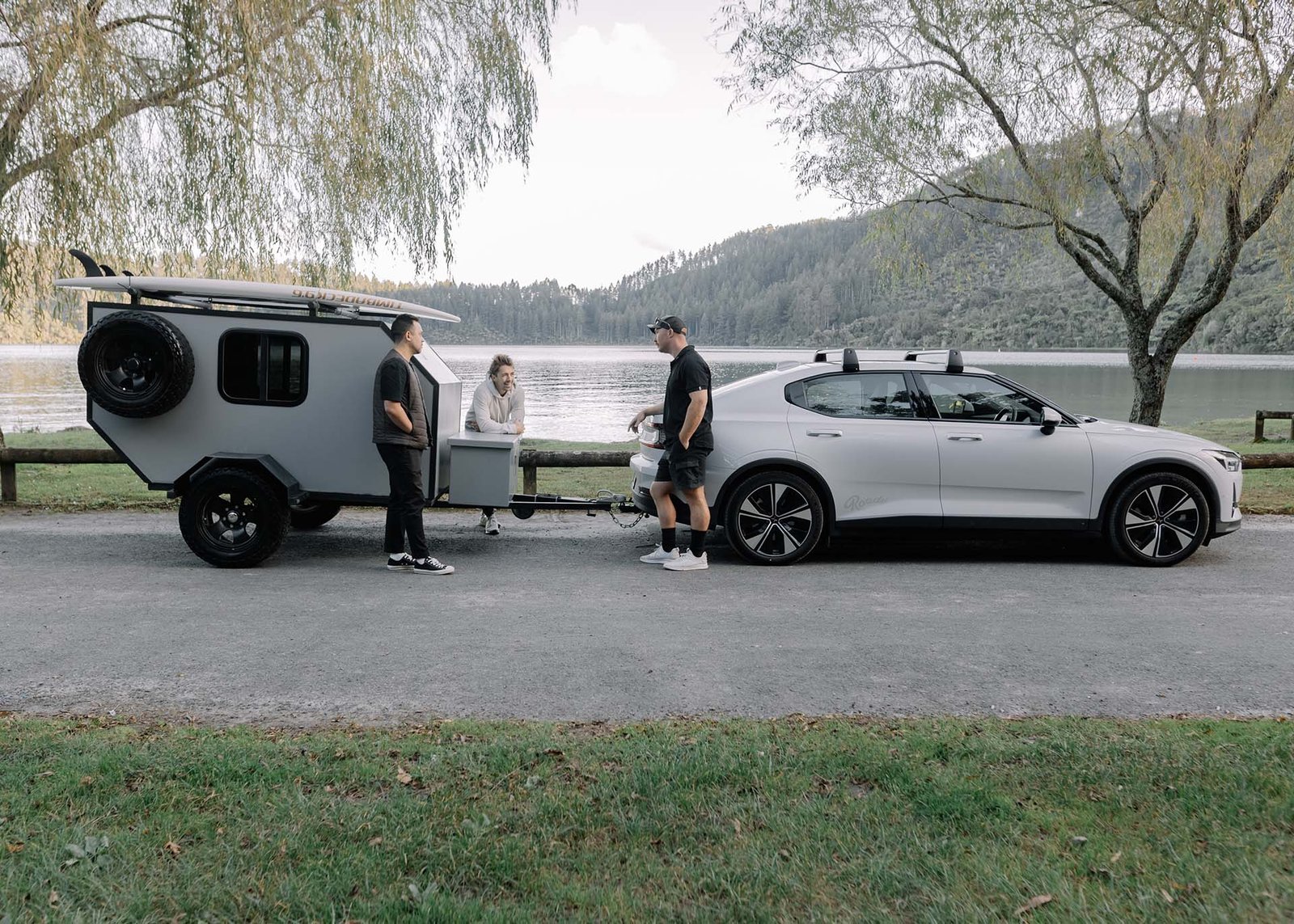 Sam handing over Tusk the Trailer
---
Rotorua
Where to stay.

The Blue Lake TOP 10 is definitely one of the best campgrounds to stay in Rotorua. The holiday park is situated in a stunning location right next to the crystal-clear waters of Lake Tikitapu (Blue Lake), which makes for breathtaking views from your campsite. One of the best things about staying at Blue Lake TOP 10 is the range of activities available nearby. Just park up the trailer and then go explore! Another great thing about towing Tusk the trailer is how easy it is to push around. If you struggle with backing a trailer, you can unhitch it and push it with the jockey wheel down. So simple!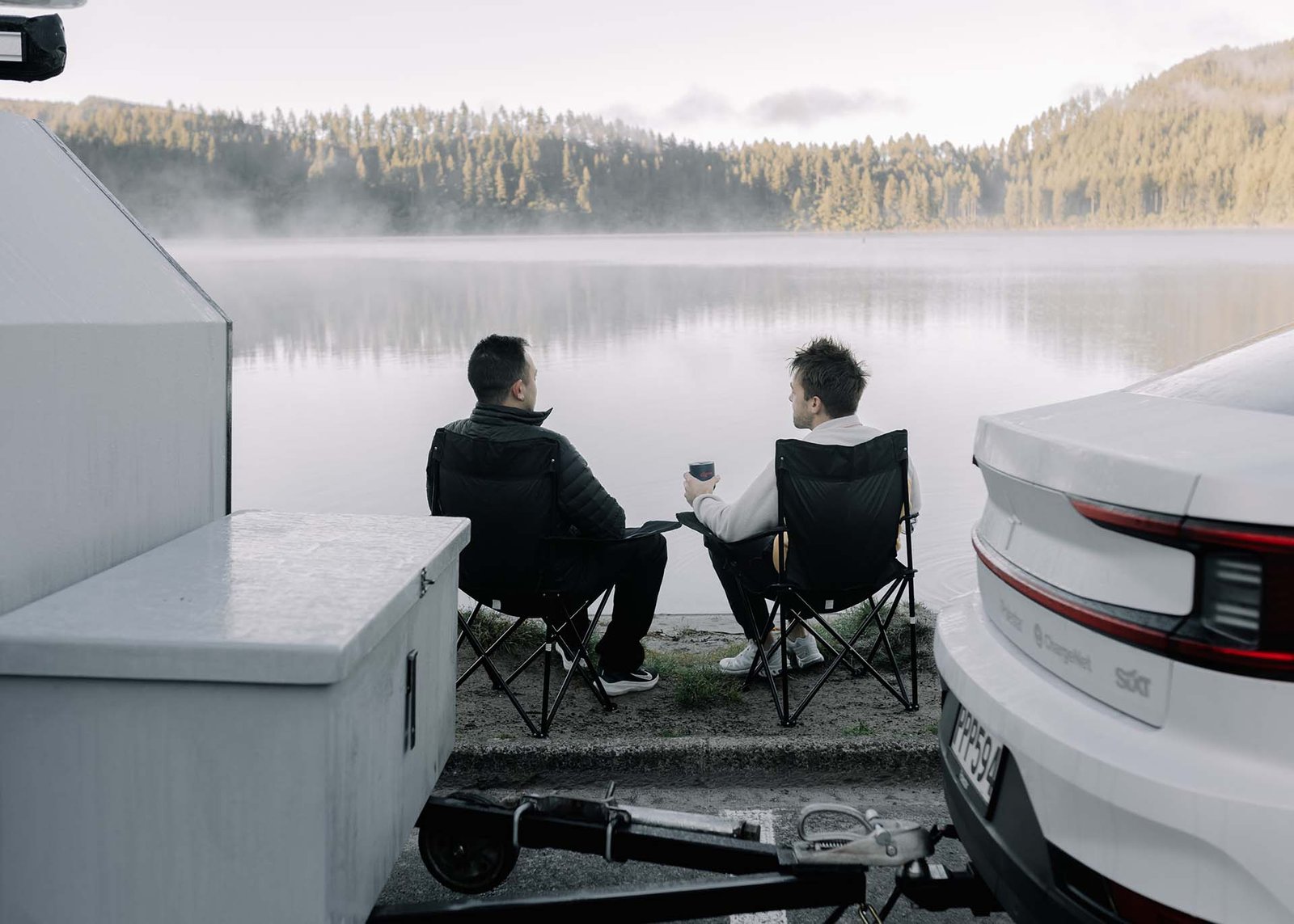 What to do.
There are plenty of things to see and do in Rotorua, with some of the highlights including the stunning Blue Lake, Hell's Gate Geothermal Reserve, Kuirau Park and walking and biking in the Redwoods of Whakawarewa.
Lake Tikitapu (Blue Lake)
Blue Lake is a beautiful natural feature of Rotorua. It is known for its crystal-clear water and picturesque setting. You can take a walk or go for a paddleboard or swim in the refreshing water. There are plenty of spots around the lake where you can relax and soak up the sun.
Paddle-boarding on Lake Tikitapu (Blue Lake).
Hell's Gate Geothermal Reserve
Hell's Gate Geothermal Reserve is a very unique attraction and in our opinion is a bucket list experience in New Zealand. Here you can see some of the world's most active geothermal features. Take a 1.5km stroll through New Zealand's most active geothermal reserve and you'll get to see the largest geothermal waterfall in the Southern Hemisphere which is pretty epic! You can also take a soak in their therapeutic mud bath. The geothermal mud has healing properties that have been used by local māori for over 800 years. First you lather on the mud and let it dry for twenty minutes, before exfoliating and cleansing in the sulphur spa and finishing up with a dip in their cold plunge pool. The whole experience will have you feeling like a million bucks.
Soaking in Hell's Gate Mud Spa.
Redwoods of Whakawarewa
The Redwoods of Whakawarewa is a must-see attraction in Rotorua. This forest is home to some of the tallest redwood trees outside of California. There are plenty of walking and biking trails that wind through the forest. For thrill-seekers, mountain biking in the Redwoods of Whakawarewa is an absolute must. There are over 160km of mountain bike trails in the forest, ranging from beginner-friendly to expert-level. The trails offer stunning views of the forest and the surrounding landscape.
Kuirau Park
Kuirau Park is a peaceful oasis right in the heart of Rotorua. This park is home to several geothermal features, including steam vents and hot pools. The park also has walking paths and lots of picnic areas.
Where to eat.
If you're after some ideas on where to eat in Rotorua, we've got you covered. If you happen to visit on a Thursday then definitely check out the Rotorua Markets which are on every Thursday night. There is an epic selection of street food as well as live musicians to keep you entertained.
The bustling hub of Eat Street boasts a dozen or so restaurants and bars, one boutique nightclub, and the iconic Lady Janes Ice Cream Parlour – all in one spot that's as long as a city block. The covered central walkway is the focal point for this all-weather al fresco dining area, making it ideal for year-round entertainment. The thermally heated footpath and enhanced lighting gives Eat Streat a unique and vibrant dining atmosphere. Found at the "lake end" of Tutanekai Street, you'll satisfy any craving from pub fare and steaks, to tapas, Indian, Italian and much more.
One other spot we'll mention is the Award-winning Ciabatta Café & Bakery. They offer a range of delicious breads and pastries baked daily, including their famous cronuts, giant soft pretzels, turnovers and almond croissants. SO good!
---
Taupō
Where to stay.

Just over one hour's drive from Rotorua is the beautiful town of Taupō. We recommend heading to the Motutere Bay TOP 10 and parking up in one of their lakefront sites. The stunning location of the park, nestled amidst greenery and overlooking the lake, creates a peaceful and relaxing atmosphere. The park has a private beach, which is ideal for swimming, fishing, or just chilling out by the water. We loved that Tusk the Camper Trailer had an awning we could set up on arrival and relax under whenever the sun came out.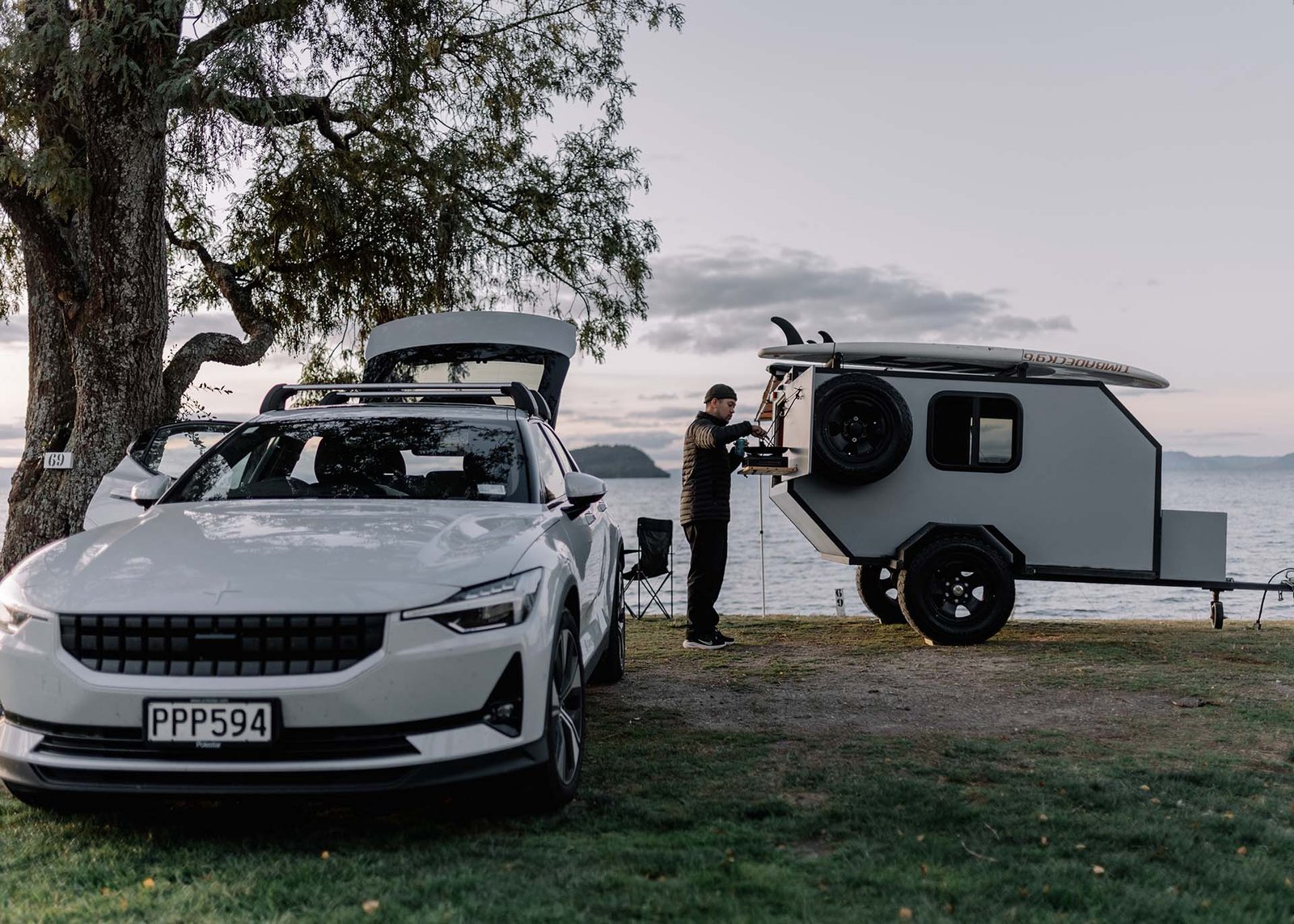 Cooking at the Motutere Bay TOP 10.
What to do.
When it comes to exploring Taupō you're in for a treat. Yet another region abundant in beautiful natural wonders. This guide will help you plan an itinerary that includes some of the best spots to visit in the region, including Hole in One Taupō, Huka Falls, Taupo Disc Golf, Rangatira Point Track, Otumuheke Stream Hot Pools, and Bulli Point.
Hole in One Taupō
Located in the heart of Taupō. Hole in one Taupō is a must-visit attraction for all ages. This unique course is built on the shores of Lake Taupō, and players try to hit a hole in one into the lake. It's a fun activity and you can easily spend an afternoon here.
Huka Falls
You may have already heard of the Huka Falls as they are one of New Zealand's most popular natural attractions — they are extremely impressive! You'll hear the falls before you see them. That's the sound of nearly a quarter of a million litres of water per second, erupting from a gorge and thundering ten metres into the Waikato River below. For the best view of the falls, walk two minutes up the Aratiatia Walkway to a lookout, otherwise head out on a jet-boating tour which will take you right up to the falls.
Hole in One and the Huka Falls.
Taupō Disc Golf
If you are a fan of outdoor sports, Taupo Disc Golf is an excellent activity to try. Located in Spa Thermal Park, this 18-hole course is fun for both beginners and experienced players. It's also a great way to explore the park while enjoying a game of disc golf.
Rangatira Point Track
This scenic trail is a great way to see the beautiful views of Lake Taupō. Located just a few kilometers from Taupō, this easy trail takes you through a forest, along the shoreline of the lake, and to a viewpoint that offers stunning views of the lake and surrounding mountains. This is also a great location for a dip!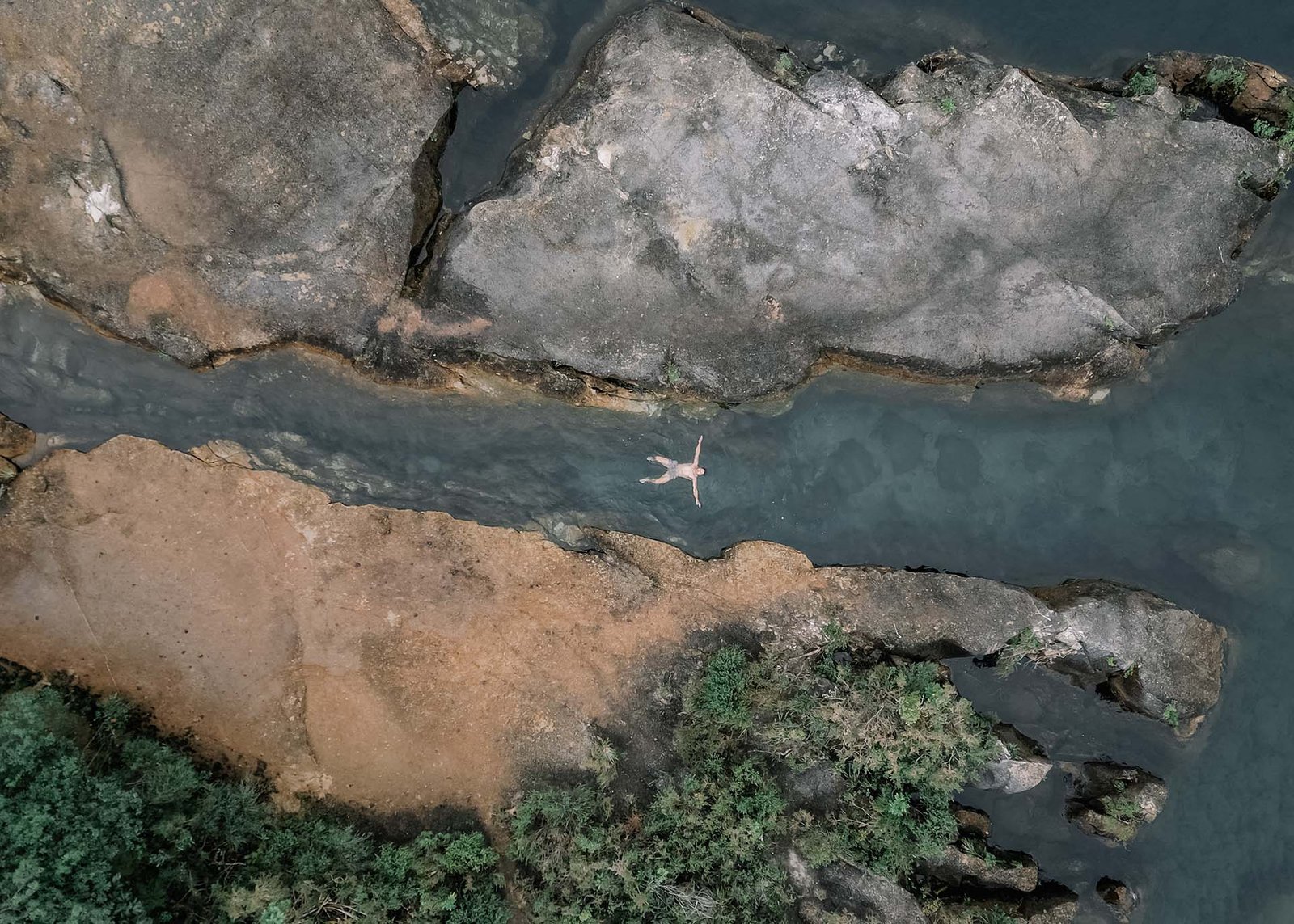 Swimming at Rangitira Point.
Otumuheke Stream Hot Pools
Located near Spa Thermal Park, Otumuheke Stream Hot Pools is a free natural hot spring and is the perfect place to unwind. This geothermal stream is warm and relaxing, and the scenery is beautiful. With waterfalls and a calm environment, these hot pools are perfect for an afternoon of relaxation.
Bulli Point
If you are looking for a beautiful viewpoint that provides a panoramic view of Lake Taupō and the surrounding mountains, Bulli Point is the perfect destination. It's also one of our favourite rock jumping spots in the country. There are multiple spots to jump off into the lake at different heights as well as a rope swing. Bulli Point is a super popular spot during the summer months.
Bulli Point & Otuhumeke Stream.
Where to eat.
When looking for spots to eat and drink in Taupō be sure to check out the L'Arté Café & Gallery. Lonely Planet voted this as the number one cafe pick for the Central North Island. The café and gallery are both set in a magical, art filled garden, complete with an outside mosaic living room. They serve Allpress coffee, have a great selection of New Zealand wines and beers and the kitchen team at L'arté produce everything fresh on-site. Located in Acacia Bay, this is a great spot to pair with a trip to Rangatira Point.
Two Mile Sailing Club is a must-do as it's the only spot right on the lake. It's the perfect spot for a coffee in the morning, or a drink at sunset. They also do incredible woodfired pizzas.
For those coffee lovers, the best spot for that morning cuppa is from The Storehouse. Those after a cheeky crafty at sundown - head to Jimmy Coops and be sure to grab yourself a burger from there too. You'll thank us later!
Rotorua & Taupō are both such beautiful and diverse regions, a road trip through these areas won't disappoint. Whether you're interested in the natural beauty, getting out and exploring, or just relaxing lakeside, there's something for everyone. So pack up that camper (or trailer), your hiking boots, and get ready for an unforgettable adventure. We can't wait to see you on the road!