A nine day Northland adventure
We teamed up with Camplify and Northland NZ for a tour of the top of New Zealand's North Island.
On our nine day trip, we ticked off some of Northland's best kept-secrets.
Highlights:
Diving at the Poor Knights Island
Climbing Dukes Nose (Kaiarara Rocks) near Kerikeri
Parasailing in the Bay of Islands
Taking a Tour at the Waitangi Treaty Grounds
Swimming at the Kai Iwi Lakes
Visiting Cape Reinga
Experiencing the Te Paki Giant Sand Dunes
Seeing dolphins in the wild on the Fullers Hole in the Rock Cruise
Visiting the Rainbow Falls in Kerikeri
Walking to the top of Mount Manaia for sunset
Day One: Auckland to Whangarei
Driving time: 2 hours 30 mins
Campsite: Whangarei Holiday Park
It's day one of your Northland tour, excitement levels are high, and you have a rad day lined up to start. First stop, time to pick up your Camplify van! For this trip, we hired Juno, a 4 berth, completely self-contained campervan.
Once you have your van, your next stop is the Waipu Caves followed by a climb up Mount Manaia in Whangarei.
Waipu Caves
Stop off at the Waipu Caves — arguably the best free glowworm caves in New Zealand. Be sure to take a torch or head torch with you, and some shoes you don't mind getting wet.
To see the glowworms, enter the cave, and walk for about 50 metres. By then you should be able to see a group of them on the roof of the cave.
Mount Manaia
When you get to Whangarei, head out to climb Mount Manaia for 360 degree views over the Whangarei Harbour. The walk is a 4km return via the same track and takes around 2 hours to complete. The track is in excellent condition and is classed as an easy/medium level walk.
Mount Manaia is a great place to go for sunset, not only for the epic pink and purple skies, but because in the bush surrounding the track there are Kiwi's (New Zealand's national bird). As Kiwi's are nocturnal, you may be lucky enough to see one on your way down.
Following your walk, make your way back to the Whangarei Top 10 Holiday Park to put the feet up — it's been a big day!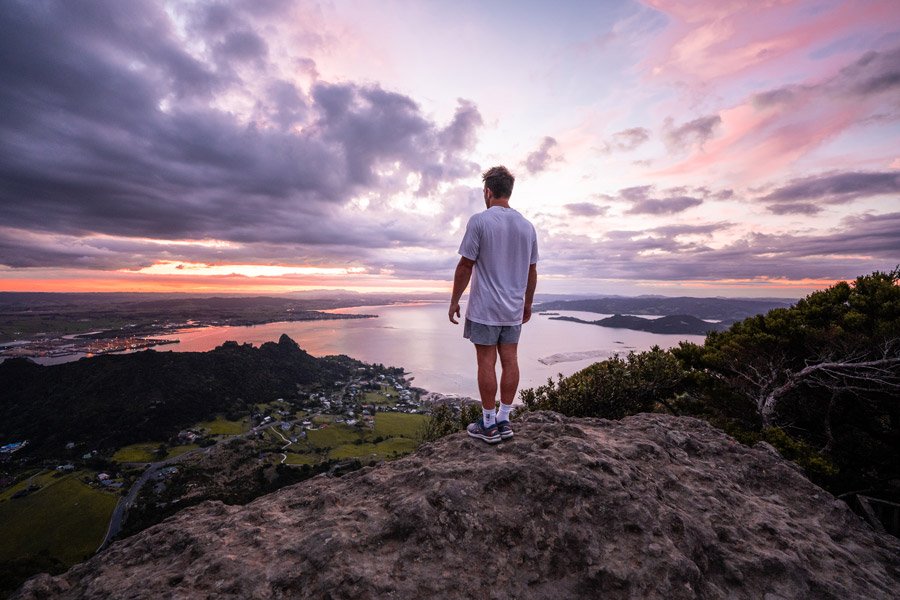 Day Two – Tutukaka & Poor Knights Island Snorkelling
Driving time: 30 mins each way
Campsite: Whangarei Holiday Park
For day two you're up nice and early for a quick stop off at the epic Whangarei Falls, before taking a once in a lifetime day trip out to the Poor Knights Islands!
Whangarei Falls
On the way, visit the Whangarei Falls. These falls are very accessible with the car park being right by the viewing platforms at the top. There's also the option to take a short 5 min stroll down to the bottom of the falls. You can get an awesome snap of the falls if you put your camera on a long exposure setting using a tripod.
Poor Knights Island
Enjoy a day trip with Dive! Tutukaka where you will have the opportunity to go diving or snorkelling at the Poor Knights Islands — "the best subtropical diving in the world"
Dive! Tutukaka caters for non-divers too, and even if you aren't diving it's a pretty awesome day. Jump in a kayak, grab a SUP, or don a mask and snorkel to discover the Islands. The team also has courses if you want to learn to dive.
Fish & Chips
Nothing is more kiwi than Fish & Chips on the beach, and after a big day out on the water, you've earned it! Pull into Ngunguru Takeaways (just 5 minutes down the road from Dive! Tutukaka), grab a feed, then head down to the Ngunguru Estuary to eat and watch the sun go down.
After dinner make your way back to the Whangarei Top 10 Holiday Park to catch some zzz's, you've got another big day tomorrow!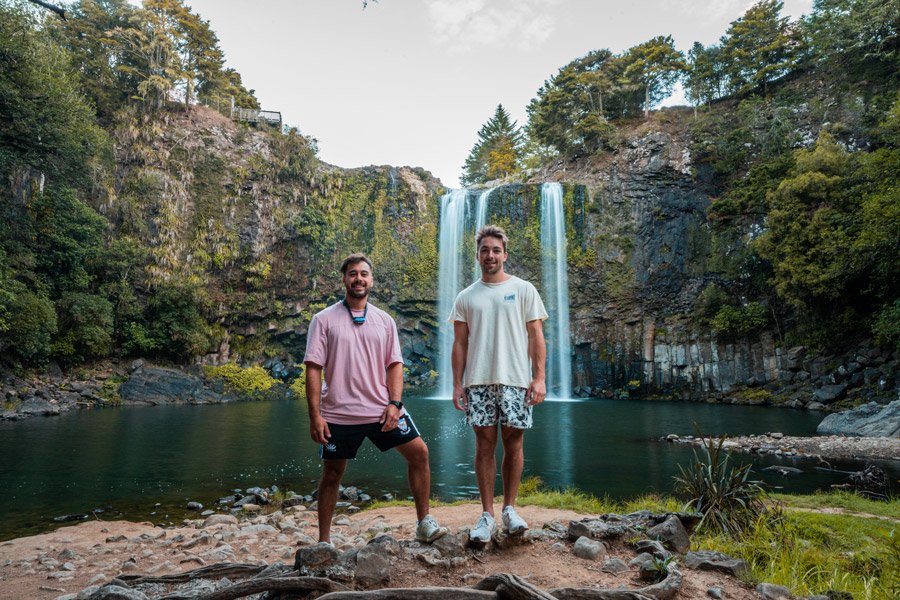 Day Three – Whangarei to Paihia
Driving time: 1 hour
Campsite: Paihia Top 10 Holiday Park
Day three is another action-packed schedule beginning with some parasailing in breathtaking Paihia. Following that you will have the afternoon to explore the Waitangi Treaty Grounds where you will learn about New Zealand's rich history.
Bay of Islands Parasailing
Who needs a morning coffee when you can start your day floating above the Bay of Islands! Choose to go alone or take a tandem trip with a mate where you'll get an unforgettable 10 mins of flight time. Bay of Islands Parasail is also the highest parasailing company in New Zealand with a 1300 ft line, meaning you get the best seats in the house!
Waitangi Treaty Grounds
Your afternoon activity is a guided tour of the Waitangi Treaty Grounds. Here you will be taken on a journey through New Zealand's most important historical site, and have the opportunity to stand on the same ground where NZ's founding document — the Treaty of Waitangi was signed in 1840.
This interactive and informative experience includes:
A knowledgeable local guide
Entry to two contemporary museums
A powerful Māori cultural performance in an authentic Meeting House
A walk through lush native forest and gardens
Entry to the art gallery and carving studio
The opportunity to view a traditional Māori waka (canoe), and more.
Following your tour, enjoy a drink or two at one of the awesome Pahia pubs or restaurants (many with ocean views) or cruise back to your accommodation at the Paihia Top 10 Holiday Park. Here you can relax in the pool, or if you've still got some fuel in the tank, they have kayaks you can hire from their private beach.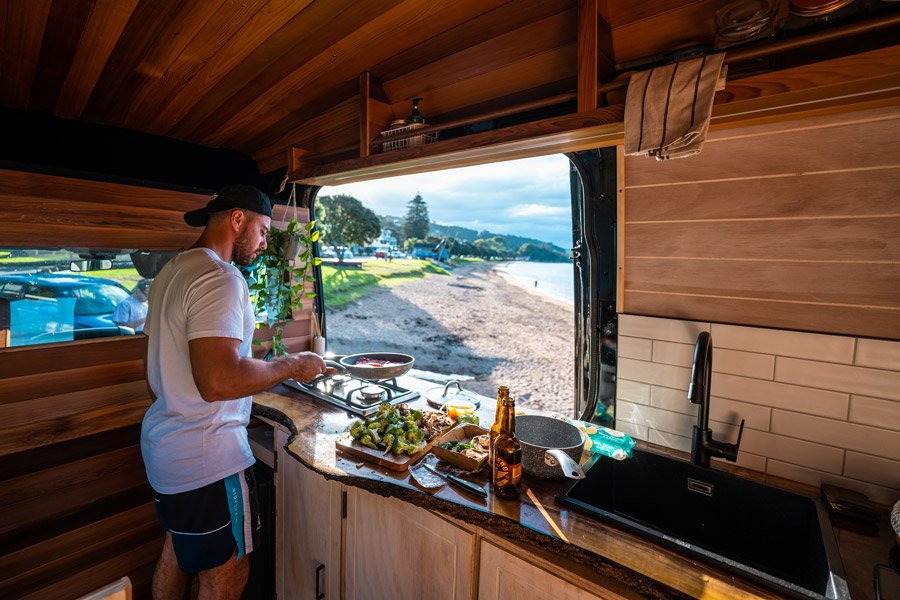 Dinner in the Camplify camper
Day Four – Paihia to Kerikeri
Driving time: 25 mins
Campsite: Kerikeri Holiday Park
Today is a day full of epic water activities. Enjoy a cruise around the Bay of Islands, a trip to one of NZ's most impressive waterfalls, and a dip at one of our favourite swimming holes.
Fullers Dolphin and Hole in the Rock Cruise
This tour really is one of the best ways to check out the Bay of Islands in a short space of time. In just 4 hours you'll have the opportunity to:
visit the famous Hole in the Rock
stop off at Urupukapuka Island where you can walk up a hill to a sweet lookout, have a swim, and enjoy a cold beer from their bar on the beach
see a pod of dolphins swimming in the wild
After a big morning cruising around the Bay of Islands, you have the afternoon to make it to Kerikeri (25 min drive).
Rainbow Falls
These stunning 27m falls are an easy 10 min stroll from the carpark. There are a couple of viewing platforms from above, but the thing that is so epic about these falls, is that you can walk right around behind the falls. Just be really careful when doing so, as the rocks can be extremely slippery.
Charlie's Rock
If you've still got time left in your day, this hidden away swimming hole is a great place to have a swim and bang out a couple of rock jumps. There are a number of places to jump from and some rock steps to get back to the top. Please be careful when jumping and always check the depth of the water first.
Note: The walkway to Charlie's Rock can be difficult to spot and is not well signposted. If you put 'Charlie's Rock' into Google Maps it will get you close, though you may need to get out of your vehicle to have a little look. The walk is a short and easy 10 minutes.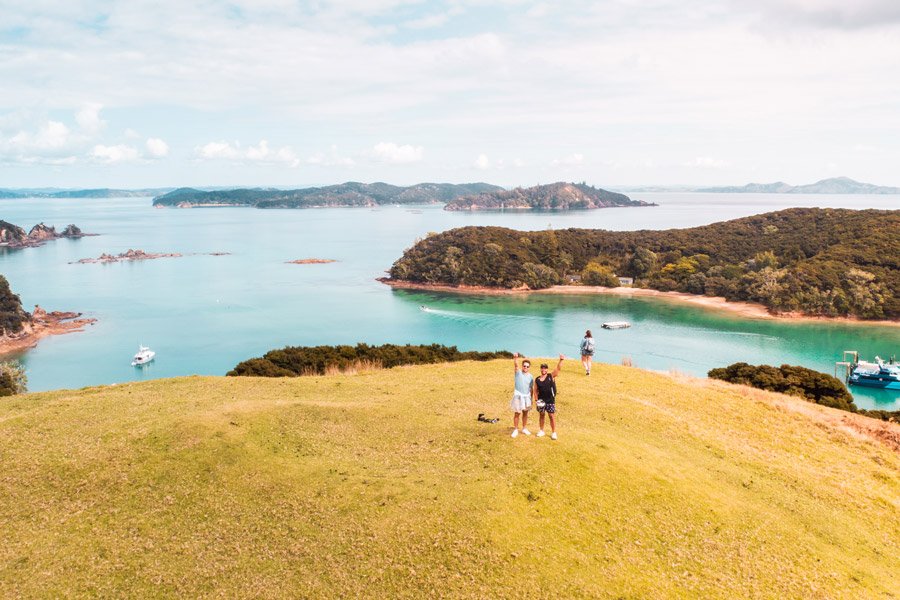 Urapukapuka Island, Bay of Islands
Day 5 – Kerikeri to Mangonui
Driving time: 45 mins
Campsite: Hihi Beach Holiday Park
Today is a good day! Why, you ask? Because you get to knock off one the North Island's best-kept secrets — the Dukes Nose hike.
Dukes Nose (Kaiaraara Rocks)
The Dukes nose is a 5-6 hour return walk for one of the best views you will find in NZ. The trek can be broken into two parts.
The first part of the hike is a 5.6km (one way) walk along the Wairakau Stream track to Lane Cove Hut. This takes roughly 2 hours to complete. The initial 30 minutes of the walk is a fairly boring slog up a 4WD track. Don't be put off by this, the best views are yet to come.
Once you reach Lane Cove Hut you then have the most difficult part of the walk ahead of you — a 750 metre climb up the Dukes Nose. To get up to the top a decent level of fitness is required and you have to be comfortable climbing up a rock face using a rail and holding your body weight (not for the faint hearted). When you reach the top you'll be treated to breathtaking 360 degree views of the Whangaroa Harbour that will have you feeling on top of the world
Note: Park at the Campbell Road end car park, Totara North, and then make a short walk to the beginning of the track
Once you've finished your big day hike you can drive to your accommodation at the Hihi Beach Holiday Park (25 min drive). Enjoy a relaxing afternoon at Hihi beach located directly opposite the Holiday Park.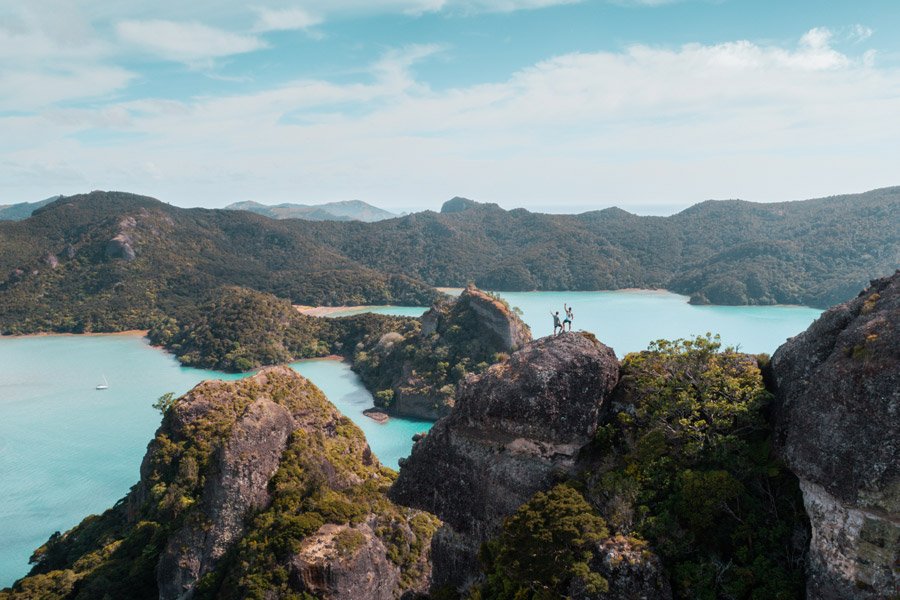 One of the North Island's best-kept secrets - Dukes Nose
Day 6 – Mangonui to Cape Reinga to Ahipara
Mangonui to Cape Reinga Driving time: 1 hour 30 mins
Cape Reinga to Ahipara Driving time: 1 hour 30 mins
Campsite: Ahipara Holiday Park
Today is another big day as you will be making your way right to the very top of the North Island to the sacred location of Cape Reinga. In the afternoon you'll stop off at the giant sand dunes of Te Paki before making your way back to your campsite for the night in Ahipara.
Cape Reinga
While on paper it's not the very most northern point of New Zealand (North Cape is slightly further north), it's definitely the end of the road! Take a short and easy 10 minute stroll down to the famous Cape Reinga Lighthouse and lookout to where the Tasman Sea meets the Pacific Ocean.
Cape Reinga is also a very sacred place for many Maori. Just past the lighthouse at the northernmost tip of the Cape lies a pohutukawa tree believed to be over 800 years old. According to Maori history, the tree is where the spirits of deceased Maori leap from into the ocean to return to their ancestral homeland of Hawaiki.
Te Paki Giant Sand Dunes
Once you've finished up at Cape Reinga, you can make your way down the road (5 min drive) to the Te Paki Giant Sand Dunes — New Zealand's answer to the Sahara Desert. Take a stroll up the 150 metre high dunes and take in the panoramic views, or for the thrill-seekers, there is the option to try sandboarding.
Sandboarding is basically where you lie on a board and go zooming down a giant sand dune. An absolute must-do for the adrenaline junkies and you can really reach some pretty gnarly speeds. Sandboards can be hired on-site or from some of the local farmers (you will see a number of makeshift signs).
Sandboarding tips:
Wear sunglasses and a scarf or something similar. Sand in the eyes and mouth is no fun!
Take off any jewellery you have and empty your pockets first
Bring your GoPro!
Following your afternoon of duning, make your way back to the Ahipara Holiday Park for the night (driving time 1 hour 40 mins).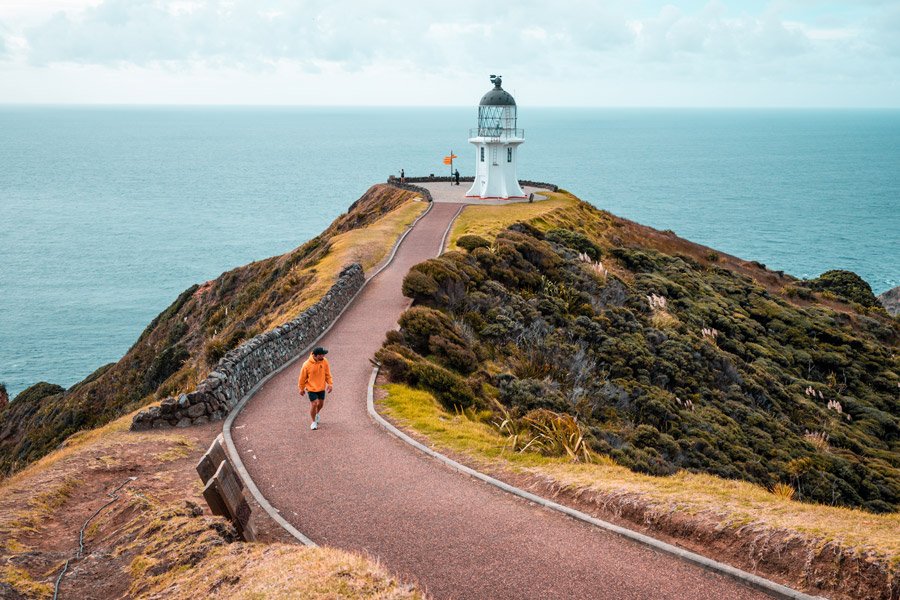 Day 7 – Ahipara to Kauri Coast
Driving time: 3 hours
Campsite: Kauri Coast Holiday Park
Today you head to the spectacular Kauri Coast — home of the Kai Iwi Lakes, where you will base yourself for your final two nights of the trip.
Visit Tāne Mahuta
Standing in the beautiful Waipoua Forest is NZ's largest kauri tree — Tāne Mahuta, also known as God of the Forest. Tāne Mahuta stands at a whopping 51.5m and is estimated to be around 2,000 years old. A short 5 min stroll from the carpark will have you feeling tiny, standing at the base of this enormous specimen.
Kai Iwi Lakes
The Kai iwi lakes are a group of freshwater dune lakes believed to have been created around 1.8 million years ago! Here you'll find pure white sand and some of the clearest turquoise water you're likely to see. The lakes have plenty of shallow areas that are ideal for swimming and the water is a lot warmer than the nearby ocean. No doubt this will be one of the tour highlights!
After a relaxing afternoon at the Kai Iwi Lakes, make your way back to your campsite for the night at the Kauri Coast Top 10 Holiday Park.
Option: Trounson Kauri Park Night Walk
One of the perks of staying at the Kauri Coast Top 10 Holiday Park is their 2 hour Guided Kiwi walkthrough Trounson Kauri Park (5 min drive away). The walk gives you the opportunity to learn about the Kauri Tree, the native wildlife species, and if you're lucky, spot a kiwi in the wild (kiwi are seen on roughly 50% of tours). The walk is an easy 1.7km mainly on a boardwalk.
Tours depart in the evenings from the Holiday Park and bookings are essential. To make a reservation send an email request - info@kauricoasttop10.co.nz or book at reception. Departure times depend on the time of year but as a rough guide departure times in mid-winter are 6.30pm and mid summer are 8.45pm. Torches are also provided.
Day 8 – Kai Iwi Lakes
Driving time: None
Campsite: Kauri Coast Holiday Park
It's been an action-packed week! Today is all about relaxing lakeside at the stunning Kai Iwi Lakes.
Kai Iwi Lakes
Pull out that book you've been meaning to read all tour, get a couple of swims in, and enjoy a burger from one of the food trucks on site.
If you've got a little more energy to burn, consider doing the Kai Iwi Lakes Coastal Track. The walk takes you out over farmland to the stunning Ripiro Beach — the longest beach in New Zealand. It's an easy 2km each way along the same track and will take you about an hour all up. The track begins at Kai Iwi Lakes Road just 5 mins from the Kai Iwi Lakes.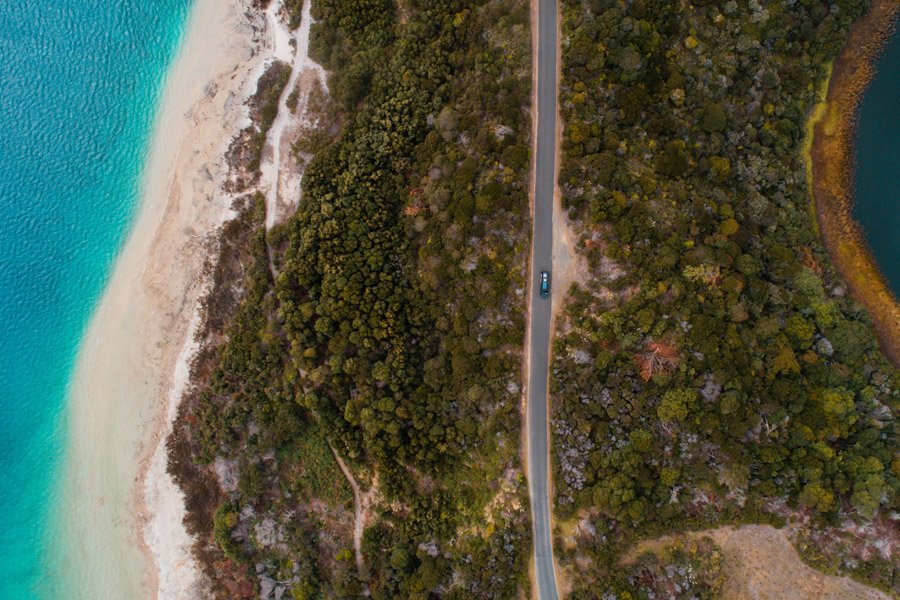 Day 9 – Kauri Coast to Auckland
Driving time: 3 hours
Sadly your tour is coming to an end. Today is a travel day back to Auckland! Pack up the camper, grab a coffee and make your way back to New Zealand's largest city.
Or, stay a while and keep exploring!