Our Mackenzie road trip guide
This loop, picking up a Camplify van in Christchurch, allows you to experience some of New Zealand's must-see spots.
Day One: Christchurch to Lake Tekapo
Driving time: 3 - 4 hours
Campsite: Lake Tekapo Holiday Park
Touch down! You've arrived in Christchurch and it's time to start your road trip. Before you head south, you'll need to get the keys for your Camplify van. For this trip, we hired Larry, a Hiace fully set up for off the grid adventures. As a new build, this was Larry's first trip and owners Goose and Ellen have thought about every detail when designing the fit out.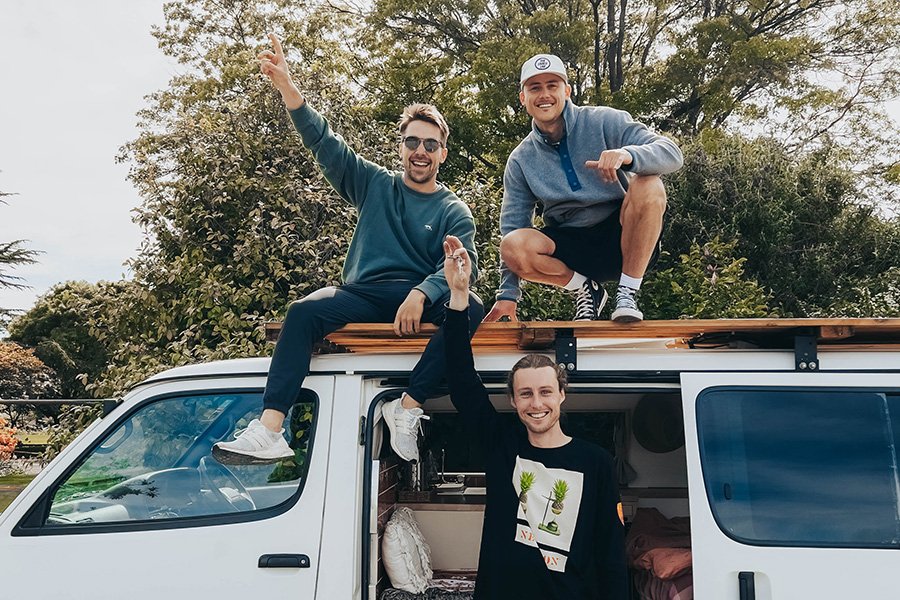 Picking up Larry from Goose and Ellen
On the way
We recommend stopping in at the Fairlie Bakehouse and treating yourself to a classic kiwi pie. If you'd like to branch out from the regular mince and cheese, we'd recommend giving the Pork Belly pie a try – it comes complete with crackling.
Lake Tekapo
When you get to Lake Tekapo, go check out the much-Instagrammed Church of the Good Shepherd. From mid-November to early January you'll also be able to see the Lupins in bloom around the lake.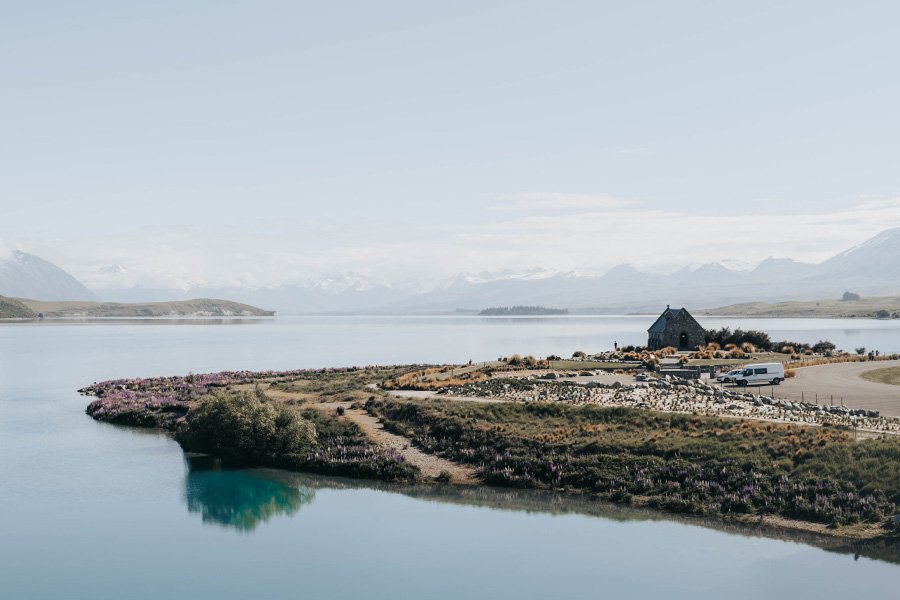 Church of the Good Shepherd, Lake Tekapo
A quick 10 minute walk from the church will see you sat at the Blue Lake Eatery - home of one of NZ's best beers, Burke's Unforgiven Porter.
Other options in and around Lake Tekapo
If you're keen to stretch the legs, we'd recommend the Mount John Summit track just out of the township for 360 degree views. It's a loop and is around 3 hours return.
For an epic backcountry experience check out Tekapo Adventures, who offer a 4wd tour through the remote, mountainous scenery that the Mackenzie region is known for.
It's no secret that this area has one of the clearest night skies around. A cool way to experience this is at Tekapo Star Gazing, where you can do this while relaxing in a hot pool.
It's now time to park up for the night at Lake Tekapo Holiday Park, you've got a real treat in store tomorrow.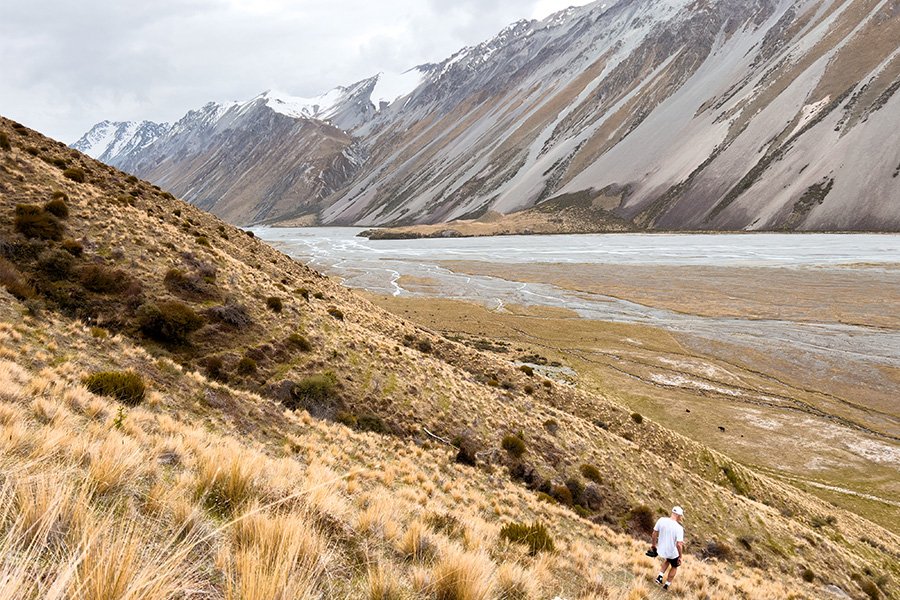 Get up close to Mackenzie's mountainous landscape with Tekapo Adventures
Day Two – Lake Tekapo to Aoraki/Mt Cook
Driving time: 1 hour
Campsite: Glentanner Holiday Park
Today will be one for the memory books, as you head to one of the most picturesque parts of the country – Aoraki/ Mount Cook.
Start your morning well with breakfast at the Greedy Cow. We also recommend stocking up at the Four Square in Tekapo before you leave, as there are no supermarkets in Aoraki/ Mount Cook. It's only an hour or so drive, but try to leave earlyish so you can make the most of your day there.
On the way
The route to Aoraki/ Mount Cook takes you along the shores of Lake Pukaki, so keep an eye out for Peter's Lookout on the way – a great viewpoint and photo opportunity.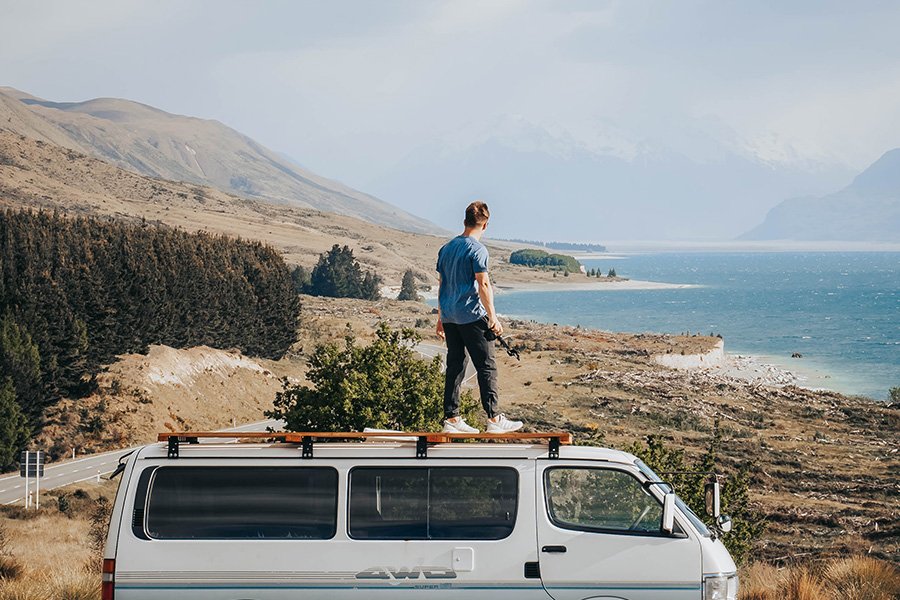 Even with moody weather, Peter's Lookout is a great spot overlooking the route to Aoraki/Mount Cook
Aoraki/Mount Cook
When you get to Aoraki/Mount Cook, we recommend the Hooker Valley track. This is arguably one of the best day walks in New Zealand — a three hour return, through some epic mountain goodness. The walk is flat and is suitable for all level hikers, though be sure to pack for all conditions.
Optional
To add to an already memorable time in Aoraki/Mount Cook, check out Glacier Explorers for a cruise around the Tasman Glacier Lake or Mt Cook Ski Planes for a heli hike on the glacier itself.
After exploring the area, head back up the road to Glentanner Holiday Park.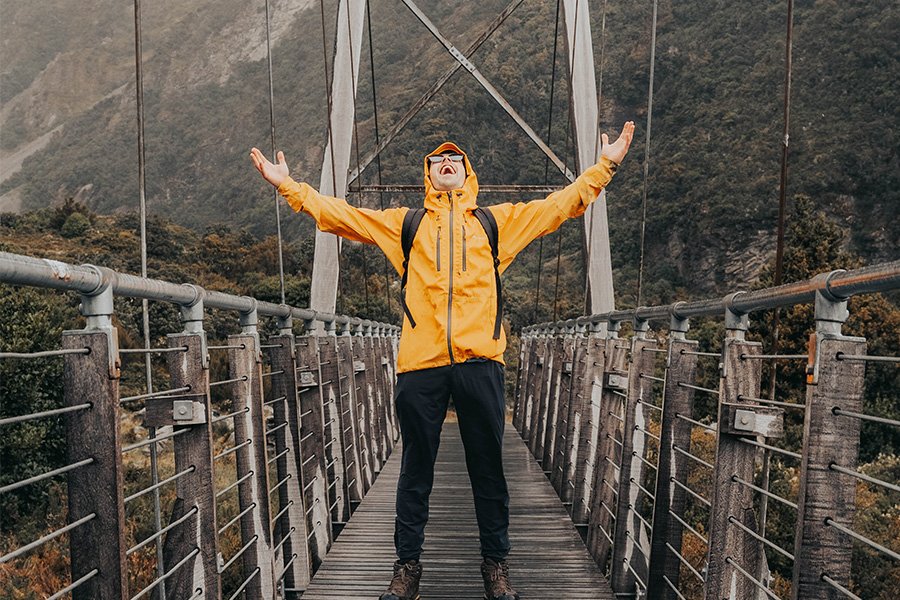 While the weather didn't quite play ball, we still rate the Hooker Valley track as one of the best day walks in New Zealand
Day Three – Glentanner to Twizel
Driving time: 1 hour
Campsite: Lake Ruataniwha Holiday Park
It's day three of your road trip and it's time to head to Twizel. It's only a one hour drive, so take your time and get a few last snaps of Lake Pukaki on the way.
Twizel
When you arrive in Twizel, grab some bikes from Lakeland Explorer and cycle the section of the Alps to Ocean trail from Lake Ōhau back to Twizel. After being dropped in Lake Ōhau by the Lakeland Explorer crew, we'd recommend having a bite to eat lakeside at Ōhau Lodge. Be sure to call ahead to book a table in case it's busy.
Allow for three hours cycling. And don't worry, there are two toilet stops along the way. The trail is scenic, mostly flat, and is a great way to spend the day and explore the area.
Once back in Twizel, check out Ministry of Works for dinner, located in the heart of Twizel. Here you'll find some top quality pub grub, as well as a solid selection of beers and wines.
After a big day, make your way to Lake Ruataniwha Holiday Park to park up for the night.
Cycling alongside Lake Ōhau
Day Four – Twizel to Timaru
Driving time: 4 hours
Campsite: Timaru Top 10 Holiday Park
Today it's time to say goodbye to the lakes and mountains and head to the coast, with some special stops on the way.
Omarama Clay Cliffs
Around half an hour on the road after leaving Twizel, you'll find the Omarama Clay Cliffs. They're located on private land and there's a $5 donation on entry, but it's well worth it to see this epic natural landscape formed by the flow of glaciers over a million years ago.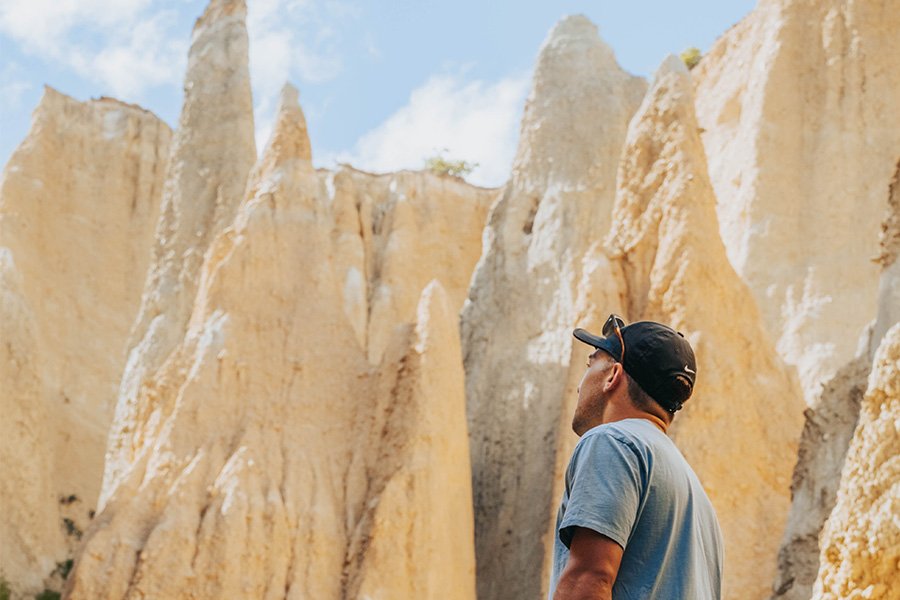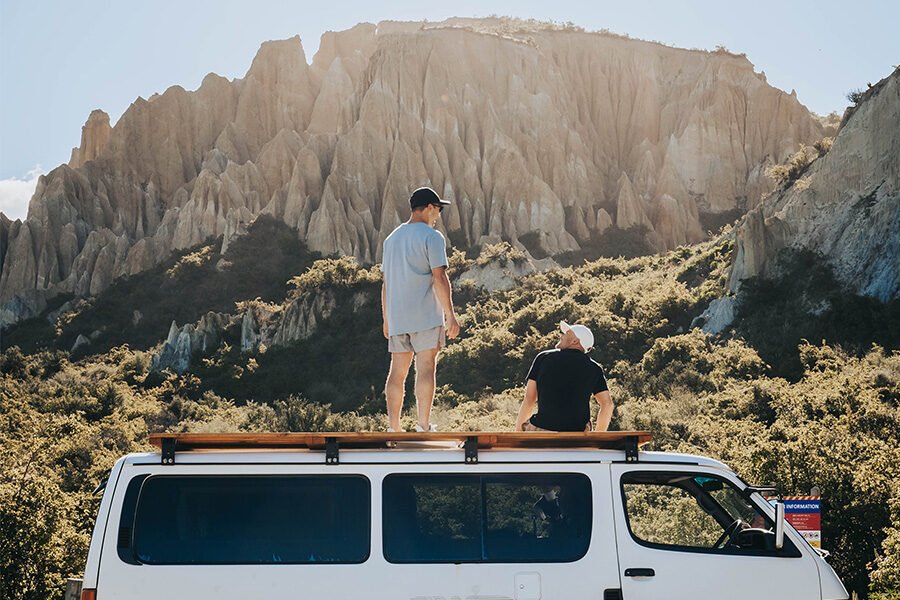 Option: Omarama Hot Tubs
If you'd like to explore this area further and stay for the night, one experience not to miss is the Omarama Hot Tubs. With views of the mountains and the river only a stone's-throw away, these private wood burner pools are a real treat.
On the way
For an interesting stop just before Waimate township, be sure to check out the Waimate Grain Silos to see New Zealand's largest street art.
Timaru
When you get to Timaru, take some time to chill out, explore or grab a bite to eat. The general area around the historic Landing Services Building is great in summer. Saikou Teppanyaki and Whisky Bar is a great option for food and drink, as well as Speight's Alehouse or Hector Black's Lounge Bar.
Little Blue Penguins
After dinner, at dusk, we recommend heading to Caroline Bay to watch the Little Blue Penguins return from a day at sea too. The penguins nest amongst the rocks and come ashore 30 minutes after sunset.
Stay at: Timaru Top 10 Holiday Park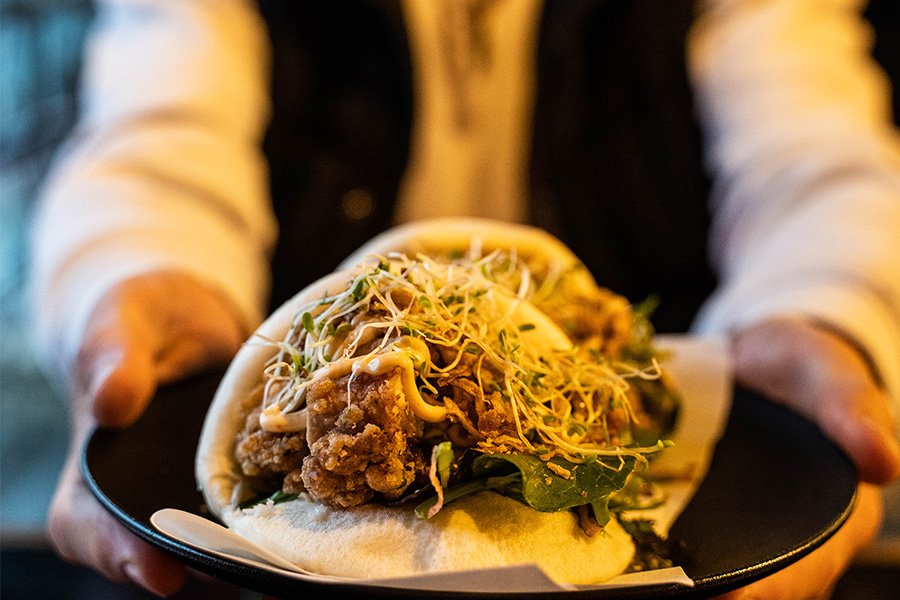 Saikou Teppanyaki and Whisky Bar
Day 5 – Timaru to Christchurch (final day)
Driving time: 3 hours
It's the last leg of the journey, and today you'll head back up to Christchurch.
On your way
Before you leave Timaru, check out the Dashing Rocks walk — a 45 minute return walk from Caroline Bay. Here you'll find some unique rock formations, an old lighthouse and have the opportunity to learn about the history of the Benvenue wreck.
A nice place to stop on the way north is Geraldine. Verde or The Running Duck are good spots for a bite to eat, and Valley Brewing Company does a killer beer tasting tray too.
Valley Brewing Company, Geraldine
Christchurch
Sadly your road trip has come to an end, and it's time to get Larry back to Goose and Ellen. If you have some time to spend in Christchurch some top spots to consider are:
Walk through Hagley Park and the beautiful botanical gardens

Visit the

Christchurch Adventure Park

Take a stroll to Castle Hill

Check out the New Brighton Pier

Walk the Rapaki Track