A Guide To An Epic 5 Day Road Trip Through The Bay Of Plenty & Coromandel Regions
This 5 day road trip itinerary takes you to some of the lushest waterfalls and pristine beaches in New Zealand. The beautiful Bay of Plenty & Coromandel regions are known for being some of the best holiday destinations in the North Island. You'll see a mix of international tourists as well as the kiwi locals exploring around these areas.
Now…you're not road trip ready until you've got yourself a well equipped rig ready to take you on all your adventures. Luckily Camplify has plenty of incredible options all around the country, so for this trip we opted for a newer Toyota Hiace Tapatoru Nr.9. A higher roof meant we could stand up and cook inside and the trip was made way easier with the amount of space we had to store all our food and other bits and pieces.
Although these areas are stunning all year round, we highly recommend visiting during the warmer months. The stunning clear water found at the waterfalls, local swimming holes and beaches make it the perfect place to wind down, relax and enjoy some time soaking up the sun.
To help you get the most out of your time up in these beautiful locations we've put together this 5 day itinerary, where you'll be visiting lots of epic spots as well as allowing for plenty of relaxation time!
Day One: Tauranga

Campsite: Taylor Reserve, Papamoa Beach
After touching down in the stunning town of Tauranga, first things first, you'll need to pick up your tiny home on wheels for the week. Visit Claudia, the owner of Tapatoru Nr.9 - a 2007 Toyota Hiace with the high roof. This camper has everything you need to enjoy a comfortable holiday on the road. Plenty of space, a queen size bed, a medium size fridge, hot running water & 4 x 12V charging sockets. Not only that…but Claudia fills the sink up with avocados that come straight from her orchard for every one of her guests! Who doesn't love free avocados?! Once you're familiar with your camper and you've packed all your luggage away, it's time to hit the road. First stop…the grocery store to stock up on supplies for your week of adventures!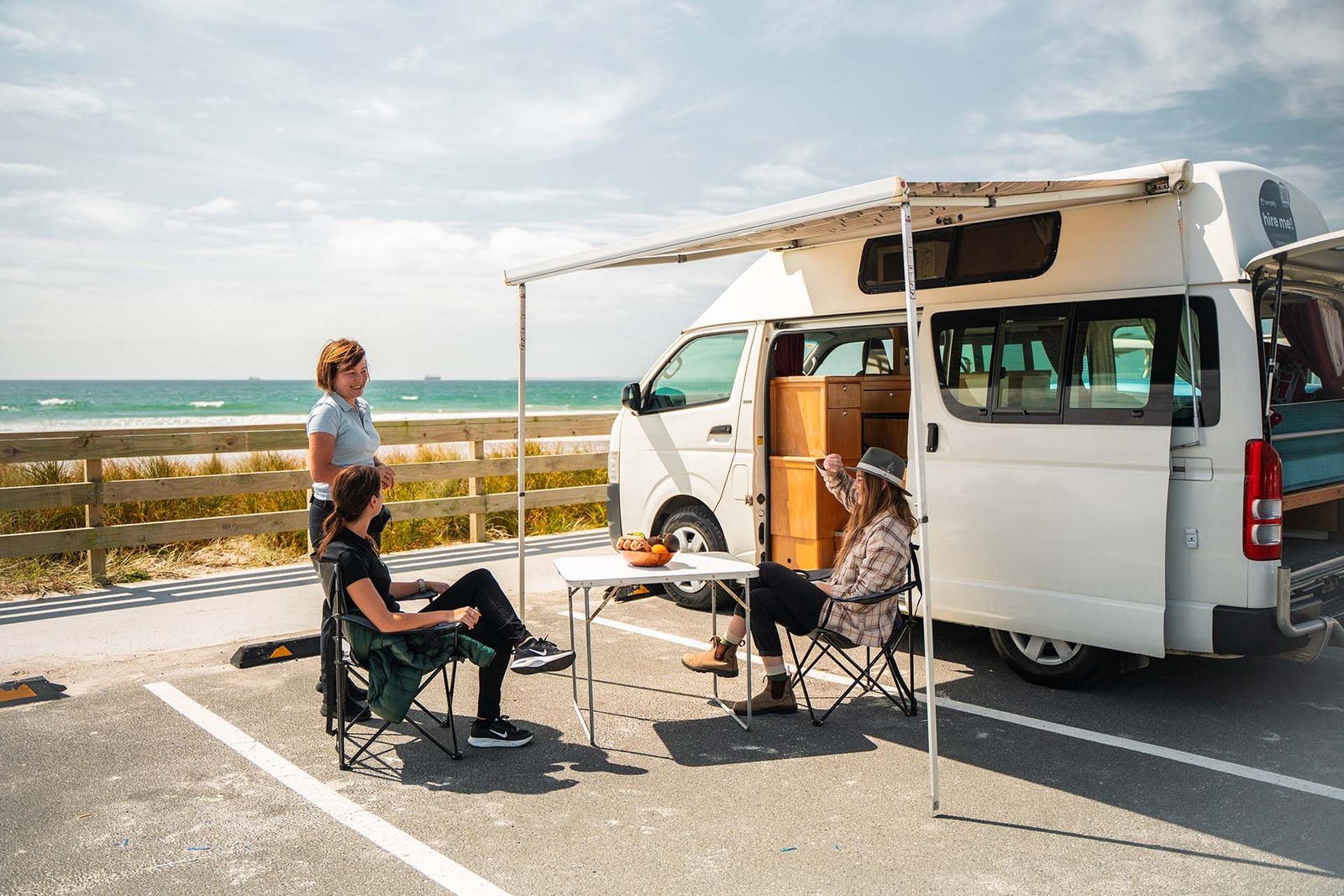 Picking Tapatoru the camper up in Tauranga.
Mclaren Falls Park
The first mission on your trip is exploring the lush Mclaren Falls Park area. Set alongside Lake McLaren this spot is home to absolutely stunning waterfalls, walkways, awesome spots for kayaking, plenty of picnic areas and campsites! In all honesty, you could easily spend a few days here there's so much to do. It's especially great if you're travelling with little ones. If it's a nice day, you'll find it hard to stay out of the Mclaren Falls. Fortunately there are so many little waterholes away from the edge that you can easily take a dip safely. Have a picnic lunch and relax in the sun before heading deeper into the Mclaren Falls Park to do the "Waterfall Track". This track brings you to the unofficially named "Marshall Falls" a stunning classic horsetail waterfall nestled in amongst the bush. It's a super quick and easy track, you'll be in and out within the hour.
It's now time to head to your spot for the evening. There are quite a few spots to freedom camp along the oceanfront in Tauranga, but we recommend getting in early as they fill up quickly during the summer! We headed to Taylor Reserve on Papamoa Beach (an awesome beach to watch the sunrises & sunsets). The sooner you get to your spot, the more time you have to go for a swim in the ocean, make dinner and have a bevy, all before the sunsets. The perfect way to end your first day.
Marshall Falls in Mclaren Falls Park
Day Two – Tauranga - Coromandel Town
Driving Time: 2 hours 45 mins
Campsite: Coromandel Top 10
Today's a big day, so you'll want to be up bright and early so you can pack as much epicness into your day as you can.
Mount Maunganui
It's time to climb Mount Maunganui or more commonly known by the locals as The Mount. It's the go to spot in Tauranga and you might be quite surprised to see so many walking the 45 minute track up the mountain for sunrise. The views from the top really are pretty spectacular and you just can't visit the area without ticking this spot off ― it's a must do!
No doubt those bellies will be rumbling by the time you've finished up at The Mount, but luckily you've got all the supplies you need to make a delish cooked breakfast in your camper. Head to Waihi Beach or Bowentown Beach to park up and make a feed with a nice backdrop. Although we won't be staying here on this trip, the car parks at these two beaches allow for freedom camping and are some pretty epic spots to stay if you want to live beachside for a few days. Either make a cuppa in the camper or grab one to go as you start to make your way towards the Coromandel.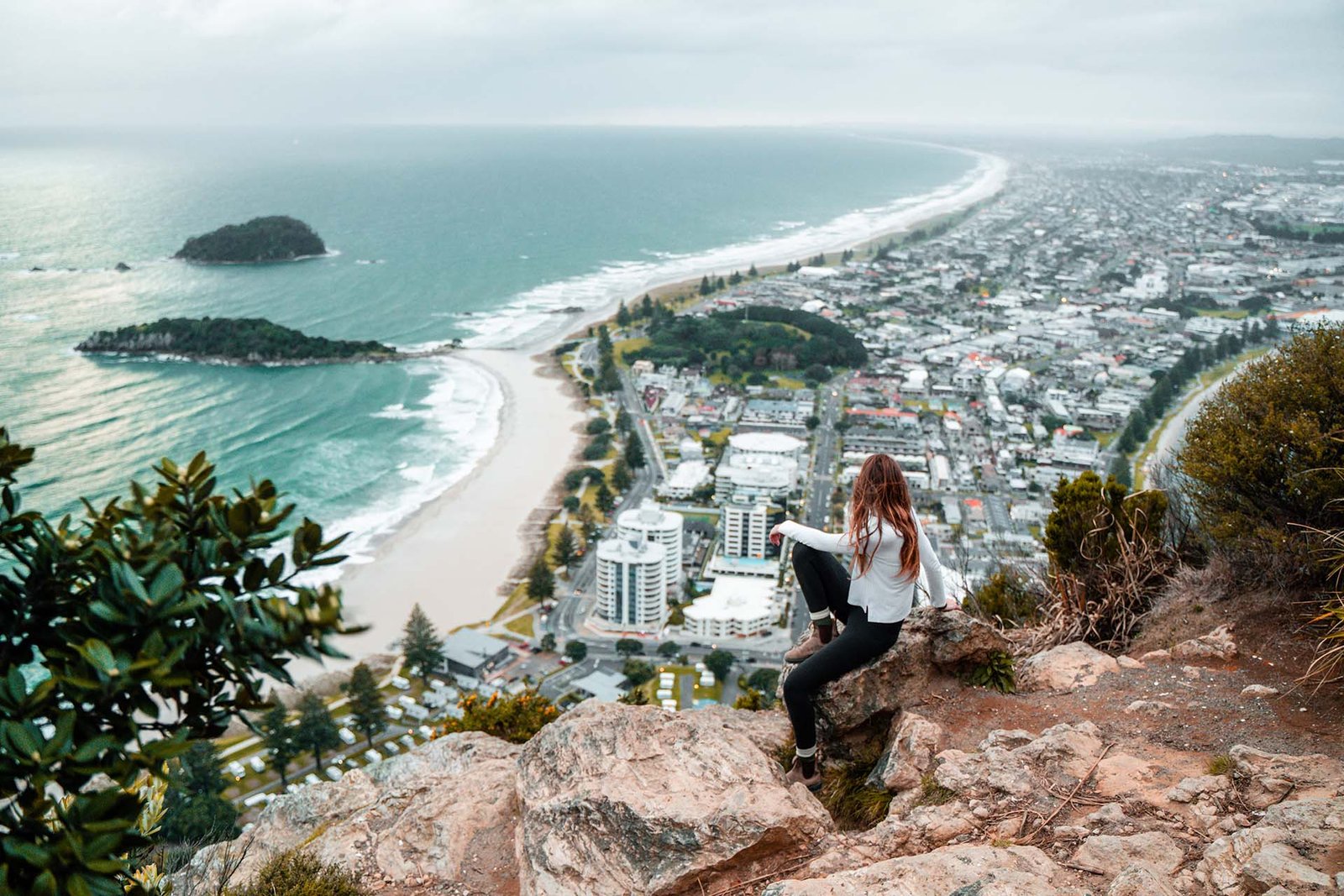 Up the top of Mount Maunganui
Owharoa Falls
Only 30 minutes down the road and you'll make a stop to visit the Owharoa Falls which sit practically on the side of the road. It took us less than 2 minutes to walk this track so we'd go as far to say that it's one of the most accessible waterfalls in the country! This is a super popular swimming spot for the locals and a well known photography location.

The falls are located in the Karangahake Gorge, which you'll be driving through on your way to the Coromandel. The Karangahake Gorge region combines gold mining history and natural beauty and is such a stunning area to drive through. It's a windy road, so make sure to take care and pull over at all the roadside stops so you get the time to really take it all in.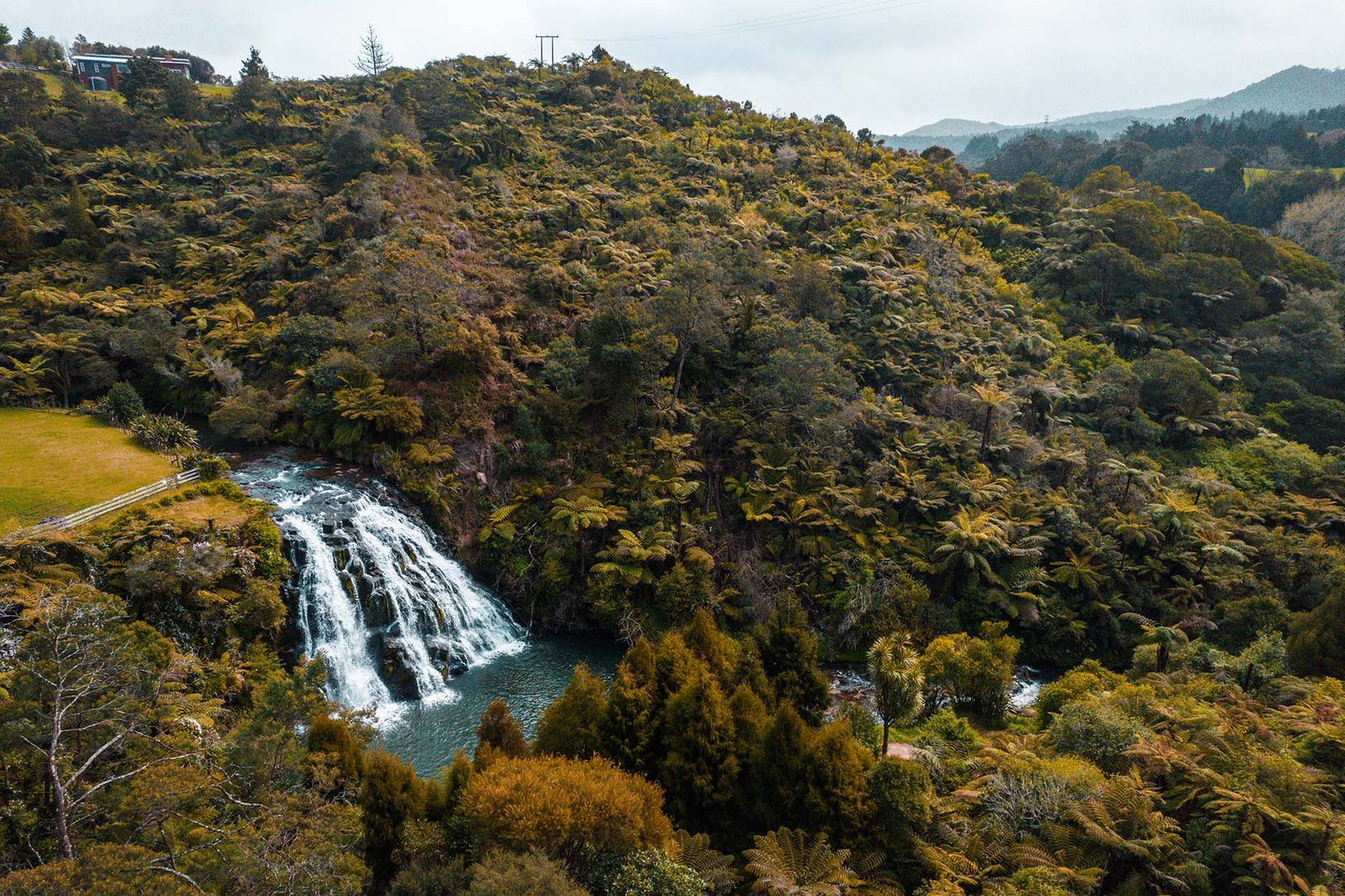 You're going to be passing through the small town of Paeroa and you can't say you've been to Paeroa until you get the classic shot with the big L&P bottle. A quick g'day and on your way, heading to an awesome road with multiple attractions, the 309 road.
The 309 Road
This is a typical off the beaten track dirt road in New Zealand, and we all know these roads lead to some of the best spots. This road is no exception. If you ended up spending your whole holiday here, we wouldn't blame ya! This afternoon we're sticking to one half of the road visiting two of the road side attractions. Stu's Pigs & the Waiau Falls. Stu's pigs is easily one of the most bizarre attractions in NZ. If you get to meet Stu, he's quite the interesting guy but it's no doubt he absolutely loves his pigs. As you pull up to his property (make sure you're driving slow) all of a sudden you'll be surrounded by pigs, big and small. It's such a highlight!
We mentioned earlier that the Owharoa Falls are one of the most accessible waterfalls in NZ and the Waiau Falls are definitely on that "most accessible" list as well. A 3 minute walk and you're greeted to a beautiful waterfall and swimming hole surrounded by native bush. It's a great place to visit for a swim, just watch out for the resident eels that call the water hole home.
Today was a pretty massive day so it's time to check into your accommodation at the Coromandel Top 10, cook up some dinner in their kitchen and relax for the rest of the evening.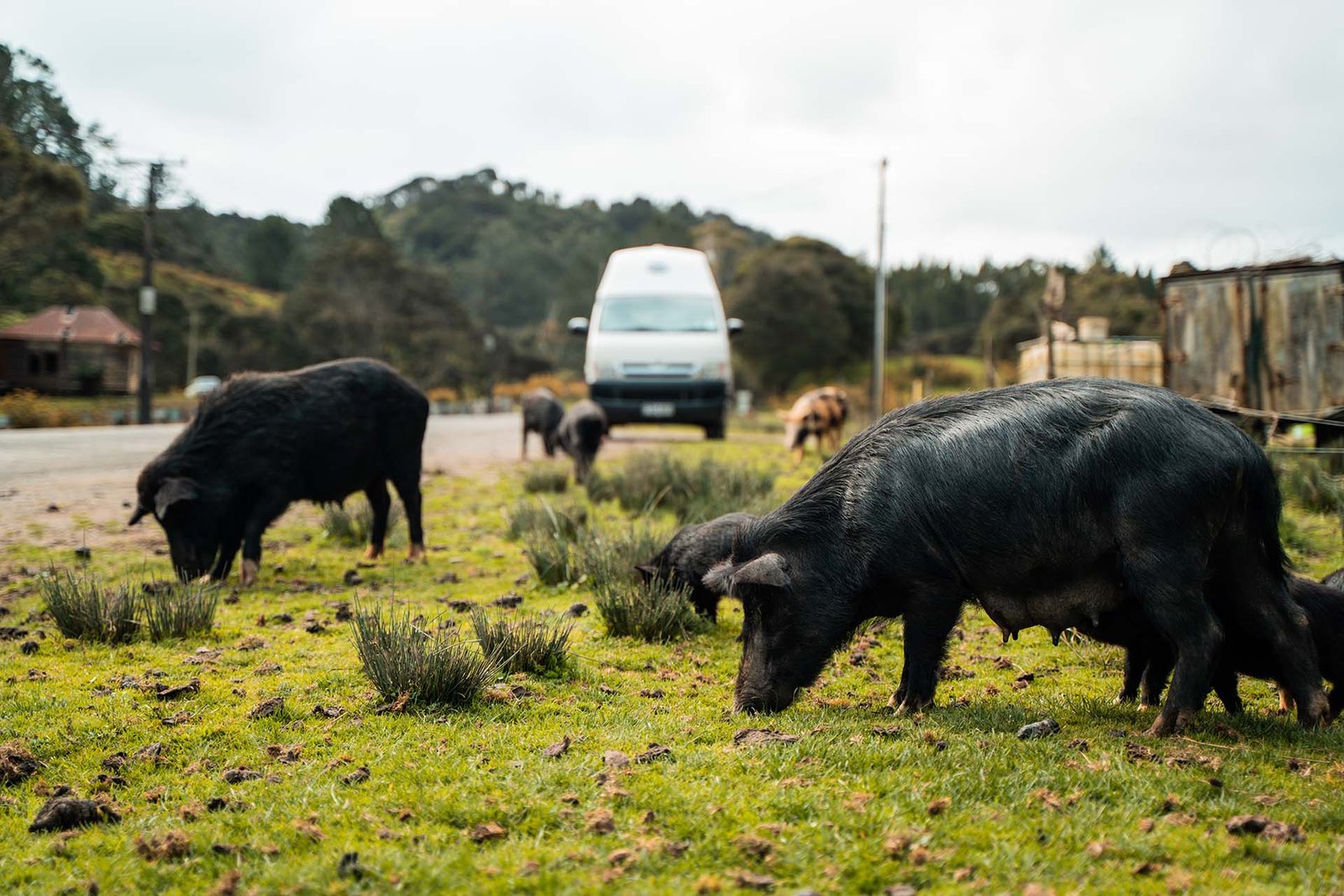 Hanging out with the pigs at Stu's
Day Three – Coromandel Town - Hahei
Driving Time - 2 Hours
Campsite: Hahei Beach Resort
Today is going to be a nice chill day, with minimal driving and lots of time for relaxing by the beach. Enjoy a little sleep in and spend the first half of the morning cooking up some breaky at the Top 10 and going for a dip in the heated swimming pool. If you're wanting some local coffee we know just the spot for you ― Naughty Bean Coffee has the goods and they're within walking distance of the campground.
Te Ariki Tahi Sugarloaf Wharf
Mid morning it's time to start making a move. Grab yourself a pie from the Coro Pie Shop and then head along the coast to Te Ariki Tahi Sugarloaf Wharf and park up near the Coromandel Harbour. There is a beautiful grassy picnic area with benches to sit in the sun and enjoy your pie. For those slightly more adventurous souls, go for a scramble up the hill and you'll be met with some pretty epic 360 degree views out over Waipapa Bay.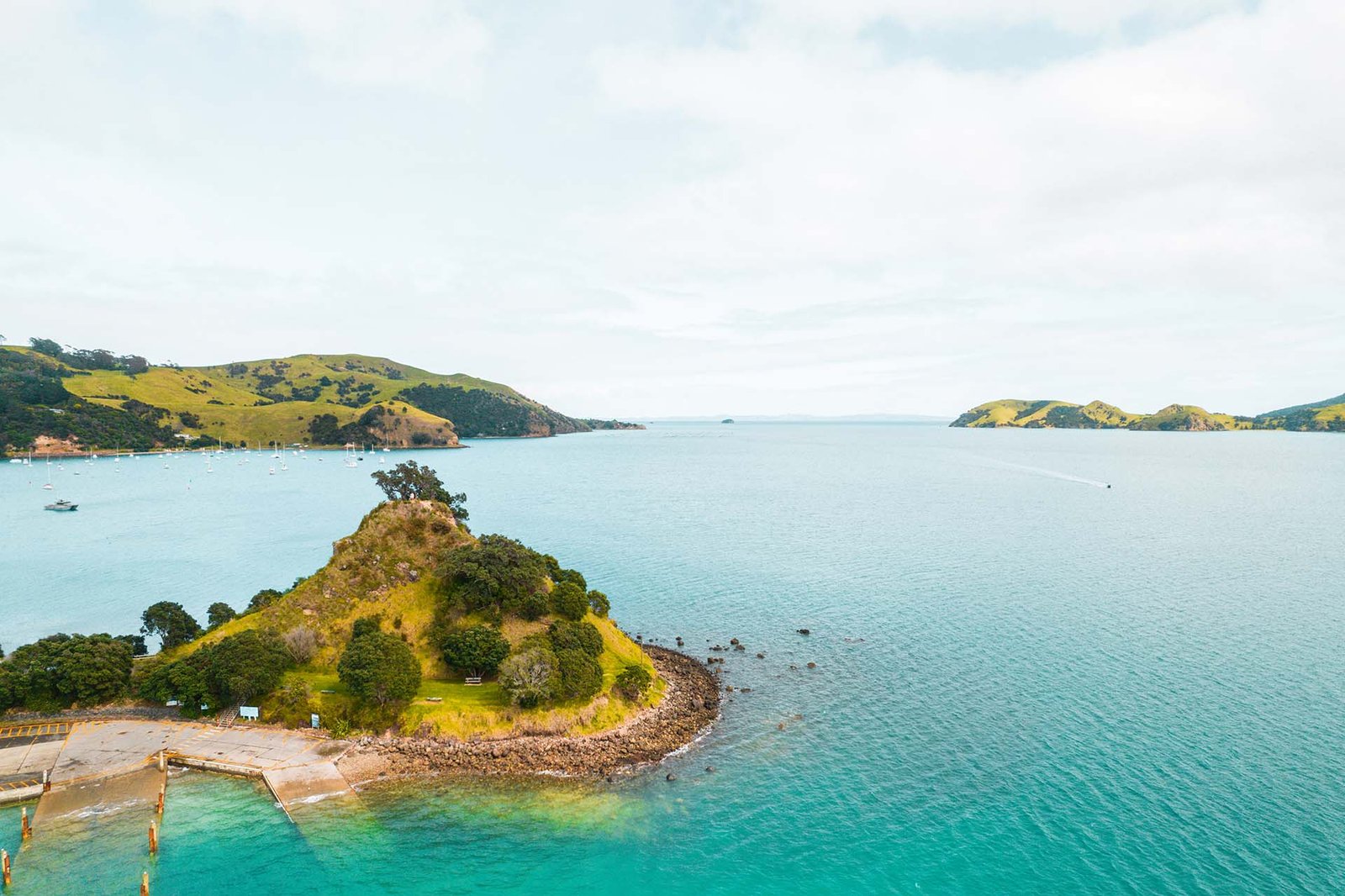 Te Ariki Tahi Sugarloaf Wharf
Be sure to download the Roady App for more info on all these spots and many more!
It's now time to start making your way to the East of the Coromandel Peninsula. This is a stunning but windy and hilly drive (typical NZ roads). Take your time and enjoy the ride. It'll be less than an hour before you arrive in the little holiday town of Kuaotunu. Now I know we just had pies, but if you're feeling a little peckish, Luke's Kitchen does some killer pizzas! Grab one to eat there or take it away and enjoy at the beautiful Opito Bay.
Opito Bay
Opito Bay is easily one of the most pristine beaches in the Coromandel and possibly all of New Zealand. The sand is white and the water is bright blue. It definitely has tropical written all over it and you can see why it's such a popular summer hot spot.
Now is when you chuck those swimmers on and kick back and relax. Go for a dip, read a book, enjoy a cold bev and catch some sun rays. This is what van life in summer is all about. You can even park right up on the beach so if you're feeling a little sleepy, have a nap in the back of the camper to the sound of the waves.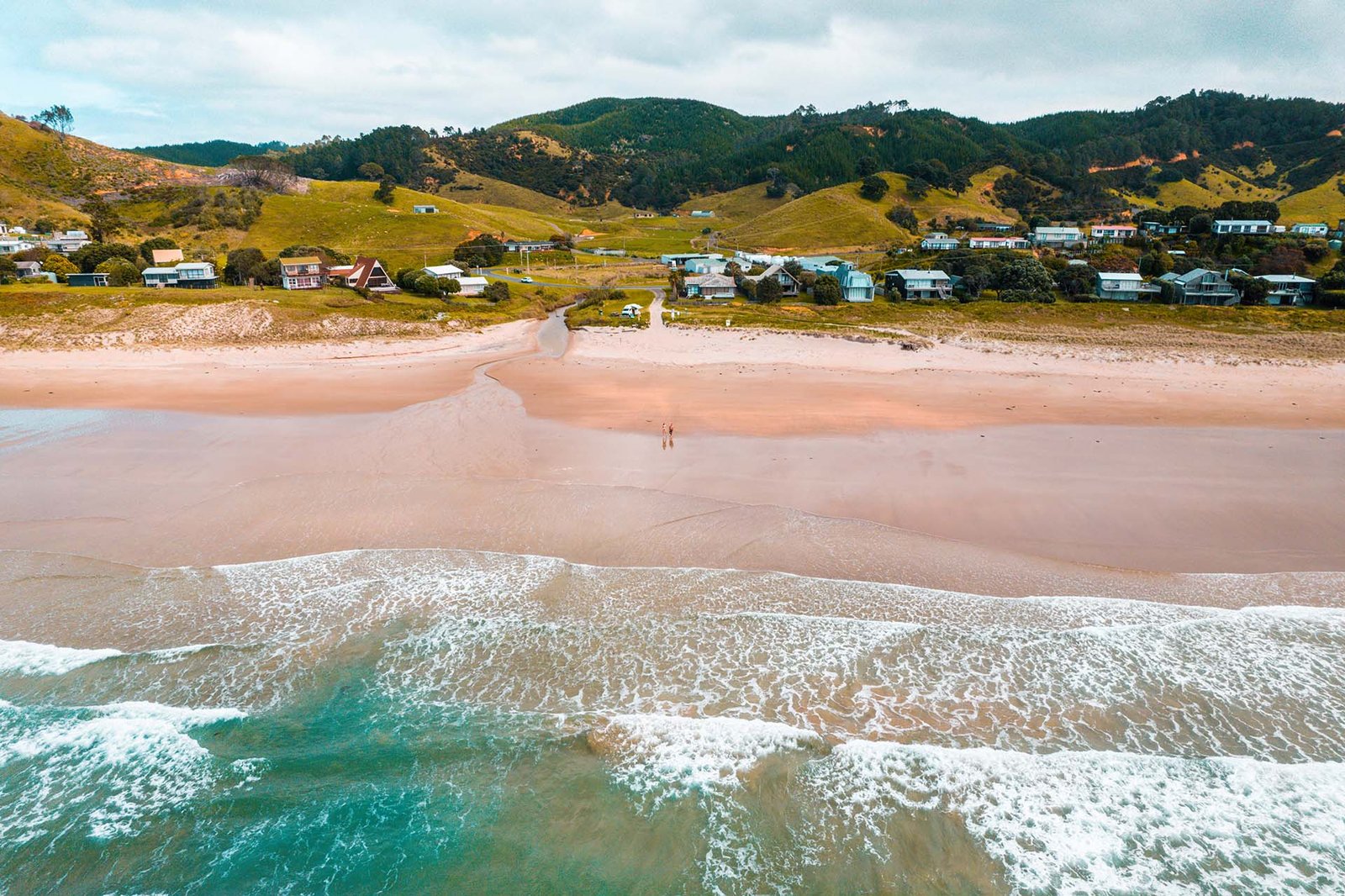 After spending most of your afternoon here, it's time to start heading to your accommodation for the night. You're not too far away and a one hours drive will get you to your destination, the Hahei Beach Resort. Located right next to Hahei Beach, yet another one of the pristine beaches in the Coromandel. Grab some fish and chips from the local and enjoy them on the beach while watching the sunset. You're in for another big day tomorrow with a 5am start so it's an early night tonight.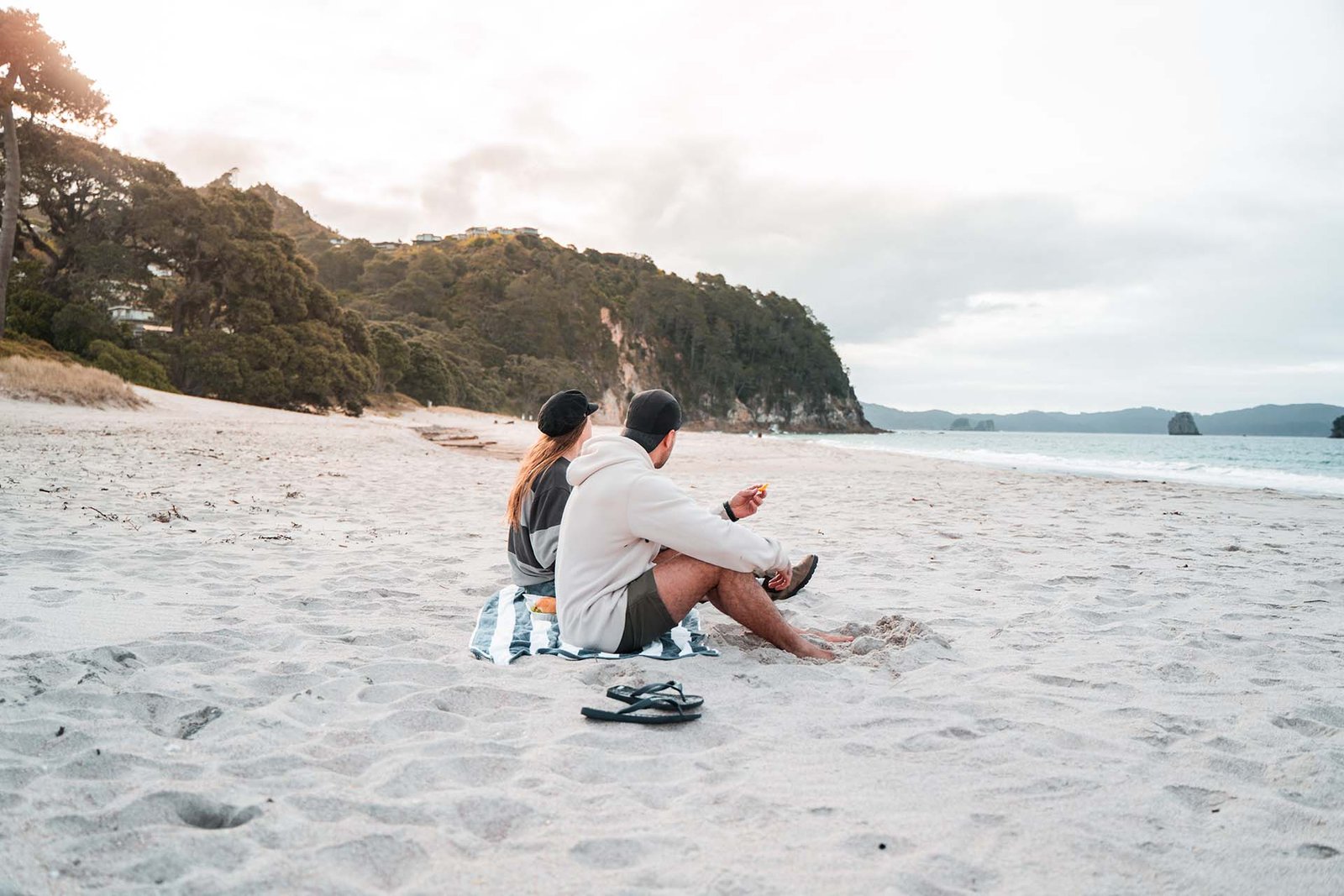 Enjoying fish and chips on Hahei Beach
Day Four – Hahei - Hot Water Beach
Driving Time - 30 minutes
Campsite - Hahei Beach Resort
Cathedral Cove
This morning you're up at 5 to be out the door and on the beach by 5:45. You're making your way to the famous Cathedral Cove for the sunrise. Watching the sunrise here is truly special and don't be surprised if there's a few others joining you. This place is absolutely stunning and it's not hard to see why this spot is as popular as it is. You get to see the spectacular natural rock archway sitting on the shores of Mercury Bay.. The walk here is relatively easy and will take about 45 minutes each way. Spend as much time as you want taking in the beautiful scenes before heading back to the Hahei Beach Resort for some breaky and to pack up the camper.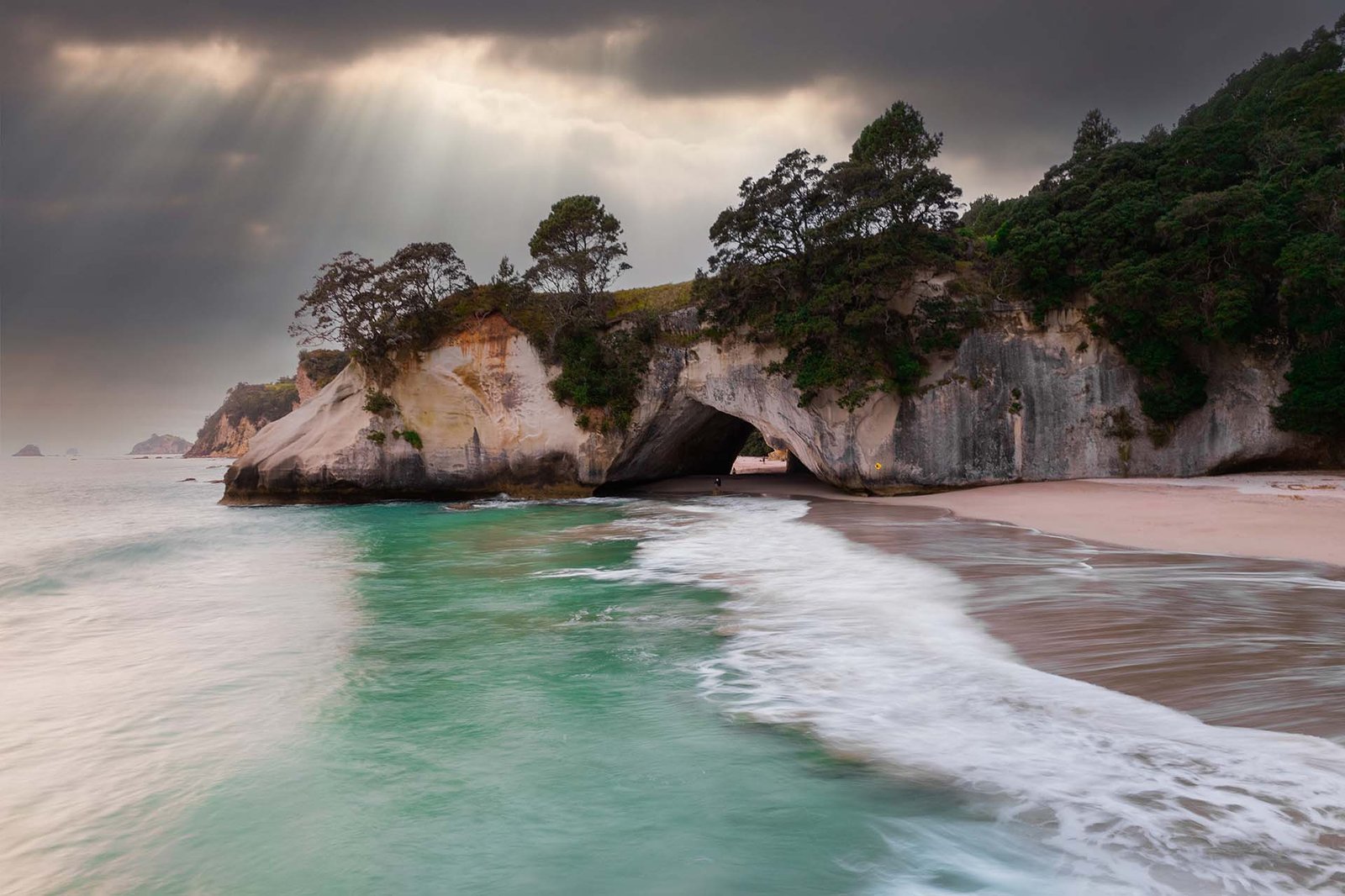 Te Pare Point Historic Reserve
Grab a coffee or tea to go as the next walk you'll be heading on is super cruisey. A leisurely 20 minute stroll will bring you to Te Pare Point, a lookout that takes in the whole of Hahei Beach. It's a stunning view from up there and would be the perfect picnic spot. No picnicking today though, as our next stop is the Coroglen Tavern and you'll want to keep your bellies empty for this spot!
On your way to the Coroglen Tavern, stop in at Cooks Beach for a little stroll and possibly a swim if the weather is playing ball. This is yet another pristine white sand beach and summer hot spot. The Coromandel really does have some of the best beaches in the country!
The Coroglen Tavern is a kiwi icon and is best known for holding concerts and gigs during the summer months. Not only do they provide classic kiwi tunes but the food is to die for ― a scallop burger goes down an absolute treat here.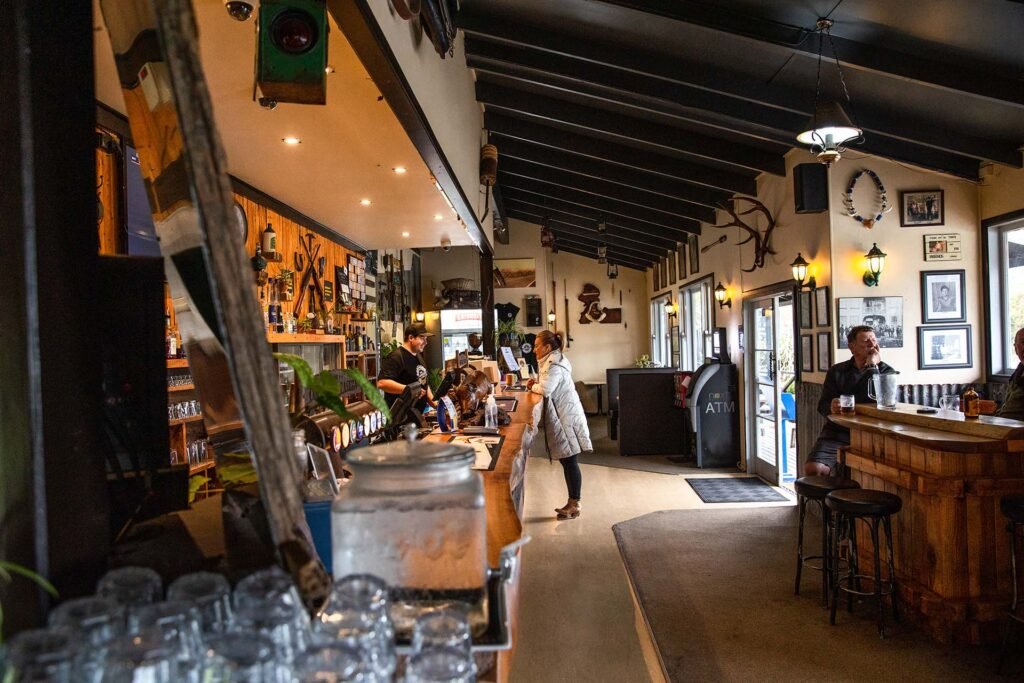 With happy filled bellies, it's now time to head to your accommodation for the evening at the Hot Water Beach Top 10. This campground is located in the perfect location to explore the Hot Water Beach from. Check in and chill out for an hour or so before getting ready to head to the beach. Grab yourself a shovel from the Top 10 reception before walking 5 minutes to the Hot Water Beach.
Hot Water Beach
We guarantee this spot will be one of the highlights of your trip. It's truly such a unique and incredible experience and it presents an atmosphere like nowhere else. Found just beneath the surface of the sand at low tide is a patch of bubbling thermal water, creating the perfect opportunity for a hot natural spa. Dig yourself a spot, get the temperature just right and relax in your natural spa. Regardless of what the weather is doing, this place is magic!
Head back to the Top 10 for a shower and some dinner and relax in one of their beautiful cabins for a little bit of luxury.
Day Five – Hot Water Beach - Tauranga
Driving Time - 2.5 hours
Today is your final day on tour! Get up bright and early to make the most of it. Hopefully you get a stunning sunrise as the Top 10 sites are positioned with sunrises and sunsets in mind. The sun pours through the trees creating light rays that can be viewed from your cabin or camper and you could even pop back to the beach to watch it rise from the ocean.
Take your time to have breakfast, get ready and pack up all your bits and pieces before it's time to start making your way back to Tauranga. You've still got a few stops before dropping the camper back, so get on the road and head for the small town of Whangamata.
Whangamata
Whangamata is a great halfway point to stop for lunch. During the summer months, this town is bustling with locals and travelers. Whangamata Beach is also known for its famous surf break, the left hand break attracts surfers from all around the world. There are plenty of spots to pull the camper up next to the beach or the estuary. Take your time to have a bite to eat before you're on the road for the last leg of the journey.
Driving alongside the Whangamata Estuary
Kaiate Falls
An hour and a half brings you to your final location, the lush Kaiate Falls. Best visited after heavy rainfall to really show the power of these falls. Only 25 minutes from the airport, it makes this spot the perfect ending to an epic road trip. It's a short and easy 15 minute walk down to the base of the falls and they're a pretty incredible sight to see.
Unfortunately it's now that time…time to head to the airport to hand your camper back to its owners. In our case, handing Tapatoru back to Claudia. What an incredible trip, this will definitely be another one to remember!