The full West Coast experience
New Zealand's West Coast sits between the mighty Southern Alps and the Tasman Sea. It's a region where you can find glaciers at one end and nikau palms at the other. Its rugged beauty is something that everyone should experience at least once.
This itinerary starts in Queenstown to allow the full West Coast experience, but you could easily start this from the top of the South Island or from Christchurch.
Day One: Queenstown to Haast
Driving time: 3 hours
Campsite: Haast River Motels & Holiday Park
When you land in Queenstown, it's time to head over to the West Coast over the stunning Haast Pass. There's a number of stops on the way that are well worth a visit, including the Gates of Haast and a number of short walks — the Blue Pools (1hr return), Fantail Falls (5min) and Thunder Creek Falls (5min).
Waiatoto River Safari
As you get to Haast, hook a left and you'll be on your way to Waiatoto River Safari. This is an epic ocean to alps jet boat tour in a UNESCO World Heritage Area. Taking you into the remote Haast backcountry, you'll also get to go ashore and explore the forest far away from civilization — one of those places you'd rarely get to see if it weren't for a tour like this.
Option: Jackson Bay
After your safari, keep heading south to Jackson Bay — the southern most drivable point on the West Coast. This sleepy village is a working fishing port and popular fishing spot in summer. Be sure to grab lunch at the Cray Pot, a quirky little caravan parked right on the esplanade serving up fresh seafood. If you've got the time, Jacksons Bay is a must.
After your first day on the West Coast, it's time to head to the Haast River Motels & Holiday Park for the night, as the adventure is only just beginning.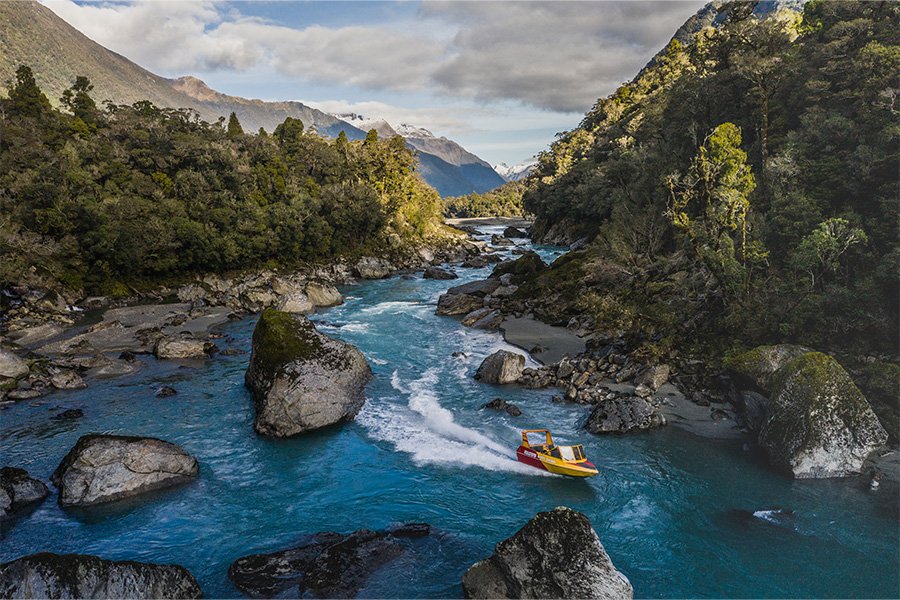 Waiatoto River Safari near Haast
Day Two – Haast to Franz Josef
Driving time: 2 hours
Campsite: Rainforest Retreat
Today you'll be heading up the coast into Glacier Country, something that the region is renowned for worldwide.
Lake Matheson
On the way, a worthwhile stop is Lake Matheson. Famous for mirror views of Aoraki/Mount Cook and Mount Tasman, Lake Matheson is nestled in an ancient forest just 5 km from Fox Glacier/Weheka. It was formed when Fox Glacier retreated from its last significant advance about 14,000 years ago. It's a pretty epic photo op as well.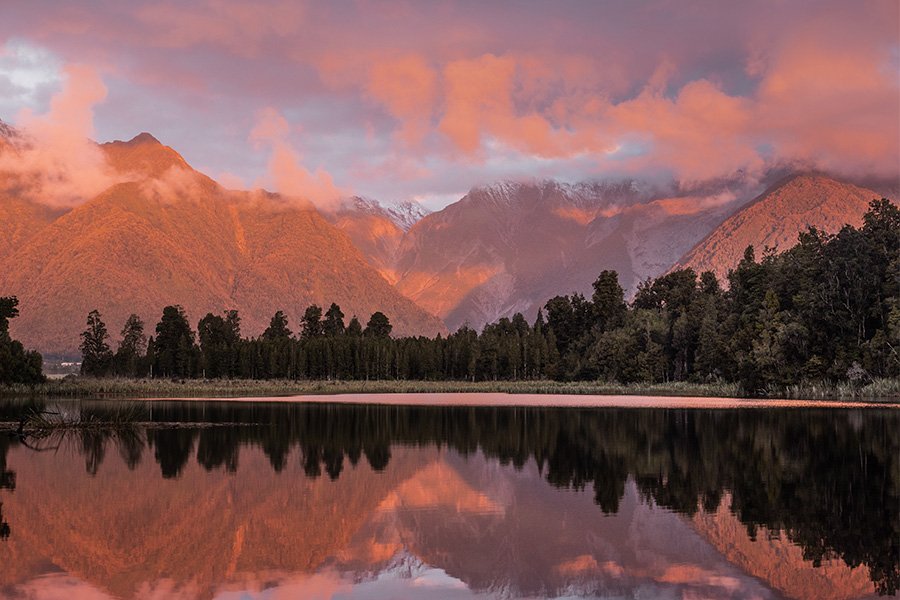 Lake Matheson and it's epic reflections of Southern Alps
Explore the glaciers
The West Coast is home to both the Fox and Franz Josef Glaciers, both of which can be viewed from lookouts only a short walk from the road. If you want to get a closer look at the glaciers, then the best way to experience them is a heli-hike tour with either the Fox Glacier Guiding or Franz Josef Glacier Guides. A heli-hike does require fitness, so if you'd prefer to relax but still see the glaciers, a scenic flight is a great option as well.
But what glacier to choose? This is a common question, and the answer is that the experience is different for each of them. Fox is larger, flatter, and known more for its ice caves. Whereas Franz Josef is steeper, more dramatic, and known for its ice tunnels. Both are unforgettable experiences operated by world-class outfits, so if you have an opportunity to visit one or the other you won't regret it.
It's now time for some R&R at Waiho Hot Tubs, boasting private, wood-fired tubs surrounded by a lush rainforest. For dinner, check out Alice May — a restaurant themed on the controversial murder case of Alice May Parkinson who shot her husband in 1915. The restaurant is owned by one of Alice's grandchildren.
Head back to the stunning Rainforest Retreat to relax after an epic day.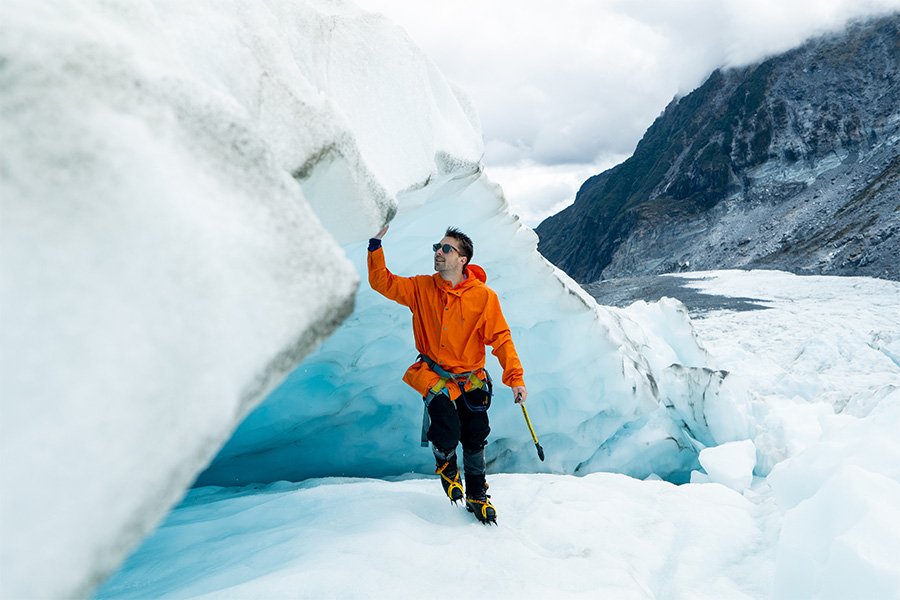 A tricky choice between Fox Glacier and it's ice caves (left) or Franz Josef and it's dramatic vistas (right).
Day Three – Franz Josef to Hokitika
Driving time: 2 hours
Campsite: Hokitika Fire Station
Today you'll continue your journey up the West Coast to Hokitika, a township known for its pounamu, whitebait and famous driftwood sign.
Hokitika Gorge
A must do just 33km east of Hokitika is visiting the pristine blue waters of the Hokitika Gorge. The gorge is part of an easy 2km loop track through native bush which takes roughly 45mins to complete. After 15 mins you'll reach the first swing bridge — a great spot to snap some photos. Walk another 10 mins to reach the second 90m swing bridge.
Pro tip: Be sure to pack insect repellent for this one.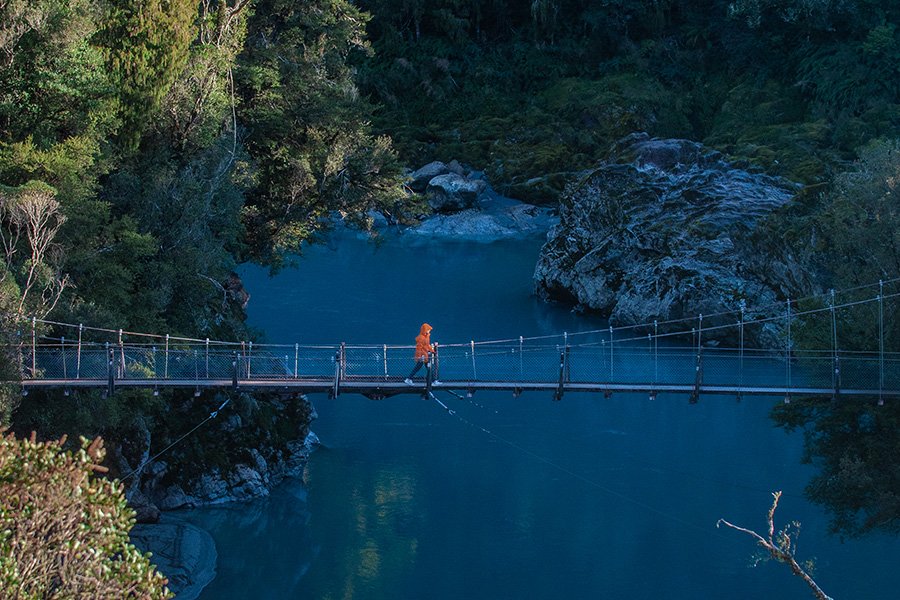 The blue waters of Hokitika Gorge
Bonz n Stonz
For a special experience, visit Steve Gwaliasi at Bonz n Stonz carving studio. Steve runs workshops that allow you to design and carve your own pounamu (greenstone) necklace to take home with you, as well as learn the significance of carving in Māori culture and the meaning behind different shapes. This is a great way to leave the West Coast with a meaningful souvenir.
The Hokitika Sign
As the sun goes down, be sure to head down to the beach to check out the famous Hokitika driftwood sign. The sign was initially entered into the towns Driftwood and Sand Competition in 2015, and has since become a permanent fixture at the Hokitika Beach. Handmade from driftwood gathered up on the beach and tied together with flax — it is one of the most photographed sites along the West Coast.
For dinner, The Gatherer offers amazing plant-based and vegetarian meals. Otherwise, you can't go wrong with a famous whitebait pizza from Fat Pipi's Pizza.
Then it's time to check into the Hokitika Fire Station for the night. This boutique, self contained apartment-style accommodation is about as unique as you'll find, set in a historic fire station. With each apartment named after a fire chief who once led the fire brigade, this place is steeped in history and is bound to be one of the more memorable stays of your trip.
Day Four – Hokitika to Westport
Driving time: 2 hours
Campsite: Carters Beach Top 10 Holiday Park
The last day of your trip you will continue your drive north before finishing up in Westport. Enjoy plenty of epic stops along the way.
Punakaiki Pancake Rocks and Blowholes
The Pancake Rocks at Dolomite Point near Punakaiki are one of the more popular natural attractions on the West Coast. These were created through heavy erosion of limestone, which allows the sea to burst through several vertical blowholes. This is seriously impressive at high tide so be sure to time your visit well. It's an easy walk and should only take around 30 mins to complete the loop.
Visit the Punakaiki Pancake Rocks and Blowholes at high tide to see them in full force
Underworld Adventures
Located in Charleston, an absolute gem of the West Coast is Underworld Adventures, who offer cave rafting in the Paparoa National Park. Situated in one of NZ's largest caves, complete with epic stalactites and stalagmites formations, you'll descend to the lower levels of the cave to float underneath thousands of glow-worms, then finish with some tubing down the Nile River. This is an epic way to finish your West Coast adventure.
Explore one of New Zealand's largest caves with Underworld Adventures in Charleston
Cape Foulwind
A worthwhile side trip as you near Westport is Cape Foulwind to take in its lighthouse and the nearby seal colony. From the car park at Tauranga Bay, it's an easy 5 min stroll to viewing platforms over the seal colony below. Or if you feel like really stretching the legs, take the 1.5 hour (3 hour return) coastal walk from Cape Foulwind south to Tauranga Bay.
Between October and March is the best time to visit when the bull seals return to mate, and the pups are at their most playful, though there are seals all year round. The area also offers panoramic views of the Southern Alps, and the West Coast's notoriously wild coast line.
And that's four epic days on the West Coast done and dusted. But why stop there? Continue your adventure by exploring more of what the West Coast has to offer, including visiting Reefton to checkout Reefton Distillery Co. and the Bearded Miners.